Our hearts are heavy that once again, cyberbullying is in the news with fatal results. CPO Titania Jordan discussed the most recent incident with MichaeLA of a Bronx, NY teenager stabbing two classmates (killing one) after claiming that he was being bullied. Abel Cedeno is accused of fatally stabbing a bullying classmate because he was tormented with homophobic and racist slurs until he finally exploded, according to family friends. Throughout the segment, Titania shared warning signs parents should look out for to tell if their child is being bullied, how parents, teachers, and friends can help step in, and what are the best next steps to take if your child is a victim of bullying.
Please see our tips below and share with anyone who you think might need to read them. Our thoughts and prayers are with all involved in this tragedy.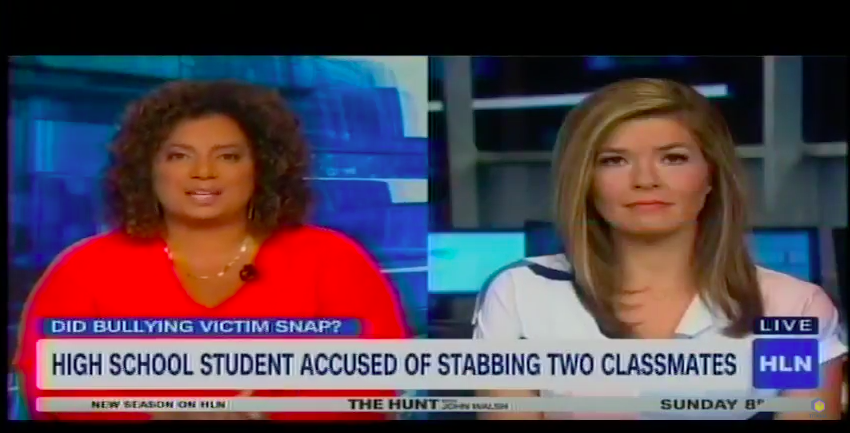 How can we spot warning signs before something like this happens?
Here are five signs that you can look for to know if your child is being cyberbullied:
1. Emotionally agitated after getting off the internet or their devices
2. Seems anxious or uneasy when they receive an alert or text message
3. Unwilling to hand over their devices when asked
4. Change in mood, withdrawn, depressed, and often angry or anxious
5. Change in behavior, sleep patterns, or grades at school
And a note: To be honest, because children can be really good at covering up stressful situations, there are sometimes signs are few and far-between. That's why using technology (like Bark) that scans for signs of cyberbullying is so very important. Did you tell your parents every time you had an issue as a cchild? If you didn't, could they always tell? Exactly.
Want to keep your kids safer online?
Bark can help.
Bark covers texts, email, YouTube, and 24 social media channels.
That's 4 times more than any other monitoring app.
Download our app today
What can parents, teachers, friends do to prevent something like this?
Have open, honest, and ongoing conversations with your children about what's going on in their (and their peers') lives. This isn't a "one and done" conversation. Bullying can happen to anyone at anytime, and the effects can last a lifetime. Also, use technology to help monitor, detect, and alert you to these kinds of issues.
If someone is being bullied, what can others do right now to help?
Speak up! Follow the common saying, "If you see something, say something!" Don't look the other way if you know someone is being bullied or is a bully.
If your child is being bullied, having discussions before cyberbullying happens, so you have an action plan, can help you and your child feel empowered to deal with any potential online safety issues. The first thing to remember is to remain calm. Immediately assure your child that it is not their fault and that you will help them and support them.
The next best steps are:
1. Do not engage with the bully. This can be hard, but encourage your child to walk away from their computer or phone when they experience cyberbullying.
2. Report the incident. Teach your child that they can, and should, report these instances to you, a teacher, law enforcement, or any trusted adult.
3. Save the message. Screenshot and save any message that contains threatening or hurtful remarks, it may be important to have a paper trail if the situation escalates.
4. Discuss solutions. Go over possible ways to address the situation together, based on the specific circumstances. This may be simply unfriending or blocking the person, reporting the incident to your school, and in some cases, reporting to police if you think it is a criminal matter.
Anything else we should know?
Where in previous generations, bullying mostly happened at school, now it can happen online anytime 24/7/365. Tweens and teens are often scared to talk about being cyberbullied. They think it is their fault, or they do not want to worry their parents about what they consider "online drama." That is why talking to them about cyberbullying is so important, as it helps educate them on what cyberbullying looks like and what to do when it happens.
Have questions? Tweet us at @joinbark or email: help@bark.us