Updated April 4, 2023
App Overview
Instagram is a social media app that allows users to share photos and videos with their followers. It was launched in 2010 and has become one of the most popular social media platforms worldwide. It is owned by Facebook and is available on both iOS and Android devices.
Instagram allows users to share photos and videos, follow other users, and like and comment on posts. Users can also send direct messages to each other, create stories that disappear after 24 hours, and use various filters and editing tools to enhance their posts. Instagram has become a popular platform for influencers, celebrities, and businesses to showcase their products, services, and lifestyles.
Instagram has a minimum age requirement of 13 years old. However, younger children can use the app with parental supervision. Parents can create a family account on Instagram that allows them to monitor their child's activity on the app. Instagram also has several features to help parents and guardians keep their children safe, including the ability to restrict certain accounts and filter inappropriate content.
Despite these safety features, there are still potential dangers associated with Instagram use. One of the most significant risks is the exposure to inappropriate content. While Instagram has community guidelines that prohibit nudity, violence, hate speech, and other offensive material, users can still come across inappropriate content through hashtags and user-generated content. Children may also be targeted by predators who use the app to groom or exploit vulnerable users.
Another potential danger of Instagram is cyberbullying. Because the app is based on sharing photos and videos, users are vulnerable to negative comments, harassment, and online abuse. Cyberbullying can have serious mental health consequences for children and teens, including anxiety, depression, and even suicide.
Finally, there is the risk of addiction to social media. Instagram, like other social media platforms, can be addictive, and excessive use can have negative impacts on mental health and well-being. Children and teens are particularly susceptible to this risk, and parents should monitor their child's use of the app to ensure they are not spending too much time on it.
In conclusion, Instagram is a popular social media platform that can be safe for kids if used responsibly and with appropriate parental supervision. Parents should familiarize themselves with the app's safety features, set limits on their child's usage, and talk to their children about the potential risks associated with social media use. By being proactive and vigilant, parents can help ensure their children have a positive and safe experience on Instagram.
Can Bark Monitor Instagram?
Bark can monitor everything your child posts, including images, videos, and captions. Bark can also monitor direct messages and searches, however, this is only available on Android devices. We're continually advocating and working for Instagram to allow iOS monitoring.

Given Instagram's popularity, there is tons of information we want parents to be informed about, everything from its parental controls, to the newest trends, and even Instagram-specific slang terms. In addition, we have a comprehensive app review with even more information on the app's safety for kids — check it out!
Don't have a Bark Phone yet?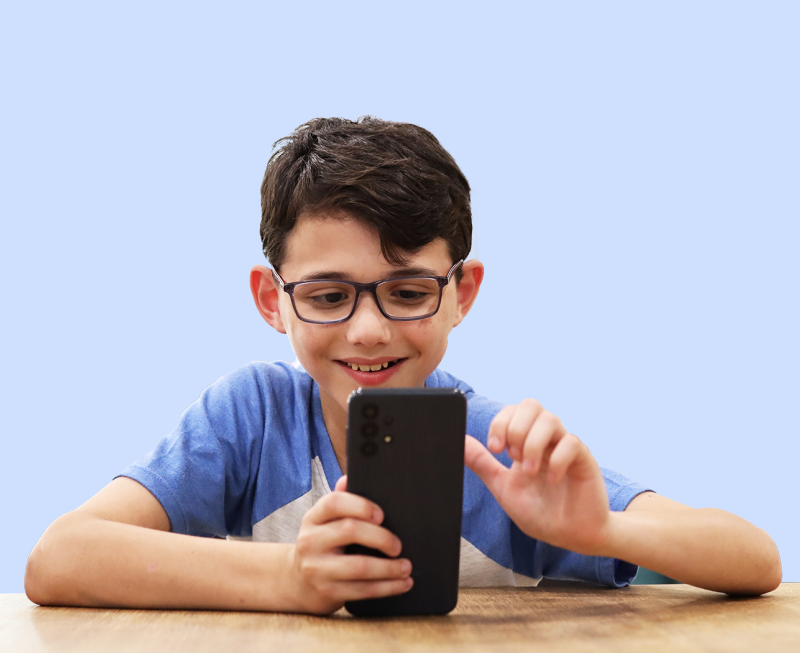 What Else Can Bark Do?
When it comes to Instagram, Bark gives you the power to choose when and if your child can use it, helping you to set healthy boundaries. Our custom screen time schedules even let you decide down to the minute when your kid can use Instagram. Plus, you can change them easily at any time — you can even pause the internet entirely when they need a breather.
More reviews
---
Communication
Yahoo Mail
Rated for Everyone
Yahoo Mail is a popular email service that allows users to send, receive, and manage emails. The Yahoo Mail mo...
Read review
Communication
Gmail
Rated for Everyone
Gmail is a popular email service provided by Google. It allows users to send and receive emails, attach files,...
Read review
Productivity
Outlook
Rated for Everyone
Microsoft Outlook is a popular mobile app that serves as an email client, calendar, and task management system...
Read review
Ready to get started?
Now that you know how Bark works, take the next step! Bark was created by parents, for parents, to offer a better, easier, and more effective way to help families create healthy digital habits.