Bark Media Kit
For interview requests with any of Bark's subject matter experts, please contact media relations. 
Digital Parenting During a Pandemic: Resources for Journalists
At Bark, the work we do every day to protect more than 5 million children at home and in 2,800 schools analyzing millions of messages from multiple platforms puts us in a unique position to speak to how kids interact online as well as the dangers they face.
No doubt, 2020 was a most challenging year for parents and educators. Continued distance learning meant kids were on their devices more than ever, adding extra stress and uncertainty for families navigating working and managing school from home. Helping to keep these kids safe online and in real life has never been more critical. 
Current stats and trends:
Bark's 2020 annual report with stats and data on children's online behavior compiled during one of the hardest years in recent history is now available. More than 2 billion messages across 30+ platforms were analyzed for this comprehensive report.
Contact media relations for interview requests related to the annual report. 
2021 Trends
Suicide: 8.9% of youth in grades 9-12 reported that they had made at least one suicide attempt in the past 12 months.
Sexting:
70.9% of tweens and 87.9% of teens encounter nudity or content of a sexual nature each year, and sexting is essentially the new "first base."
Mental Health Awareness Month alert: From January-March of 2021, Bark saw a 143% increase in alerts for self-harm and suicidal ideation among youth ages 12-18 as compared to those from January-March of 2020. 
Hate Speech:
Bark saw a 42% increase in this Asian-directed hate speech from children (ages 10-18) over the past eight months on the major platforms we monitor. 
2020 Trends
Bark saw a significant uptick in severe cyberbullying directly related to this year's election.
From 10/1-10/31 of 2020, Bark alerted parents and schools to 952,013 incidents of sexual content, 1 incident of sextortion,  9 incidents of predatory behavior, and 1,333,452 incidents of bullying across multiple platforms.
In August, we saw a 123% increase in emergency calls made to parents and schools compared to July. These calls reflect incidents of violence that included suicidal ideation.
During the first three months of quarantine alone (March-May 2020), we saw the following trends in online teenage behavior:
A 23% rise in online predation
A 16% increase in hate speech and a 63% increase in the most severe hate speech
Alerts for discussion about/consumption of illegal drugs has increased substantially
A 10% lift in alerts about fake profiles during quarantine
Usage of profanity was down by 8% during quarantine
Imminent suicide risk alerts were down by 61% during quarantine, but severe-but-not-imminent suicide alerts were up by 46%
Sexual content is generally down by quite a bit, but sexting/sending nudes is up by 11%
Severe violence was down by 68%
*Stats come from Bark's analysis of more than 600M messages analyzed over different periods since March, 2020. 
Story Angles:
• Back-to-School 2021: Preparing for in-school safety
• What to do if your child is the bully?
• Test your "App-Q" – how well do you know what's on your kids' devices?
• Self-harm and suicidal ideation: warning signs for parents
• TikTok trends and dangers
• Kids and online pornography
• Child predators and online communication
Subject Matter Experts Available for Interviews:
Titania Jordan, Chief Parent Officer, Bark Technologies and author of Parenting in a Tech World
Renee Abrams, School Safety Manager, Bark Technologies
Detective Rich Wistocki, Cyber Crimes Detective and Child Crime Expert
Dr. Free Hess, Pediatric Emergency Medicine and Child Mental Health Advocate
Chris McKenna, Founder, Protect Young Eyes
Katey McPherson, Educator, Guidance Counselor, and Child Advocate
Parenting in a Tech World
Authors and tech experts, Matt McKee and Titania Jordan join forces to share their most coveted tips and strategies for successful parenting in a tech world in this informative and conversational guide. For author interviews and speaker requests, contact Adina Kalish.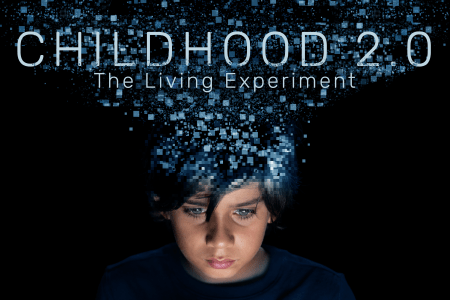 Bark Featured in New Documentary, Childhood 2.0
Bark was honored to be featured in the recent documentary, Childhood 2.0, an eye-opening film about the insidious dangers kids face online, along with noted subject matter experts in the areas of mental health, law enforcement, technology, and psychology. The 90-minute documentary was produced by Double Edge Films and is currently available on Amazon Prime, iTunes, and Google Play.    If you are interested in hosting a guided viewing party or would like to schedule an interview with any of the experts in the film, contact our press team.
Take a deeper dive into the makings of two of the most talked-about films of the year in this special YouTube LIVE event: Behind-the-Scenes with the directors of A Social Dilemma and Childhood 2.0. Titania Jordan, author of Parenting in a Tech World, moderates a meaningful discussion with Jeff Orlowski and Robert Muratore.
What is Bark?
Bark is an award-winning monitoring and screen time management service founded in 2015 by a parent who was looking for a way to help keep his kids safe online while preserving their privacy. Bark covers 30+ of today's most popular social media platforms, as well as texts, chat, email, YouTube, and files contained in Google Drive. Bark also monitors images, text within images, audio, and video and has recently added screen time management and web filtering to its suite of safety solutions.
Impact
Bark helps protect more than 5 million kids across the U.S. and has alerted parents to tens of millions of potential issues. In 2020, we analyzed more than 2.1 billion messages across texts, email, YouTube, and 30+ apps and social media platforms in our annual report. Noted findings include:
76.7% of tweens and 82.0% of teens experienced cyberbullying as a bully, victim, or witness.
45.5% of tweens and 66.3% of teens engaged in conversations about depression.
70.9% of tweens and 87.9% of teens encountered nudity or content of a sexual nature.
41.4% of tweens and 66.6% of teens were involved in a self-harm/suicidal situation.
78.0% of tweens and 91.1% of teens engaged in conversations surrounding drugs/alcohol.
88.5% of tweens and 94.1% of teens expressed or experienced violent subject matter/thoughts. 
To date, Bark has also helped prevent 16 school shootings and offers free content monitoring for more than 2,800 schools and districts nationwide.
Families and schools that use Bark have seen more family engagement in their children's digital lives, deeper conversations around the dinner table, and ongoing dialogue about living in a tech world — all of which have led to healthier relationships between parents and kids, kids and their devices, and yes, even parents and their devices, too.
How does Bark's technology work?
Our artificial intelligence does more than flag simple keywords. Bark's algorithm analyzes language in context and is trained to recognize the ever-evolving nuances of kid, tween, and teen slang. Since launching in 2015, Bark's mission has always been to help keep kids safe online, and that doesn't end with detecting digital dangers. We've developed our systems with state-of-the-art security technologies, and we're proud to report that we're compliant with more privacy regulations than are legally required of us — and that we've never had a data breach of any kind.
Bark's Coverage
Bark covers 30+ of today's most popular social media platforms, as well as texts, chat, email, YouTube, and files contained in Google Drive. And because we know that kids communicate with more than just words, we also monitor images, text within images, audio, and video.
How Bark Started
Bark was founded by a parent looking for a way to help keep his kids safe online while preserving their privacy. When he discovered that no such tool existed, he created one himself. We understand that parenting with technology is hard — after all, we're the first generation of parents to raise kids with smartphones. Because of this, everything we do is guided by our perspective as parents trying to help protect kids in the digital age.
How Bark Respects Kids' Privacy
As kids, tweens, and teens grow into adults, we believe they need to learn how to live and thrive with technology — which is why we don't give parents unfettered access to their kids' online activities. Instead, Bark only alerts parents to potentially concerning situations. Kids can keep their privacy, and parents can save time by not having to scroll through every message. We also have strenuous safeguards in place to protect your family's data. From our team of dedicated customer support specialists to the helpful advice and recommended actions from child health and wellness experts that accompany alerts, we provide parents with guidance, kindness, and peace of mind.
Leadership Team
Looking for a speaker or subject matter expert in the area of cyber safety, digital parenting, artificial intelligence as a protective measure, or trends in digital citizenship and cause-related technology? Our leadership team and advisory board is comprised of experts in the fields of technology, social justice, mental health, and internet safety. 
For interviews or media requests, contact Adina.Kalish@bark.us.
Brian Bason, Chief Executive Officer
As CEO, Brian founded Bark as a solution to help parents work together with their children to navigate the dangers of today's digital world. An entrepreneur with more 15 years of experience as a technology product lead and executive, Brian is also a parent who knew he could address a critical void in Internet safety solutions by creating one that is easy for parents to use while also affording children their privacy.
Most recently, Brian was Chief Technology Officer at Niche, a solution that helps advertisers collaborate with influencers across social media, which was acquired by Twitter. He also co-founded and served as CEO of CrowdStream, a mobile platform connecting touring bands, brands and consumers across mobile and social media, which was acquired by RadioIO. Previously Brian served as Chief Technology Officer at YouCast Corp., which was acquired by SocialChorus.
Brian graduated from the University of Colorado with a degree in Physics. He resides in Georgia with his family.
Brandon Hilkert, Chief Technology Officer
As CTO, Brandon is focused on delivering technology solutions to help protect our children from the dangers of the internet. As a technology leader with more than 10 years of industry experience, Brandon is also a parent of two young children and wants the internet to be a valuable place for them to learn while also being protected.
Most recently, Brandon was Engineering Lead at PipelineDeals, a SaaS CRM. He's also co-founded and served as CTO of Meeteor, an application that leverages social data to make introductions to people you didn't know, but should. He also wrote a book on building Ruby gems.
Brandon graduated from Virginia Tech with a degree in Mechanical Engineering. He resides in Southern California with his wife and two children.
Titania Jordan, Chief Parenting Officer
As the Chief Marketing Officer and Chief Parenting Officer of Bark, Titania is a renowned thought leader on digital parenting and has contributed to pieces in the Wall Street Journal, Forbes, Huffington Post, Fox Business, Daily Mail, USA Today, Vogue, and more. Her first book, Parenting in a Tech World, was published in 2020 and quickly became a bestseller on Amazon. She also frequently appears as a subject matter expert on nationally broadcasted programs such as the TODAY Show, Steve Harvey, The Doctors, CBS This Morning, Good Morning America, Fox News, Sirius XM Radio, and CNBC.
In 2017, Titania founded a Facebook group where parents could come together and get advice on raising kids in the digital age, share stories, and learn the latest news about social media. It now has more than 110,000 members and is growing rapidly.
When she's not busy trying to make the world a safer place for kids, Titania enjoys duetting with her 12-year-old on TikTok, crafting custom handmade jewelry, and searching for the perfect smoothie.
For the latest news regarding parenting in a tech world, you can follow her on Facebook, Instagram, Twitter.
Potential Issue to Review
Alert Sensitivity Settings
Potential Issue Notification on iPhone
Product Dashboard — Desktop
Product Dashboard — Desktop