Bark Home
The internet filter for families raising kids in the digital age
Starting at
Utilize Bark's internet parental controls to manage screen time and filter websites on all of the internet-connected devices in your house — including gaming consoles, TVs, and more.
A subscription is NOT required with the purchase of Bark Home.
Orders fulfilled within 2 – 7 days. Shipping is free. Comes with a 30-day money back guarantee.
Featured On:
"We believe Bark Home does a better job protecting kids!"
—Protect Young Eyes
Cover Every Device
From TVs and Nintendos to PlayStations and iPads, Bark Home lets you manage when your kids can access the internet on all the devices in your house.
Set Custom Schedules
Different times of day call for different screen time rules. With Bark Home, you can choose when to block or allow access to online gaming, streaming sites, and more.
Pause the Internet
When things get hectic around your house, you can pause the internet anytime so your kid can take a breather. Who knows — you might even want to join them.
Create Automatic Bedtimes
Decide which screen time rules apply when it's time for bed. This can look like no internet at all or maybe just apps that will help them wind down.
Block Apps and Games
Turn off access to apps and games with the tap of a button, whether it's Netflix on a TV, Fortnite on a PlayStation, or YouTube on a laptop.
Filter Websites
You can allow or block specific websites — or choose from 18 different categories like streaming services, online gaming, sexual content, and more.
Supports High Speeds
Bark Home supports super-fast speeds up to 1 Gbps for connected families with lots of devices.
Mandatory Safe Search
Your kid won't be able to turn off the safe search function on YouTube, Google, Bing, and DuckDuckGo across all home devices.
Works With Most Routers
We designed Bark Home to be compatible with as many routers as possible. Here's a running list so you can see if yours works.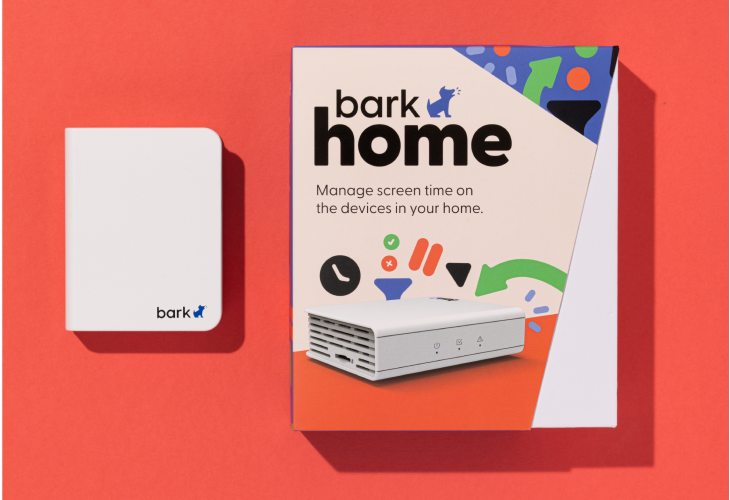 Apple makes monitoring hard. Bark makes it easy.
When you have Bark Premium, the Bark Home lets you monitor your child's iOS device — text messages, saved photos & videos and more — without having to plug it in to a home computer. You'll get alerts for potential dangers easily and effortlessly.
Watch: How Bark Home Works
Plug it in
This small device connects to your Wi-Fi router and enables you to manage all the internet-connected devices in your house.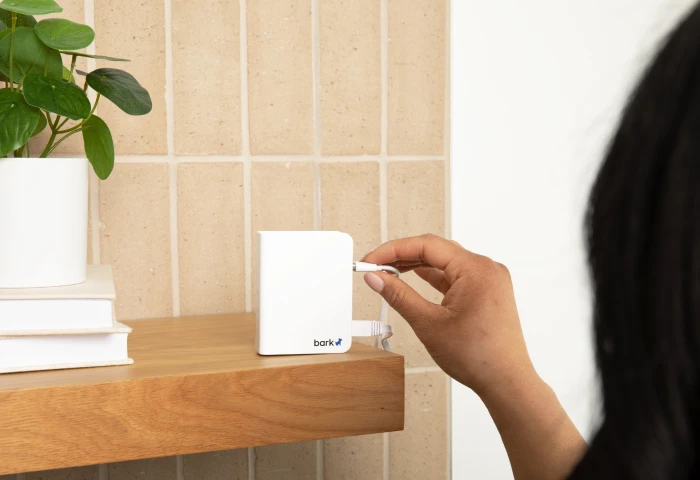 Add kids & devices
From smart TVs and gaming consoles to phones and tablets, you're in charge of deciding what your kids can access online and when.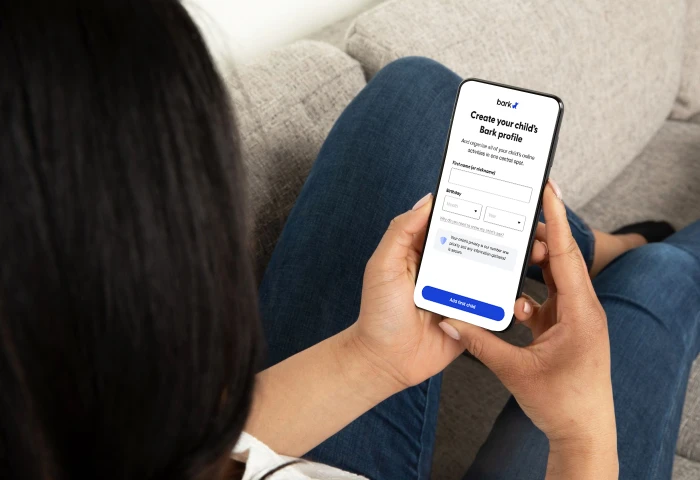 Set limits
Set daily schedules, including bedtime, school time, and free time. You can also choose which websites are allowed or blocked on every device.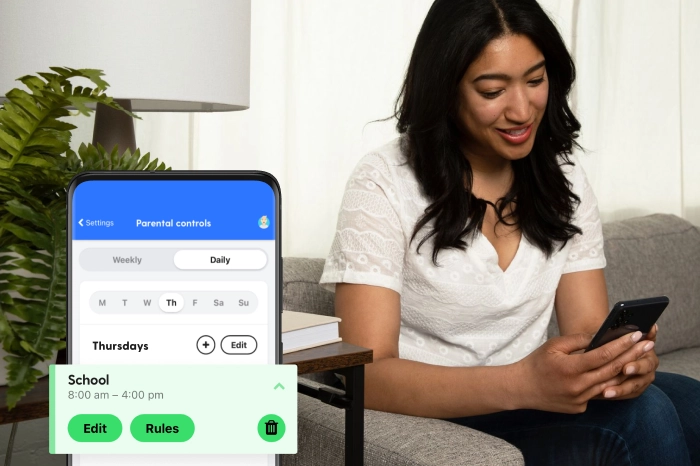 What Parents Are Saying
Giving me peace

"Bark Home was so easy to install. In fact the installation directions are on one page. Once you get it hooked up you go to a website and finish it up. I have it paired with my Bark Monitoring and I am no longer worried about what my daughter is doing online."

Better than any of its competitors

"We went through them all: Circle, Gryphon, etc. Bark Home was the strongest option available."

Like a dream come true

"Bark Home is the solution so many parents need. It can be set up easily and is written in normal (not tech) language for the average parent to get set up and get on with other things. It is the perfect complement to BARKs already superior mobile device monitoring system."

Very happy with Bark

"We were already using BARK on my daughter's phone. With this new Bark Home, we were able to cover her computer and my son's computer. It did not slow down our wi-fi and after getting the settings and exceptions figured out, it's working great."

Great expanded coverage to Bark subscription

"Great addition to Bark Parental Controls. It expands my Bark subscription parental controls to all devices connected to my home network and even alerts me when a new device connects to my network. Finally, I can control the school issued devices (on my home network) and Smart TVs."

Super Easy to Set Up

I really liked how uncomplicated the setup is. It would be a great gift for any parent. It provides peace of mind and an extra bit of protection for your kids.
Learn more about Bark Home
What kinds of devices can Bark Home manage?
Smart TVs
Gaming consoles (Xbox, PlayStation, Nintendo)
Tablets
Computers
Cell phones
How do the Bark Home's internet parental controls work?
The Bark Home's internet parental controls work by allowing you to block websites and apps and set screen time schedules on your child's home devices — things like TVs, tablets, gaming consoles, and computers. It works on phones — iOS and Android — too!
You can also help protect them from potentially inappropriate content like porn, gaming sites, and excessive violence. You can also set up schedules where your kid can only access the internet on these devices at certain times, like after dinner or only on weekends. It's up to you!
The Bark Home is a small device that plugs into your home's Wi-Fi router, and it works by allowing or not allowing content at different times.
Our internet parental controls can give you peace of mind that your child is not getting into anything they shouldn't, which is the perfect way to help keep them safe online and in real life.
Is my router compatible with Bark Home?
Check this list to see if your router is compatible with Bark Home. You can also look into routers that come with Bark built in.

Don't see your specific router? No problem! The majority of routers are compatible or can be adjusted to be compatible with Bark Home. If you have questions, please reach out to our team.
Will Bark Home slow down my internet speeds?
Any web filtering technology will impact upload speeds somewhat, but Bark Home supports internet throughput up to 1 Gbps, meaning you should retain high speeds throughout your home's devices. Bark Home also shouldn't have an impact on streaming content. You can read more about this here.
Order Your Bark Home Today
Start setting healthy boundaries with your children's screen time and help keep them safe online and in real life with Bark Home's powerful internet filter.