Frequently Asked Questions
Have questions? You've come to the right place.
Content Monitoring
What will my child think about Bark's content monitoring?
Kids are generally receptive to Bark once they learn that we protect them online while also giving them more privacy. Parents don't get access to every single message they send — only to online activities that indicate that they might be in danger. Here's how to talk to your child about Bark.
What platforms does Bark monitor?
Bark monitors 30+ of the most popular social media platforms and apps, as well as text messages and saved photos and videos on devices. You can check out an interactive list of everything Bark monitors here based on what type of device your child has.
For apps that Bark doesn't currently monitor, you can easily block them entirely or set limits on daily access.
Does content monitoring work well on iOS devices?
Generally speaking, Apple has more stringent security and privacy restrictions than other operating systems. For this reason, set-up is slightly different for iOS devices. Bark analyzes text messages, photos, videos, and more thorough scans of your child's iOS device.
To help ensure Bark is able to monitor your child's iOS device, please follow the iOS connection instructions in the onboarding process. After the initial set-up, the Bark Desktop App will automatically back up your child's iOS device to your computer for analysis.
Is Bark's content monitoring 100% accurate?
No parental control tool will ever be perfect. It is possible that something could be missed, or that you'll get an occasional alert from us when no real issue exists. That being said, our A.I. is constantly improving! Plus, we are a tool to help families protect their children online, not a replacement for active, engaged parenting.
Does Bark analyze images and videos?
Yes, Bark analyzes images and videos associated with a message or that are stored on a device. They're analyzed for nudity, violence, and other inappropriate content, including text added to the images.
What if my child uninstalls Bark?
If your child changes the passwords to their email or social media accounts, causing Bark to stop monitoring them, you'll get a notification.
You'll also be alerted if your child uninstalls one of our child companion apps. You can prevent companion apps from being uninstalled from iOS and Android devices:
If your child has an iOS device, you'll need to use Apple's Screen Time to enforce Uninstall Protection. Navigate to:
Settings > Screen Time > Content & Privacy Restrictions > iTunes and App Store Purchases > Deleting Apps > Don't Allow
NOTE: If you haven't set up iOS Screen Time, click here for instructions.
Can Bark monitor deleted texts?
With the Bark app, we can monitor deleted texts on Androids. For iOS devices, Bark can monitor some deleted texts. Ensuring frequent backups increases the chances that our technology will analyze deleted texts in iOS devices, but it is not guaranteed.
If you're worried about deleted texts, we recommend the Bark Phone — texts can't be deleted on it without your permission!
Why can't I review all my child's activities?
At Bark, we believe kids deserve privacy, which is why our alerts only surface potential issues. Bark is designed to provide your family with a digital safety net — as well as give you back the time spent spot-checking your kid's devices.
What if I have an iPhone and my child has an Android? Or vice versa?
Managing a Bark account as a parent is independent of the monitoring we do for the child's connected accounts, so using different types of devices has no effect on our ability to detect potential issues.
To monitor a child's iOS device, parents can use the Bark Parent iOS app, Bark Parent Android app, or the Bark website to manage their account.
In order to monitor a child's Android device, the Bark for Kids app will need to be downloaded to their device.
Will my child know that Bark is installed?
While it is technically possible to set up Bark without your child's knowledge (assuming you have the log-in information for their online accounts), we highly encourage you to discuss your usage of Bark with your child. Talking to your child about alerts when they arise provides a good opportunity to have important conversations about serious topics.
What if my child has more than one Instagram account?
We're able to monitor more than one account on any given platform, just make sure you have all of the log-in info for each additional account for monitoring with Bark.
Does Bark monitor Mac or Windows computers?
Website Blocking & Screen Time
What devices are supported?
Our screen time management feature works on iOS, Android, and Chromebooks. If your child is using an older hand-me-down device, you can check to see if it's compatible here.

If you'd like to be able to set screen time limits on internet-connected home devices like TVs and gaming consoles, we recommend Bark Home.
Do these features work outside of the home?
For phones and tablets
Yes! You can manage screen time and filter websites for phones and tablets with the Bark app for Android or iOS, whether your child's device is connected to a Wi-Fi network or is using cellular data.
Note: Amazon Fire tablets support on-the-go content monitoring, but not on-the-go filtering.
For other internet-connected devices
No — You can only manage screen time and filter websites on home devices like smart TVs, gaming consoles, and more while they're connected to your family's Wi-Fi network with the Bark Home device.
Do I need any special hardware for screen time to work?
For phones and tablets
You won't need any hardware for our screen time management feature to work on phones and tablets — your child will just need to download our companion apps for iOS or Android.
For other internet-connected devices
You'll need to purchase Bark Home, a small device that connects to your home Wi-Fi router, to manage screen time on smart TVs, gaming consoles, and more.
Can I set different screen time hours for each of my children?
Absolutely! As parents ourselves, we know that raising an 11-year-old isn't the same as raising a 16-year-old. Because of this, you can create a different schedule for each of your children.
Can I block categories of websites along with specific websites?
Yes, our web filtering feature lets you manage access to up to 18 different website categories. Within those categories, you can also create exceptions. For example, you can block all streaming sites but allow Netflix (and vice versa).
How is Bark's screen time feature different from Apple Screen Time or Google Family Link?
With Bark, you can manage your children's screen time from your own phone via the Bark app or website, regardless of whether you have an iPhone and your kids have an Android (or vice versa).
In terms of web filtering, Apple's Screen Time and Google Family Link web filters only block general content. Bark, on the other hand, breaks down a wide range of categories and exceptions to enable a more customized and refined level of protection.
Can I prevent screen time settings from being changed without my approval?
Children aren't able to adjust their own screen time limits from the Bark for Kids app. Deleting the app will allow them to get around the restrictions, but you'll be notified if this happens.
#phone
Bark Phone
What type of phone is the Bark Phone?
The Bark Phone for kids is a Samsung A series. We purposely designed it so that it wouldn't be recognizable as a "kiddie" phone. No one will know it's a kid phone unless you tell them. Bark's powerful parental controls are all internal — there's no Bark branding, logos, or other tell-tales that would broadcast it as a kid's phone. 
It comes with all the standard features of a Samsung phone.
Regardless of whether a parent has an iPhone or an Android, they will be able to manage the Bark Phone with no issues, so don't worry about compatibility problems.
How much does the Bark Phone cost?
The Bark Phone is free! No hefty deposit or long contract is required, and after 90 days, the phone is yours to keep. We're confident your family will love the Bark Phone, but if you need to cancel your subscription, just return your non-damaged phone to us and you're all set.
Our monthly subscription plans range from $29/month to $89/month.
Plans include the device, our built-in parental controls, unlimited talk & text, data (if you need it), and a Bark Premium subscription for the entire family.
Choose the plan that fits your family's needs. 
Starter plan:
$29/month for unlimited talk, text, and no internet, app store, or games
Advanced plans:
$49/month for unlimited talk, text, and Wi-Fi only (no data)
$59/month for unlimited talk, text, and 4GB data
$69/month for unlimited talk, text, and 8GB data
$89/month for unlimited talk, text, and data1
1 After exceeding 35GB/month of data use, data speeds will be reduced for the remainder of the monthly billing cycle. After exceeding 50GB/month of data usage, data speeds may be reduced further and/or data connection may be turned off for the remainder of the monthly billing cycle.
How is a Bark Phone different from a phone with the Bark app?
The Bark Phone for kids is the result of years of experience in the online safety industry and real-life conversations with the people whose opinion counts the most: families raising kids with phones in the digital age.
We've created a safe phone for kids that integrates Bark's software seamlessly, resulting in a comprehensive and robust parental control experience.
It also comes with exclusive features that weren't possible with just a downloadable app. The Bark Phone gives parents unprecedented oversight of their child's online experience, including GPS-powered location tracking, call blocking, contact management, and automatic monitoring for texts and many apps and social media platforms.
Its native controls are tamper-proof, providing parents with peace of mind that the rules they set stay in place. Bark can't be deleted, even if you factory reset it.
The best part of the Bark Phone? It grows with your child as they mature. For younger kids, you can keep the phone locked down with as little functionality as a flip phone. As they get older, you can add in additional freedoms, functionality, and apps — or scale back anytime boundaries are needed.
What does the Bark Phone come with?
Every Bark Phone comes with:
Unlimited talk and text
Bark Premium subscription for the entire family
USB-C charging cord
A data plan that fits your family's needs (non-starter plans only)
Quick start guide for easy setup
What if I want to buy the Bark Phone but already have a Bark subscription?
If you already have a Bark Premium subscription, that's okay! We will adjust your plan and prorate the remaining amount left and apply it to your Bark Phone subscription.
Is the Bark Phone available outside the U.S.?
Right now, the Bark Phone for kids is only available for families located in the U.S.
What apps are available for the Bark Phone?
You know your child best, which is why the Bark Phone gives you full control over the apps they can access. You can block every app that a Samsung A series could download, or you can allow them all — or somewhere in between, which is where most families will fall.
How is the Bark Phone different from other kids' phones?
The Bark Phone is powered by the award-winning technology that made the Bark app a trusted name for families across the world. It's the result of years of experience understanding what families need and want when it comes to having a safe phone for kids.
Secondly, we made it completely customizable, because every family — and kid — is different. For younger kids, you can make the Bark Phone work essentially like a non-smartphone. As they get older and become ready for more responsibility, you can add in functionality and access to web browsing, apps, social media, and more.
What is the Bark Phone return and refund policy?
If you cancel before 3 months, you'll need to ship the Bark Phone back to us.
If you cancel after 3 months, the phone is yours to keep, but:
Voice/text/data service will be deactivated.
The phone number will be released if you haven't already ported it to a new carrier.
Monitoring and parental controls will no longer work on the device.
To remove the Bark software and use it as a regular Samsung phone, you'll need to reach out to customer support, who will guide you through how to manually remove it.
If you have further questions you can contact us for help.
Bark Home
What is Bark Home?
Bark Home is a small piece of hardware that connects to your Wi-Fi router. It allows you to manage screen time and block websites and apps on all of the internet-connected devices in your home.
Bark Home also allows you to monitor iOS devices without using a computer, making the process simpler for parents.
What can Bark Home do?
Here are a couple of the key things Bark Home can do:
Turn off the internet when needed on home devices (including smart TVs, gaming consoles, cell phones, tablets, and more)
Set a schedule of custom daily rules — school time, free time, and bedtime — for each child
Block specific apps and websites (like Snapchat and Instagram)
Block categories of apps and websites (like social media, streaming, gaming, and sexual content)
Monitor iOS devices
Supports high speeds with a 1 Gbps Ethernet port
Note: If your subscription plan also includes content monitoring, you can monitor 30+ of the most popular apps and social media platforms for potential issues like cyberbullying, online predators, suicidal ideation, and more.
What kinds of devices can Bark Home manage?
Smart TVs
Gaming consoles (Xbox, PlayStation, Nintendo)
Tablets
Computers
Cell phones
Where can I buy Bark Home?
You can purchase Bark Home on our website.

At this time, we only ship Bark Home in the United States. However, Bark services Australia and South Africa with Bark Jr & Bark Premium.
How much does Bark Home cost?
Bark Home is $79 and requires no additional costs aside from the cost of the hardware itself.
Bark Home can easily be added to an existing Bark account or work without having previously set up a Bark account.
How do I know if my router is compatible with Bark Home?
Before you purchase a Bark Home, check that your router is compatible here. Don't see your specific router? No problem! The majority of routers are compatible or can be adjusted to be compatible with Bark Home. If you have questions, please reach out to our team.
Is Bark Home incompatible with your home router? You can still manage screen time and block websites on your child's mobile devices with a Bark subscription. You can also look into routers that come with Bark built-in.
How do I find out what router model I have?
There are a few ways you find out what type of router you have. You can:
Look on the top, sides, or bottom of your router for the make and model — sometimes it's a sticker. Common makes include Netgear, TP-Link, Asus, Linksys, and others, while models usually consist of letters and numbers.
Use Google to look up potentially identifiable items on your router, like the name or serial number.
Contact your internet service provider.
Can Bark Home monitor content on home devices like TVs and gaming consoles?
Bark Home lets you manage screen time and block websites and apps on devices that connect to your home Wi-Fi network. You'll get an alert if your child attempts to view sexual content on these devices. 
With a Bark Premium subscription, you can monitor content in texts, emails, and 30+ apps and social media platforms for potential issues like bullying, online predators, suicidal ideation, and more.
Does Bark Home work on mobile devices?
When your kid's device is connected to the home Wi-Fi network, it sure does! And when they're outside the house using cellular data, your family's Bark subscription via the Bark Kids app will cover screen time on mobile devices, too.
Will Bark Home slow down my internet speeds?
Any web filtering technology will impact upload speeds somewhat, but Bark Home supports internet throughput up to 1 Gbps, meaning you should retain high speeds throughout your home's devices. Bark Home also shouldn't have an impact on streaming content. You can read more about this here.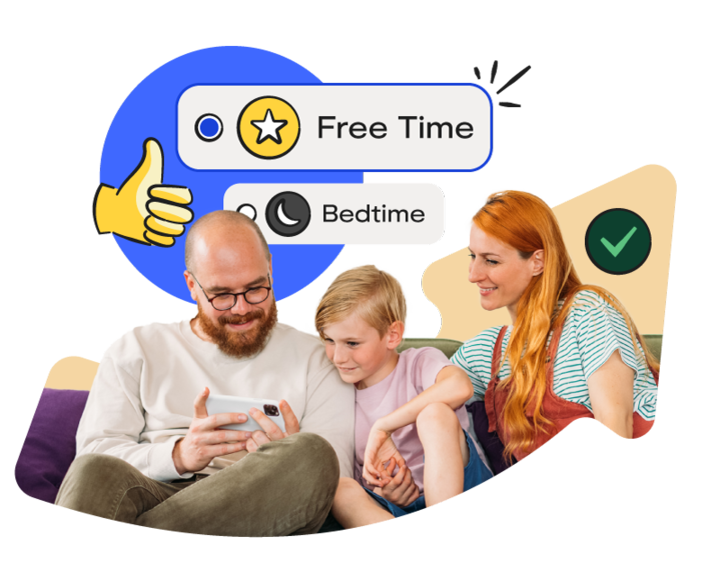 Help Protect Your Child Online
Ready to get started? Sign up today for a free, 7-day trial.