Have questions? You've
come to the right place.
General
What does Bark do?
Content Monitoring
Bark monitors your child's texts, email, YouTube, and 30+ apps and social media platforms for issues like cyberbullying, adult content, sexual predators, profanity, suicidal ideation, threats of violence, and more.
Parents receive text or email alerts only when something potentially problematic occurs online. You won't have full access to everything on your child's phone — just the things you might need to know about. This saves you countless hours of scrolling through every online interaction your child has while allowing you to build trust and maintain an open line of communication with your child.
Screen Time Management
Families can set time limits and create schedules for when their children's devices can connect to the internet (through both cell service and Wi-Fi).
Web Filtering
Our web filter lets you select which websites are appropriate for your child to access on their devices. You can block specific sites or even whole categories like streaming services, online gaming, sexual content, and more.
How much does Bark cost?
We offer two products for families to choose from, depending on the level of protection you need.
Bark Premium, our flagship service, is a comprehensive solution that includes content monitoring, screen time management, and web filtering. Bark Premium is $14/month or $99 annually.
Bark Jr provides screen time management and web filtering. This level of service is $5/month or $49 annually (18% savings).
How does Bark work?
Content Monitoring
Bark uses advanced machine learning and statistical analysis techniques to recognize potential problems. Simple keyword searches are not enough to detect the majority of issues, which is why our service uses contextual analysis and natural language processing to determine when something serious might be happening. For example, Bark knows the difference between a kid saying "This homework makes me wanna kill myself," versus "Nobody cares about me, I wanna kill myself." Our algorithm also keeps up with the latest in teen slang.
Screen Time Management and Web Filtering
Families can manage not only when their kids can access the internet on their devices, but also which sites they can visit.
You can create custom profiles for each child in your house, create screen time schedules, and manage access to a wide variety of websites — including video streaming, gaming, adult content, and more.
How do I get started with Bark?
To get started, simply visit our sign-up page or download our app for parents (iOS, Android). From there, you'll be able to select the product (Bark Premium or Bark Jr) that's right for your family and get step-by-step instructions.
What makes Bark unique?
Bark is the only comprehensive digital safety solution available for families, allowing them to monitor online activities, manage screen time, filter websites, and request location check-ins — all with a single service.
Is Bark hard to install?
Nope! You and/or your child simply connect your child's accounts and devices to Bark, which takes only a few minutes. If you need any help, we have a dedicated team of Family Online Safety Specialists ready to jump in and answer any questions you have. When you're ready, just email them!
Do I need a computer to set up Bark Premium or Bark Jr?
For Bark Premium
You'll need a computer to set up Bark Premium if your child has an iPhone, iPad, or iPod. For Androids, you won't need a computer at all.
For Bark Jr
You won't need a computer to set up Bark Jr on iOS or Android devices — all that's required is to have our companion apps for iOS or Android downloaded to your child's phone.
Is my child's data secure?
Absolutely. At Bark, security is paramount. Our website uses SSL encryption and all analyzed data is stored within an encrypted database. You can rest easy knowing your children's data is secure.
I love Bark! Can I refer my friends?
We love referrals! We'll give you a $50 Amazon gift card for each friend who signs up and subscribes to Bark using your unique referral code. You can manage your referrals from the dashboard of your Bark account by selecting "Refer a friend" from the drop-down menu in the top right corner.
I can't afford Bark. Can you help?
Does Bark have an iOS app?
Parents with iOS devices can manage their family's account from their devices by downloading our iOS app. The app allows you to review alerts, add children, connect accounts, update your notification settings, and more.
The Bark Kids app will also need to be downloaded to your child's iOS device to enable our screen time management and web filtering features.
Does Bark have an Android app?
We have two Android apps: one for parents to manage their account and one to be installed on your child's device to fully enable all of our features.
Parents can download our Android app from the Google Play store. The app allows you to manage your account, review potential issues, add children, connect accounts, update your notification settings, and more! Note: This app should ONLY be installed on the parent's device.
Bark for Kids should be installed on your child's Android device to allow Bark to monitor content, manage screen time, and filter websites on the device.
Androids are much easier than iPhones to monitor thoroughly, which is why we generally recommend Androids as the best first phone for kids.
Do I need to jailbreak/root my child's phone?
No, you do not need to jailbreak your child's iOS device or root your child's Android phone in order for Bark to work. As a third-party service, we strive to provide a program that keeps phones working properly and that does not void warranties or terms of service.
What languages do you support?
Our algorithms are currently trained in English, Spanish, and Afrikaans, and we're looking to add more languages in the near future.
Is Bark available outside the U.S.?
As of right now, Bark is currently only available in the United States and South Africa.
Does Bark work with co-parents and/or dual households?
Absolutely! Whether your child has an Android or an iOS device, it's possible for co-parents to share alerts and notifications. Read more about it here or contact us to learn more.
Where can I talk to other parents who are using Bark?
Check out our Facebook group, Parenting in a Tech World, where thousands of parents interact daily about all things digital parenting.
How does the 7-day free trial work?
You'll have the full trial period to decide if you'd like to continue with Bark and become a paid subscriber. Even though we require a credit card for COPPA verification, we won't charge it until your 7-day trial is over.
Does Bark work with other parental control products?
With the addition of our screen time management and web filtering features, Bark now provides a comprehensive safety solution for your family, so you no longer need a second tool or product. If you want to make sure your family is covered when it comes to online safety, please feel free to email us.
My computer is running in S mode and I can't download Bark. What should I do?
S mode is a security feature in Windows 10 that only allows users to download apps from the Microsoft Store. Unfortunately, the Bark Desktop App is not currently distributed on this platform.
There's a solution, though! To install Bark, you'll just need to switch out of S mode. Once you switch out of S mode, you won't be able to turn it back on again. But Windows will still maintain all of its standard functionalities, and you'll be able to download apps from marketplaces other than the Microsoft Store.
To switch out of S mode:
On your PC running Windows 10 in S mode, open Settings > Update & Security > Activation.
Find the Switch to Windows 10 Home or Switch to Windows 10 Pro section, then select the Go to the Store link. (Note: Don't select the link under Upgrade your edition of Windows. That's a different process that will keep you in S mode.)
From here, select the Get button. You'll then be switched out of S mode and will be able to download apps from anywhere.
What is COPPA?
In 2013, the FTC updated the Child Online Privacy and Protection Act (COPPA) to bring laws originally enacted in 1998 in line with the ever-changing internet. The original COPPA laws were created to help ensure that digital brands weren't taking advantage of new marketing channels to target kids under 13.
In short, if you add a child under the age of 13, we're not legally allowed to provide our services unless we have verifiable parental consent in the form of a credit card added to your account, which occurs during the onboarding process.
Content Monitoring
What will my child think about Bark's monitoring feature?
Kids are generally receptive to Bark once they learn that we protect them online while also giving them more privacy. Parents don't get access to every single message they send — only to online activities that indicate that they might be in danger. Here's how to talk to your child about Bark.
What platforms does Bark monitor?
We support the following social media, email, chat, and messaging platforms:
Snapchat
Facebook
Spotify
Twitter
Instagram
Tumblr
Gmail
Google Hangouts Chat
Outlook/Hotmail
OneDrive
OneNote
Dropbox
Yahoo! Mail
Comcast Mail
AOL Mail
YouTube
Discord
Pinterest
GroupMe
Houseparty
Steam
Holla
VSCO
Lipsi
Messenger Kids
Flickr
WhatsApp
Kik
iOS Text Messaging/Photos/Videos/Web browsing
Android Text Messaging/Photos/Videos/Web browsing
Amazon Fire Tablet
Chrome web browsing (requires extension)
Chromebook
Slack
Skype
Reddit
TikTok
LiveMe
BIGO LIVE
Does monitoring work well with iOS devices?
Generally speaking, Apple has more stringent security and privacy restrictions than other operating systems. For this reason, set-up is slightly different for iOS devices. Bark analyzes text messages, photos, videos, and more through backups of your child's iOS device.
To ensure Bark is able to monitor your child's iOS device, please follow the iOS connection instructions in the onboarding process. After the initial set-up, the Bark Desktop App will automatically back up your child's iOS device to your computer and upload for analysis.
Is Bark's monitoring capability 100% accurate?
No software tool will ever be perfect. It is possible that something could be missed, or that you'll get an occasional alert from us when no real issue exists. We are a tool to help families protect their children online, not a replacement for active, engaged parenting.
Does Bark analyze images and videos?
Yes, Bark analyzes images and videos associated with a message or that are stored on a device. They're analyzed for nudity, violence, and other inappropriate content, including text added to the images.
What if my child uninstalls Bark?
If your child changes the passwords to their email or social media accounts, causing Bark to stop monitoring them, you'll get a notification.
You'll also be alerted if your child uninstalls one of our child companion apps. You can prevent companion apps from being uninstalled from iOS and Android devices:
If your child has an Android device, make sure that the Bark for Kids app is version 3.0.9 or higher so we can enforce Uninstall Protection. Click here for instructions on how to update your child's Bark for Kids app, if applicable.
If your child has an iOS device, you'll need to use Apple's Screen Time to enforce Uninstall Protection. Navigate to:
Settings > Screen Time > Content & Privacy Restrictions > iTunes and App Store Purchases > Deleting Apps > Don't Allow
NOTE: If you haven't set up iOS Screen Time, click here for instructions.
Can Bark monitor deleted texts?
Bark can monitor deleted texts on Androids. For iOS devices, Bark can monitor some deleted texts. Ensuring frequent backups increases the chances that our technology will analyze deleted texts in iOS devices, but it is not guaranteed.
Why can't I review all my child's activities?
At Bark, we believe kids deserve privacy, which is why our alerts only surface potential issues. Bark is designed to provide your family with a digital safety net — as well as give you back the time spent spot-checking your kid's devices.
What if I have an iPhone and my child has an Android? Or vice versa?
Managing a Bark account as a parent is independent of the monitoring we do for the child's connected accounts, so using different types of devices has no effect on our ability to detect potential issues.
To monitor a child's iOS device, parents can use the Bark Parent iOS app, Bark Parent Android app, or the Bark website to manage their account.
In order to monitor a child's Android device, the Bark for Kids app will need to be downloaded to their device.
Will my child know that Bark is installed?
While it is technically possible to set up Bark without your child's knowledge (assuming you have the log-in information for their online accounts), we highly encourage you to discuss your usage of Bark with your child. Talking to your child about alerts when they arise provides a good opportunity to have important conversations about serious topics.
What if my child has more than one Instagram account?
We're able to monitor more than one account on any given platform, but you'll need to connect each additional account for monitoring with Bark.
Does Bark monitor Mac or Windows computers?
Screen Time and Web Filtering
What devices are supported?
Our screen time management feature works on iOS and Android. If your child is using an older hand-me-down device, you can check to see if it's compatible here.
Do these features work outside of the home?
For phones and tablets
Yes! You can manage screen time and filter websites for phones and tablets with the Bark app for Android or iOS, whether your child's device is connected to a Wi-Fi network or is using cellular data.
Note: Amazon Fire tablets support on-the-go content monitoring, but not on-the-go filtering.
For other internet-connected devices
No — You can only manage screen time and filter websites on home devices like smart TVs, gaming consoles, and more while they're connected to your family's Wi-Fi network with the Bark Home device.
Do I need any special hardware for screen time to work?
For phones and tablets
You won't need any hardware for our screen time management feature to work on phones and tablets — your child will just need to download our companion apps for iOS or Android.
For other internet-connected devices
You'll need to purchase Bark Home, a small device that connects to your home Wi-Fi router, to manage screen time on smart TVs, gaming consoles, and more.
Can I set different screen time hours for each of my children?
Absolutely! As parents ourselves, we know that raising an 11-year-old isn't the same as raising a 16-year-old. Because of this, you can create a different schedule for each of your children.
Can I block categories of websites along with specific websites?
Yes, our web filtering feature lets you manage access to up to 17 different website categories. Within those categories, you can also create exceptions. For example, you can block all streaming sites but allow Netflix (and vice versa).
How is Bark's screen time feature different from Apple Screen Time or Google Family Link?
With Bark, you can manage your children's screen time from your own phone via the Bark app or website, regardless of whether you have an iPhone and your kids have an Android (or vice versa).
In terms of web filtering, Apple's Screen Time and Google Family Link web filters only block general content. Bark, on the other hand, breaks down a wide range of categories and exceptions to enable a more customized and refined level of protection.
Can I prevent screen time settings from being changed without my approval?
Children aren't able to adjust their own screen time limits from the Bark for Kids app. Deleting the app will allow them to get around the restrictions, but you'll be notified if this happens.
Bark Home
What is Bark Home?
Bark Home is a small piece of hardware that connects to your Wi-Fi router. It allows you to manage screen time and filter content on all of the internet-connected devices in your home.
What can Bark Home do?
Turn off the internet when needed on home devices (including smart TVs, gaming consoles, cell phones, tablets, and more)
Set a schedule of custom daily rules — school time, free time, and bedtime — for each child
Block specific apps and websites (like Snapchat and Instagram)
Block categories of apps and websites (like social media, streaming, gaming, and sexual content)
Supports high speeds with a 1 Gbps Ethernet port
Note: If your subscription plan also includes content monitoring, you can monitor 30+ of the most popular apps and social media platforms for potential issues like cyberbullying, online predators, suicidal ideation, and more.
What kinds of devices can Bark Home manage?
Smart TVs
Gaming consoles (Xbox, PlayStation, Nintendo)
Tablets
Computers
Cell phones
Where can I buy Bark Home?
You can purchase Bark Home from Amazon.
Bark is an Amazon Associate and may earn from qualifying purchases.
How much does Bark Home cost?
Bark Home is $79 and requires no additional costs aside from the cost of the hardware itself.
Bark Home can easily be added to an existing Bark account or work without having previously set up a Bark account.
How do I know if my router is compatible with Bark Home?
Before you purchase a Bark Home, check that your router is compatible here. Don't see your specific router? No problem! The majority of routers are compatible or can be adjusted to be compatible with Bark Home. If you have questions, please reach out to our team.
Is Bark Home incompatible with your home router? You can still manage screen time and filter websites on your child's mobile devices with a Bark subscription.
How do I find out what router model I have?
There are a few ways you find out what type of router you have. You can:
Look on the top, sides, or bottom of your router for the make and model — sometimes it's a sticker. Common makes include Netgear, TP-Link, Asus, Linksys, and others, while models usually consist of letters and numbers.
Use Google to look up potentially identifiable items on your router, like the name or serial number.
Contact your internet service provider.
Can Bark Home monitor content on home devices like TVs and gaming consoles?
No, but Bark Home will filter websites and apps and alert you to attempts to view sexual content on most devices connected to your home network.
Depending on your subscription, however, Bark can monitor content in texts, email, and 30+ apps and social media platforms for potential issues like cyberbullying, online predators, suicidal ideation, and more.
Does Bark Home work on mobile devices?
When your kid's device is connected to the home Wi-Fi network, it sure does! And when they're outside the house using cellular data, your family's Bark subscription via the Bark Kids app will cover screen time on mobile devices, too.
Will Bark Home slow down my internet speeds?
Any web filtering technology will impact upload speeds somewhat, but Bark Home supports internet throughput up to 1 Gbps, meaning you should retain high speeds throughout your home's devices. Bark Home also shouldn't have an impact on streaming content.
How is Bark Home different from Circle?
Bark Home — when combined with our monitoring and mobile device screen time services — enables you to manage nearly everything your child does online from one app, providing comprehensive online protection for your family. Say goodbye to juggling apps and services to help keep your child safe.
And while all web filtering services will affect bandwidth to some degree, Circle slows down internet speeds by twice as much as Bark Home.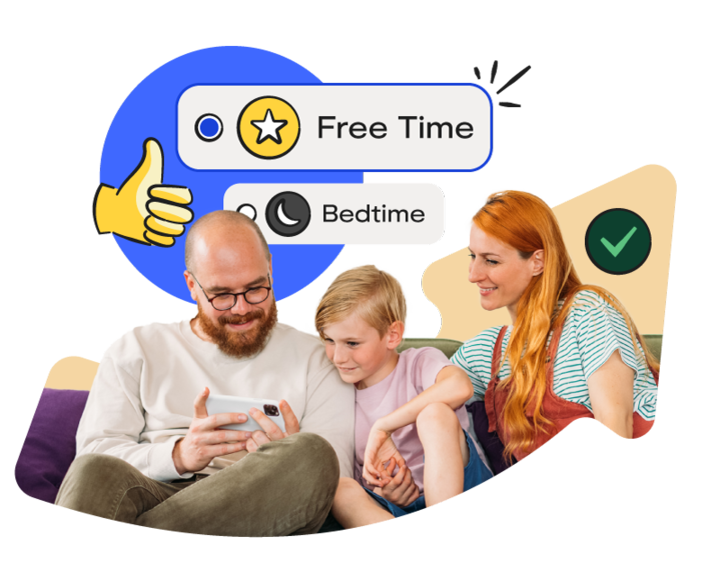 Start Protecting Your Child
Ready to start keeping your kid safe online? Sign up today for a free, one-week trial.