10 Awesomely Spooky Halloween Activities for Kids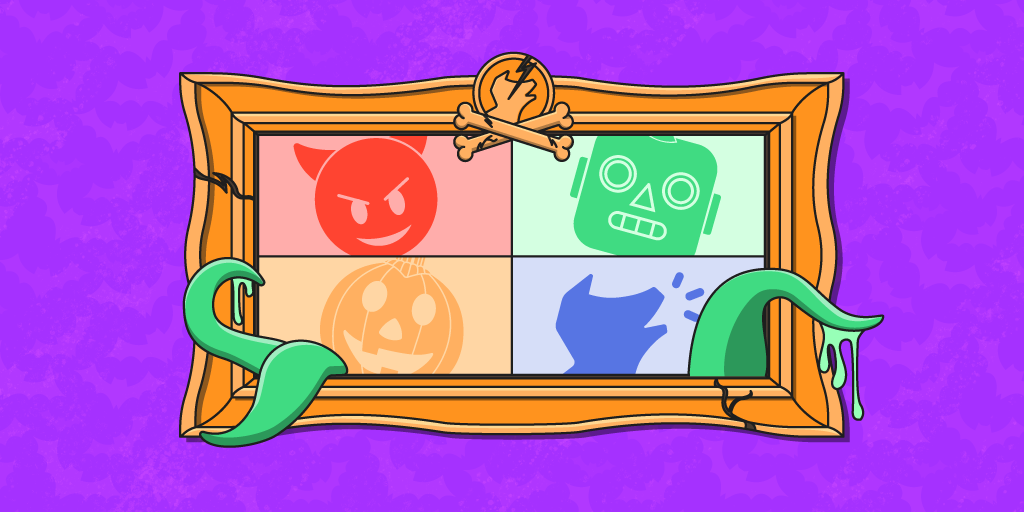 **This blog post was updated on October 17, 2022.**
Fall is here, and spooky season is in full effect! To help get your kids excited, we've compiled a list of fun Halloween activities for kids. The best part? Most of these activities are free or very inexpensive. They just take a little imagination! Read on — if you dare!
1. Play neighborhood haunted house bingo
Take these blank bingo cards (or draw a grid on paper) and fill in common outdoor Halloween decorations like witches, pumpkins, skeletons, graves, and more, and then challenge your kids to venture out into the neighborhood to see who can fill their card up first!
2. Tell scary stories in the dark
Dim the lights, grab a flashlight, cuddle up in a blanket, and hold an old-fashioned storytime with some of your kid's best friends or family members. Bonus points if you can do it around a fire pit! Have everyone use their imaginations or check out this list of kid-friendly spooky stories from KOA.
3. Make an ooey-gooey treat
We all know how much kids like making slime, and Halloween is the perfect time to whip up some equally gross and weird concoctions — except these are edible! This list of 55 recipes ranges from edible pastry eyeballs and black cat cookies to icky intestine bread and boo-scotti treats.
4. Mix up a spooky Halloween playlist
Challenge your kids to go beyond the standard Halloween jams like "Monster Mash" and "Thriller" and have them create their own spooky music playlists using streaming services like Spotify, YouTube, or Apple Music. If they need inspiration, there are tons of pre-made ones to help you set the mood.
5. Hold a haunted photoshoot
There's no denying that black-and-white photos from 100 years ago can definitely be a little creepy. Download the TinType app (available for iOS for $0.99) and have your kids dress up in their most formal clothes. Then, sit back and relax as they spend hours seeing who can take the creepiest photo.
6. Stream a delightfully scary movie
Your kids will never understand what it was like to search the TV listings in the paper or on the preview channel to find out when all of the best Halloween specials and movies were going to be on TV. Right now, streaming services like Netflix, Hulu, Amazon Prime, and Disney+ have thousands of hours of Halloween movies and shows to dive into — we recommend classics like Hocus Pocus and It's The Great Pumpkin, Charlie Brown.
7. Create something scary with old-timey paper
Get your kids' creative juices flowing with this craft that involves soaking sheets of paper in tea. Once they dry, you'll be left with the perfect medium for drafting spooky stories or a drawing of a haunted house.
8. Create a gross-out box guessing game
This one may be more fun for the parents! Grab a few boxes and cut a hole into the top of each. Fill them with common household foods and objects that can be mistaken for body parts. Peeled grapes for eyes! Dried apricots for ears! Cooked spaghetti for guts! Get ready to watch your kids squirm as they guess what each box contains.
9. Dig up '80s and '90s Halloween memories on YouTube
Share what Halloween was like when you were a kid with a deep dive into the YouTube archives. You can find old shows like Are You Afraid of the Dark? and Goosebumps, along with classic Halloween commercials from the '80s and '90s that are sure to send you down memory lane.
10. Make bottle cap spiders
This creepy Halloween arts and crafts project is simple and quick, and even young kids can get involved! Simply plain soda bottle tops with black paint, attach pipe cleaners for fuzzy legs, and glue on a few — or a lot of! — googly eyes on top.
Enjoy These Halloween Activities for Kids
Whether your family fills their goody bags with treats from your neighbors as they trick or treat or you all stay cozied up at home with a scary movie, we hope these Halloween activities for kids help you have a spooktastic evening.
About Bark
Bark is a comprehensive online safety solution that empowers families to monitor content, manage screen time, and filter websites to help protect their kids online. Our mission is to give parents and guardians the tools they need to raise kids in the digital age.