5 Things Parents Will Love About iOS 12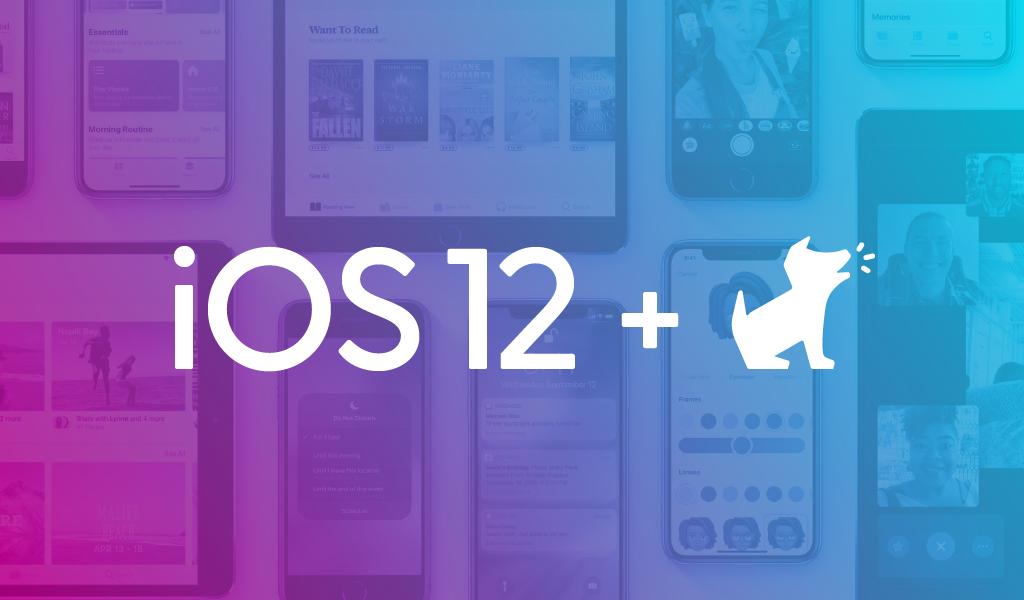 Good news is coming to families who use iPhones and iPads! With the release of iOS 12 this fall, parents will soon have new tools to control how their children interact with and use their Apple devices. Parents will have the ability to set time limits and turn the phone "off" whenever they feel it's necessary. While it's not as feature-rich as third-party products such as Boomerang, unGlue, and Circle, this is a great step for Apple to implement a native solution.
While previous versions of iOS had rudimentary, all-or-nothing parental controls, iOS 12 provides incredibly detailed and granular access, reflecting the varying needs of families with kids of all ages. Bark works seamlessly with this new update, providing a much-needed component of content analysis that is missing from most parental control options.
Easily accessible through Settings, "Screen Time" is the hub for all of the new ways you'll be able to take control and help your kids learn to be responsible digital citizens. These controls will be a fantastic complement to the monitoring service that Bark provides when they are using their devices, enabling parents to stay on top of what's happening in their children's lives.
We've compiled a list of the 5 features that parents will love most about the new update:
1). You can control when your kids are online. Full stop.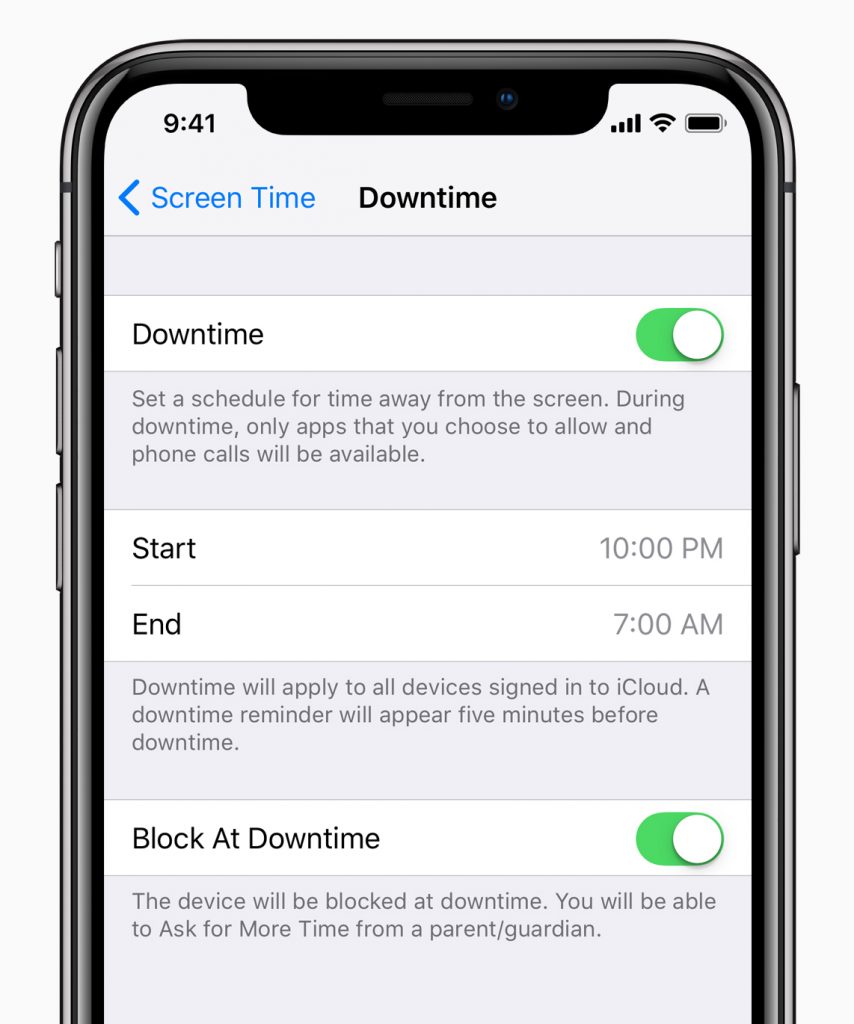 Arguably the most powerful component of Screen Time, the Downtime settings enable parents to schedule blocks of time when the phone can't be used, such as bedtime, dinner, or during homework. During Downtime, notifications won't be displayed, and a special badge will appear on apps to indicate they can't be used.  
There's two options for Downtime. With regular Downtime, accessibility is drastically limited, with only approved apps being accessible. However, if you choose "Block at Downtime," all apps and functions will be stopped, essentially turning the device into a paperweight.
2). Receive detailed reports on exactly how and when your kids use their devices.
This function is absolutely a game-changer for decoding your child's relationship with their phone. Here, you'll be able to get daily and weekly reports that will tell you:
how many times they picked up their phone
the number of notifications they receive
the amount of time they spend in each app
their longest stretch of use
how long they use their phone at night
The first time you check your child's report, you're probably going to be a little surprised. Use this opportunity to talk with them and discuss any concerns that you may have.
3). Set custom time limits for different apps.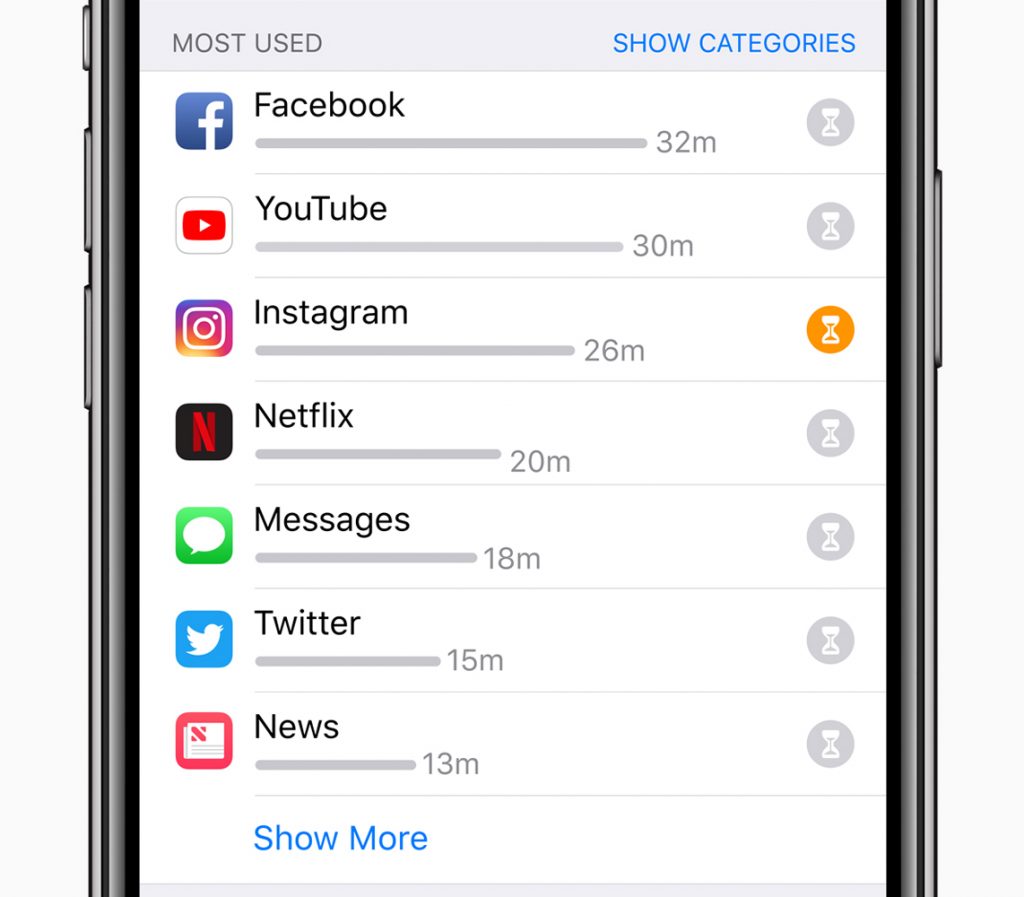 Once you learn from the custom reports where your kids are spending their time, you can then get to work and specifically manage and set limits for individual apps. When kids reach the limit of their 20 minutes of Instagram, for instance, they'll then receive a notification telling them time's up.
The beauty of the iOS 12 update is that it's not all black and white. This feature also builds in some flexibility and parental discretion. You can enable the option for kids to request more time, which you can grant from your own iOS device. But don't worry — there's only one extra ask allowed, so they can't keep nudging you until you give in.
4). Ensure certain apps will be Always Available.
We know all apps aren't created equal. That's why this functionality can keep kids safe while also allowing them to access more productive apps, like the phone for emergencies and the calculator and ebooks for educational pursuits. Apps marked as Always Available will be available even during Downtime.
Apple marks Phone, Messages, FaceTime, and Maps as Always Available apps, but you can select any apps you like to be Always Available.
5). Decide which notifications kids can receive to their devices, and when.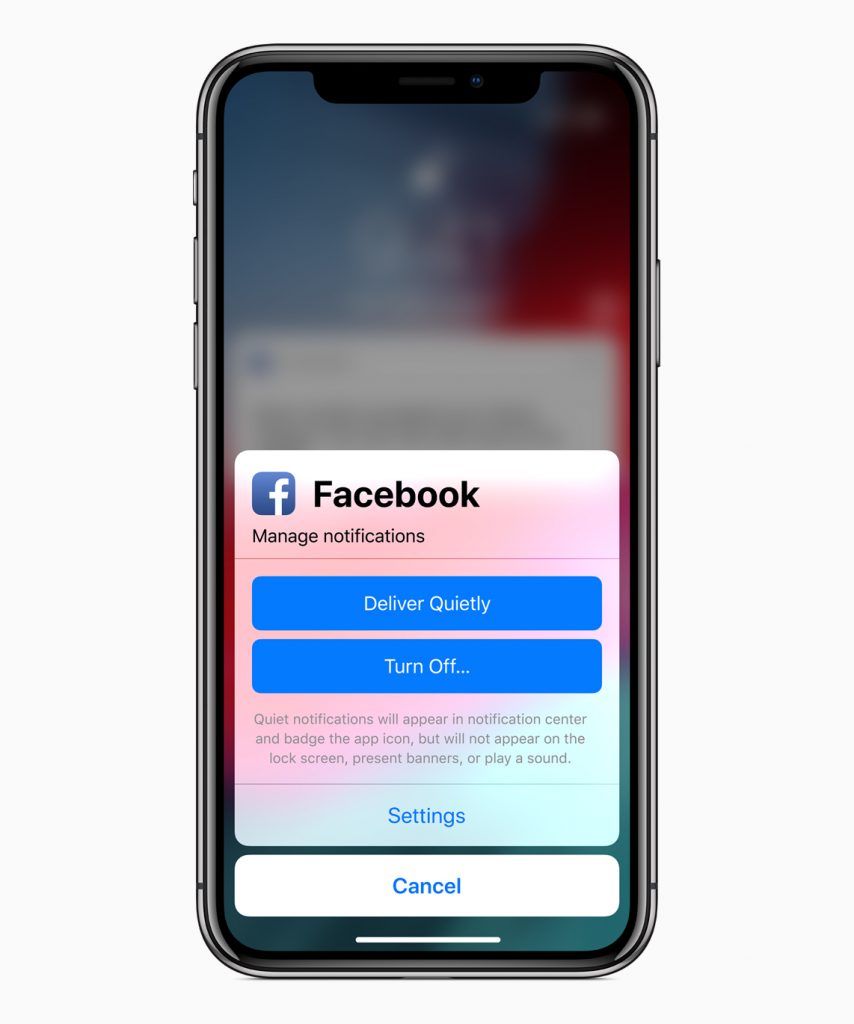 The upgrades to the notifications in iOS 12 can help change the way your kids interact with their devices. You can even turn off notifications for some apps altogether. This is important because oftentimes it's the notifications that keep kids opening and reopening apps.  The less bait, the less hooking.  You can also set an app's notifications to Deliver Quietly — muting their sound and confining them to the Notification Center.
Thankfully, with this release Apple has prioritized making their existing parental controls much more accessible to parents in need of these features. We applaud Apple's efforts to help parents keep children safer online and look forward to future initiatives from their family safety division.
If you have any questions about how to implement these features (or any other parenting/tech question), don't hesitate to reach out to us. 
Want to Learn More?
— Bark's award-winning service proactively monitors your child's text messages, emails, and social media and sends alerts at signs of danger.
Bark for Schools — We provide free monitoring for G Suite and Outlook 365 accounts for K-12 schools across the country.
Parenting in a Tech World — Join our Facebook community of more than 11,000 parents discussing kids, technology, and everything in between.
About Bark
Bark is a comprehensive online safety solution that empowers families to monitor content, manage screen time, and filter websites to help protect their kids online. Our mission is to give parents and guardians the tools they need to raise kids in the digital age.