Ask Titania: How Do I Get My Kid In Back-to-School Mode After Summer?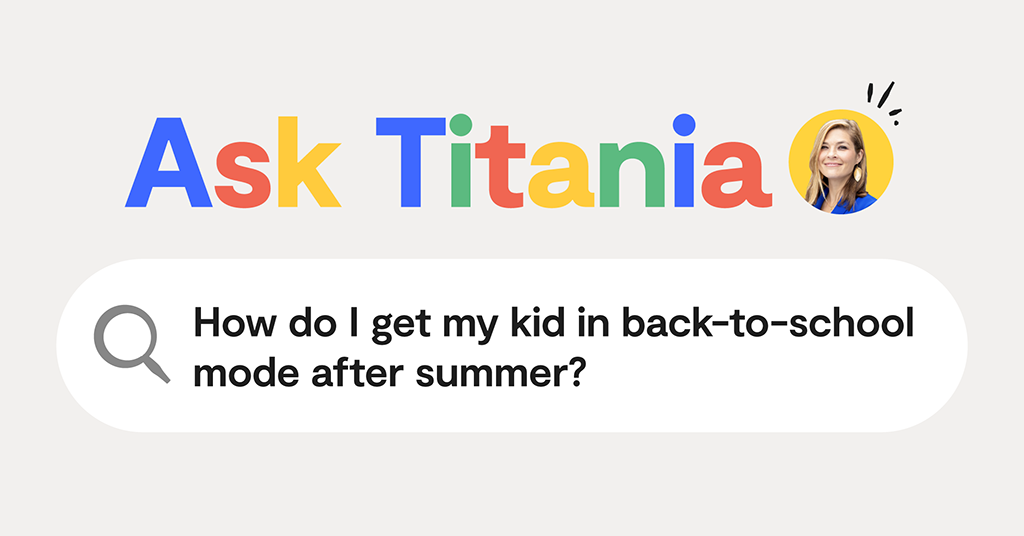 Dear Titania,
After a long summer of relaxed rules over video games and screen time, the new school year is proving to be quite the challenge — for both my son and me! Do you have any suggestions for making this transition a little less painful? I'd also love general tips for balancing the overwhelming amount of information and activities the school year brings with it.
Signed,
Big Stressing Over Back to School
Dear Big Stressing Over Back to School,
Summers are important to families, but they definitely cause abrupt habit changes twice a year — and this can be hard to weather! In an ideal world, kids would keep roughly the same routine year round, but when the daily habits of class and sports are gone, everything goes out the window. Not to mention family trips and camps!
The good news is that getting back into the school swing of things isn't impossible, and thankfully, once you're there, it lasts for about 9 months, give or take. To help parents get through this time of year, we've even compiled an entire page of back-to-school resources for parents, too — check it out.
My Go-To Tips for Making Back to School a Little Easier
Here are some of my tried and true pieces of advice that can make your family's life less hectic when the school year starts up again. Take what you need, and if something doesn't work for you, skip it!
Try and prioritize your child's sleep schedule
Have you heard of sleep hygiene? It's not about clean sheets (though those definitely help!), but rather all of the good sleep habits that help set you up for success. For kids, it's especially important as sleep is so essential to growing bodies. Make sure your child is going to bed at a reasonable hour and keep phones and gaming consoles out of the bedroom so there's no distraction. And if your kid needs the occasional nap during the afternoon, that's cool too!
Manage screen time rules for maximum focus time
One of the biggest problems you'll run into when it comes to the school year is the battle against screens — TVs, phones, tablets, laptops, video games, you name it. If it's shiny and fun, it's always going to be a more tempting option than an algebra textbook. Fortunately, you can set up rules on your child's phone — and the Bark Phone makes this super simple — that automatically block apps and websites during certain times of the day.
This could look like no YouTube or Fortnite during the school day, or only school-related apps during homework time. When your kid knows their phone will eventually be a brick, they'll be less likely to pick it up and get distracted by it.
I've talked to many teachers, and they've all told me that if more parents were proactive and blocked distracting apps on phones during the school day, they'd have a much easier time keeping kids' attention.
Create a dedicated quiet study and homework space
You don't have to have a state-of-the-art, Pinterest-designed study room for your child (though that's great if you do, I'm definitely jealous). Just make sure there's a space where you child can associate their school work with home — it can even be a usual chair at the kitchen table that's their go-to spot.
Turn off notifications at key times
Even with an iron-clad screen time schedule in place, your child may still be distracted by texts or phone calls — maybe even by you! Every phone and smart watch, however, has the ability to mute notifications for periods of time so you're not constantly getting dinged by friends and family. Teach your child to get in the habit of muting them during the school day or after class ends. The messages will still be there!
Sit down and save all of your kid's teachers contact info
This one's for the parents, but it's definitely a lifesaver, especially as kids get older and have more than one teacher. Sit down, grab a cup of coffee and sift through all of the paperwork and emails and create a list of the contact info for coaches, teachers, specialists, advisors, counselors, nurses, and save them in your phone. This way, when you need to get in contact for something important, you won't be frantically searching through your inbox for the right email or phone number.
Create a shared family calendar
Live by the family calendar. Breathe by the family calendar. Honor it! This is the best way to keep track of literally everything for your entire brood. If your family has Gmail addresses, the Google Calendar is free and works great. This may seem like a simple thing, but the more you put it into, the more you'll get out of it. Don't just put big, no brainer things into it like BASEBALL GAME. Put reminders, too! Like "One week until science project is due." This way, you have ongoing countdowns so things don't sneak up on you.
Follow school, staff, & groups on social media to stay up to date
I know — it can be a lot juggling all of the different ways to get info on a million different social media platforms. But as a parent, find the ones that are the most important to you and make sure their content shows up in your feed. Sometimes social posts are the quickest ways to find out what's going on in real time.
Contribute to teacher's wish lists if you're able
This may seem like a little thing, but teachers deserve our help if they need it, and I highly encourage you to grab a few things from your kid's teacher's lists if you're in a position to help. So many teachers use their own money to help supply their classroom, and they already do so much. We're also collecting lists to share with our community to help clear, as well!
Become familiar with the apps and sites your child uses
When your child is at school, they're going to be exposed to all of the online habits that other kids have, which means they'll be learning about new apps and websites. Odds are, many of these are going to be ones you probably don't want them using.
That's why I recommend doing research about things your child asks to download (and yes, it's still a good idea to approve all of their apps). Bark has incredible app reviews written especially for parents, so you can learn in a matter of seconds whether an app is a dud or something worth having.
Create a tech contract
A technology contract is a great way for your family to collaborate on rules for using devices and accessing the internet. It can help make sure the whole family is on the same page about what's expected of them, as well as what can happen if rules are broken.
How Bark Can Help with Back to School
I mentioned the Bark Phone earlier, but I can't stress enough what a game-changer it is for kids, both in school and at home. By managing screen time, blocking websites and apps, and getting alerts for potential dangers, you can not only keep them on track but also help keep them safe.
In addition to the Bark Phone, Bark also offers a free product to every public and private K–12 school in the U.S. It's called Bark for Schools and it allows districts to monitor school-issued student accounts at absolutely no cost.
We've also launched the Bark Community Partners Program to help schools educate families in their community about online dangers. Ask your child's school if they're using Bark and taking advantage of these free offerings!
About Bark
Bark is a comprehensive online safety solution that empowers families to monitor content, manage screen time, and filter websites to help protect their kids online. Our mission is to give parents and guardians the tools they need to raise kids in the digital age.