Bark Turns 8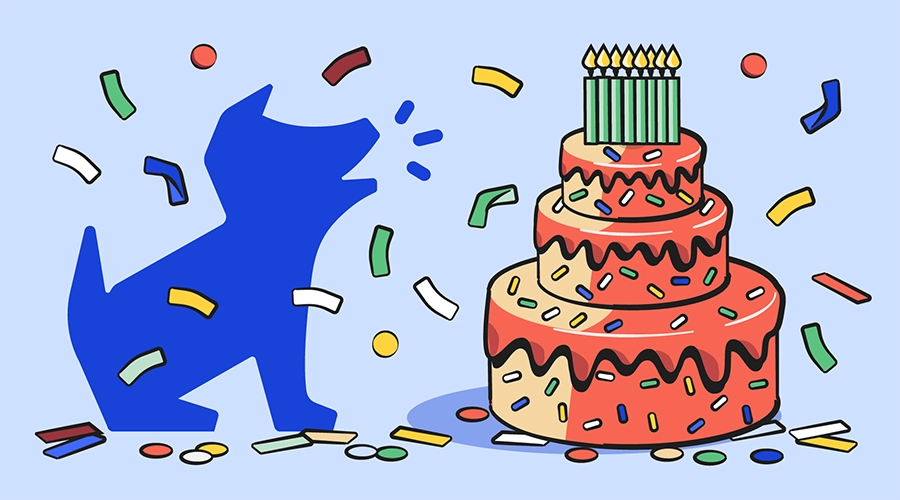 In 2015, Brian Bason left his job at Twitter to start a company in order to solve a problem — a very personal problem. His two kids would be getting cell phones soon, and he realized he had no idea how to help protect them with this technology.
And so began Bark! Fast forward eight years and our company now has over 100 employees, we've released our own phone, and we help protect more than 6 million kids across the world. In honor of our eighth Barkiversary, we wanted to showcase just how different the world is from when Bark was founded nearly a decade ago — it's a little mind-blowing!
Travel back with us to 2015, when Star Wars: The Force Awakens ruled the box office, zombie-filled TV show The Walking Dead was the hottest show, and Drake's "Hotline Bling" was one of the most popular songs AND memes.
The Tech World in 2015
TikTok's predecessor, Musical.ly, was 1 year old, and consisted primarily of dancing/lip sync videos. It wouldn't become TikTok until 2018.
Instagram was 5 years old, but only 24% of adults used it. Meanwhile, 73% of teens said they used Instagram, making it the most important social media platform for young people.
Snapchat was 4 years old and had roughly 75 million users, the majority of whom were younger people. This was also the year Snap launched the Discover page as well as Lenses, the popular interactive AI filters that are now found on nearly every social media platform.
Two popular platforms — Vine and Tumblr — were major contenders for time spent online for young people.
66% of people in the U.S. owned a smartphone.
Twitter was just a regular social media platform where people shared news with hashtags.
The Tech World in 2023
96% of 18 to 29-year-olds in the U.S. own a smartphone, with many kids also receiving their first devices years before.
TikTok is by far the most downloaded social media platform, but is also causing controversy with talks of being banned in America due to Chinese ties.
Snapchat now has more than half a billion users.
Twitter, having been bought by Elon Musk, experiences turmoil and upset in features and policies.
On top of social media platforms and smartphones, the Internet of Things has taken off. These are smart-home devices like Google Homes, Amazon Nests, Ring Doorbells, and more.
Smartphones from Apple and Google now have their own proprietary parental control software, Screen Time and Family Link.
The Evolution of Bark in 8 Years
When Bark first launched — with a small and mighty team — we only offered content monitoring. Within a few years, we expanded to other parental controls like web blocking, screen time management, and location tracking.
We expanded to home coverage with the creation of the Bark Home, which lets families manage all of the internet-connected devices in the home. Then, in 2022, we launched our most ambitious project yet: the Bark Phone, which combined all of Bark's features and a whole host of brand new ones all in a Samsung A-series device.
That's the short version, of course. Over the years, we've also collaborated with schools all over America, been featured on national TV shows and documentaries, and contributed thought leadership in support of legislation for online safety for kids.
We've also remained dedicated to helping provide resources for parents. Our Facebook group, Parenting in a Tech World, has grown from just a few hundred parents looking for advice to more than 350,000 asking questions and providing their own experiences to help fellow families.
Looking to the Future
We're incredibly honored to have been able to help so many families over the past eight years. Our company is incredibly mission driven, and each week we still get letters from parents telling us how Bark has helped change their family's life. Each time, we still get emotional reading these stories.
As Bark continues to grow, we'll be here to help every parent in the digital age help protect their kids online and in real life.
About Bark
Bark is a comprehensive online safety solution that empowers families to monitor content, manage screen time, and filter websites to help protect their kids online. Our mission is to give parents and guardians the tools they need to raise kids in the digital age.