The 10 Best Apps for Kids: Bark's Top Picks for 2023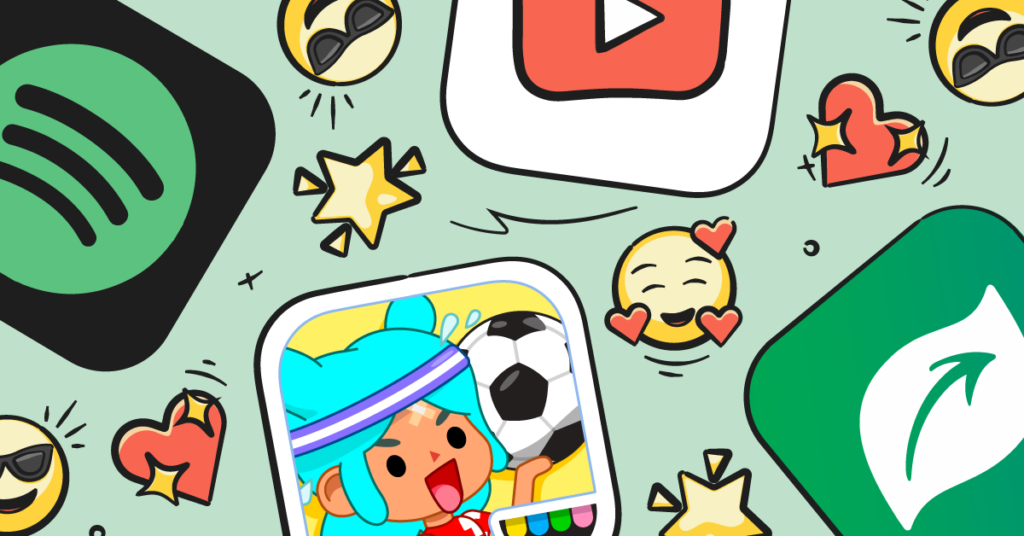 If finding the best apps for kids sometimes feels overwhelming, it's because there are literally millions of them (apps, that is, not great apps)! You have to wade through inappropriate and dangerous apps, the latest and ever-changing social media platforms, and more. That's why the Bark team has compiled our 2023 list of the best kids' apps out there. Some of the important factors for us were ease of use, functionality, safety, and above all — fun. There's something for every family on this list, from learning and study aids to games and meditation apps. Safe apps for kids can be hard to find, but we've got you covered!
Bark's 10 Best Apps for Kids
Seek
Seek is a nature identification app that's bound to get kids excited. You can take photos of plants, fungi, bugs, and even animals and the app will try to identify the name and species. It's the perfect app to pull up on long walks to finally figure out what all of those cool flowers in your neighborhood are. Seek is definitely one of the best kids' apps out there.
Toca Life World
If you're looking for safe apps for kids, Toca Life World is a great choice. It's not quite a game — it's more of a vehicle for kids to use their imagination to create characters and bring environments to life. Almost everything in the game is customizable as you create settings, characters, clothes, and more. You can screen record it and add audio narration describing the world you've built from scratch, kind of like you're directing a movie!
Spotify
Music is an important part of growing up, and Spotify provides a way for kids to listen to their favorite songs and make playlists. If you use Spotify Family, you can let your younger child use Spotify Kids, which features kid-friendly music, podcasts, sounds, and audiobooks. For older children, regular Spotify probably fits the bill. You can toggle off explicit tracks, or even better — have Bark monitor for you and send you alerts for songs that have worrisome content.
Duolingo
Kids and adults alike rave about Duolingo, the language learning app that features bite-sized lessons. It actually makes learning a second language fun — and we mean that in the best possible way! Duolingo's real-life content, cute illustrations, and game-like interface will keep kids engaged way longer than you'd expect. And their owl mascot, Duo, is pretty cute, too.
Calm
This meditation and mindfulness app is perfect for younger folks as well as adults. There are age-appropriate guided body scans, sleep stories, and even lullabies that can help young children relax — whether they're just taking a break in the afternoon after school or winding down for bed.
YouTube Kids
YouTube has made strides in creating a safer way for kids to watch their favorite videos. For younger children, YouTube for Kids provides a curated environment with only kid-oriented content. And what's even better is that there's none of the scary stuff of regular YouTube — things like comments, chat rooms, adult content, and more aren't available on YouTube Kids.
Heads Up!
This silly and fun guessing game was made famous by Ellen DeGeneres, and it's a great addition to your family's weekly game night that will have your kids laughing out loud. You hold up a phone to your head while your family tries to get you to guess a word using clues. But it's harder than you think! HeadsUp is a great way to pass the time at restaurants, in airports, or even just in the living room on a rainy day.
Messenger Kids
For younger kids, Messenger Kids is a safer way for them to chat with friends and family. Parents not only get transparency into their kid's activities, but they can also rely on the contact lists of their existing Facebook networks to add friends. Kids get a level of autonomy while parents get peace of mind that they can see (mostly) everything their child is doing on the app.
PBS KIDS Games
Geared toward kids in the 3 to 8 range, the PBS KIDS Games app is another safe app for kids and is home to more than 200 interactive learning games that feature kid-favorite PBS characters like Daniel Tiger, Arthur, and more. Kids can have fun while exploring their creative sides and learning about foundational concepts like colors, shapes, spelling, and more.
Quizlet
Flashcards have gone digital! Quizlet is a great app for kids of all ages that helps with memorization, studying, and learning. You can create your own study cards or choose from millions of existing ones! Whether your child is learning the presidents for the first time or is getting ready for the AP U.S. history exam, Quizlet can definitely help.
About Bark
Bark is a comprehensive online safety solution that empowers families to monitor content, manage screen time, and filter websites to help protect their kids online. Our mission is to give parents and guardians the tools they need to raise kids in the digital age.