Best Gifts for Teens: Bark's 2023 Holiday Gift Guide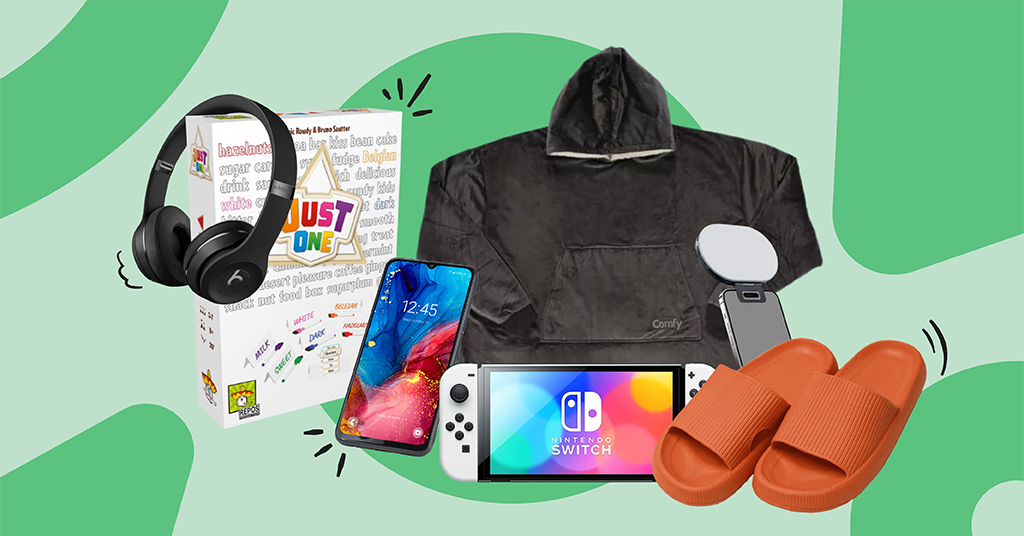 With the holidays just around the corner, parents are already racking their brains for what gifts to get their teens. Sometimes, teens can feel like the hardest one in the family to shop for! They're too old for toys, but not old enough that they don't want something exciting. And there's actually tons of stuff out there that strikes the perfect balance between fun and functional — you just have to know where to look. So we did some of the leg work for you and scrubbed the internet for the most popular gifts for teens for 2023!
And to make it even easier, we've split our list into two categories: the fancy stuff and the not-so-fancy stuff. Because some families may be looking for the big, showstopper gifts and other families may be looking for something that won't break the bank. We hope this helps as you plan to make this holiday season special for your kids!
The Show-Stopper Gifts for Teens
Nintendo Switch
Nintendo Switch is a fan favorite for both kids and parents. Kids love playing all the available games, especially some of the popular ones like Super Smash Bros and Animal Crossing. And parents get to enjoy easy parental controls for teens who need a little help managing their screen time. Nintendo Switch is a great gaming console to add to the mix or start out with if your family is new to gaming. 
Bark Phone
If your tween or teen needs a phone, you'll want to get one that they'll be excited about and one with parental controls you can trust. The Bark Phone is the perfect mix of those two things! The Bark Phone is a Samsung Galaxy A series and looks just like a normal phone, so kids aren't embarrassed to use it. And yet it's way better than a normal phone because it comes with Bark's award-winning parental controls built-in. With the Bark Phone, parents can monitor for concerning content, block harmful sites and apps, approve contacts, track location, and pause the internet anytime. This phone will be a gift to yourself just as much as a gift to your kid!
Pro tip: We highly suggest setting up the Bark Phone a few days before giving it to your child. This way, you can customize the phone with the settings you feel are best for your child before they even get to it. And the good news is that the Bark Phone has an easy and quick setup!
Beats Headphones
For many teens (and even adults) it's essential to have a reliable, high-quality way to listen to music. And it has become more popular for kids to opt for headphones instead of earbuds. Headphones allow kids to zone out the world and really concentrate — either during study time or when their favorite band just dropped a new album.
Magento Longboard
Here's a gift if you want to get them out of the house — a snazzy, smooth cruising longboard. Even if your teen doesn't seem like a skater, longboards are great because they're easier to learn than skateboards. Skateboards are more for gnarly tricks at a skatepark, longboards are for enjoyable rides in the neighborhood. This is great for any adventurous teen who wants to pick up a new skill.
CORSAIR gaming chair
Kids who are avid gamers could probably use a good chair to sit in, so why not pull out all the stops and get them one with peak comfort? This chair from CORSAIR has a thick and wide cushion, so your kid can sit however they want while they build in Minecraft or win battles in Fortnite. It also has tons of options to adjust the height, armrests, and seat back. 
Gifts for Teens That Won't Break the Bank
Ring light for phone
If your teen loves taking selfies and videos, this is the perfect gift for them! This clip-on light attaches to their phone and brings the best lighting no matter where your teen is snapping pics. And it can work with any phone your child may have, iPhone or Android.
Just One game
Games are a great, easy gift that is not only enjoyed by your teen but also by the whole family. Just One is a fun group game that tests how well you know your family members and how they think. This game is definitely the way to go for a teen that loves game night.
Cloud slides
Say hello to the latest trend in comfort fashion: cloud slides. Everyone needs a pair of shoes that are easy to slip on, comfortable, and still stylish to wear out and about. Think of these as Croc's younger, cooler friend. Your teen is sure to love one of their many colors and styles!
The Comfy hoodie
And to match with their brand new cloud slides, they can wear their Comfy hoodie! A hoodie is a slight understatement for this piece — it's more like a blanket that you can wear. Its thick wool material and length that comes down to your knees make it an absolute must-have in the winter season.
Gift cards
We know this one's a little different, and some may even feel like it's a "cop out" present. But for teens who are exploring their new interests and independence, gift cards can actually be the best thing to give them! This way, they have the freedom to shop at their favorite places and decide what they want for themselves. Not to mention the pressure it takes off you to find the perfect gift. So consider finding out what stores they'd like to splurge at and let 'em have at it!
About Bark
Bark is a comprehensive online safety solution that empowers families to monitor content, manage screen time, and filter websites to help protect their kids online. Our mission is to give parents and guardians the tools they need to raise kids in the digital age.