Bark's 2021 Holiday Gift Guide Spectacular: What Kids Want This Year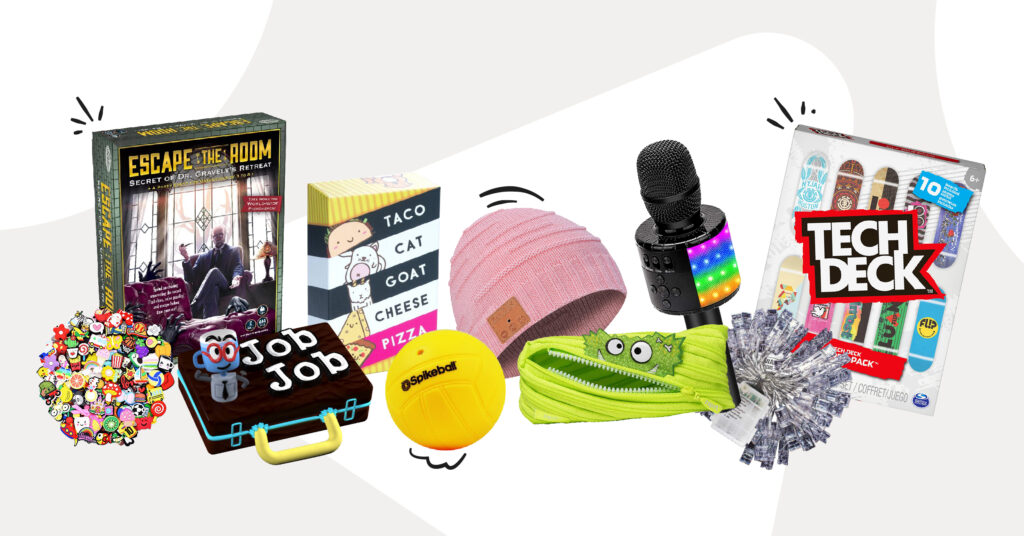 Each year for our holiday gift guide, the Bark team scours the internet and queries friends and families for the absolute coolest presents and hottest gifts for kids. Think of it like Oprah's annual favorite things, except only for the ever-changing tastes of tweens and teens.
It's our hope that many of these picks will inspire your kids to put down their phones or video game controllers for a bit and engage in some good old-fashioned family bonding — during the holiday season and beyond!
Presenting Bark's Class of 2021 Holiday Gift Guide
Taco Cat Goat Cheese Pizza
If your family is into fast-paced card games like UNO or even an old classic like War, Taco Cat Goat Cheese Pizza will definitely be a hit. You take turns dealing out random cards (with cute illustrations of a taco, a cat, a goat, cheese, and pizza) while saying the list of names in order. When a card matches the word, the last one to slap their hand down has to take the whole pile! Kids and adults will have a blast with this one. It gets pretty competitive!
10-Pack of Tech Decks
Remember the fidget spinner craze from a few years back? Tech decks are kind of like the latest version. They're miniature skateboards that you "ride" with your fingers, and you can even pull real tricks like ollies, kickflips, and more. Tech decks are sure to keep your kids busy on long car rides and even lazy Saturday afternoons.
Escape the Room: Secret of Dr. Gravely's Retreat
Whether your family already loves escape rooms or there's not one in your hometown, we've got the solution! Now, you can have a similar experience right from the comfort of your living room. Work together as a team and solve puzzles, look for clues, and more. Plus, if you get hungry, you can take a quick break because your kitchen is just in the other room!
Spikeball
What do you get when you combine the handwork of volleyball with the rules of the old-school game four square? Spikeball!! Teams of four take turns bouncing and spiking a cantaloupe-sized ball off a small net a few inches off the ground. It's super easy to set up and transport, so your kids will be playing Spikeball in the backyard, the local park, after soccer games, or even at the beach!
Photo Clip String Lights
Give your kid a fun and festive way to display their favorite photos, cards, and drawings with these photo clip string lights. It comes with 50 clips and remote-controlled LED bulbs so your child can really customize their setup to fit their personality and make their room super cozy.
Bluetooth Beanie
This thoughtful gift solves an age-old problem: How do you keep your ears warm while also listening to music on earbuds? Enter the Bluetooth beanie! (After all, no holiday gift guide would be complete without headphones.) Tiny speakers are knit into the fabric of the hat near the ears, eliminating the need for external buds! Great for walks to school, but may result in a lot of "what!?!?!?" if your kid wears their Bluetooth beanie around the house.
ZIPIT "Talking Monstar" Pencil Case
Say goodbye to boring pencil boxes and cases! The ZIPIT pencil case is made up entirely of one long zipper, which sounds wild, but it's true! Kids will have fun showing off this zany feature to friends and classmates. You can also download a free mobile app that uses augmented reality to make the pencil case come to life with jokes and games.
Jackbox
Jackbox has completely revolutionized party games — and it even helped bring many folks closer together during the pandemic. It's a pack of video games you play together with a group, either all in the same room or via Zoom or FaceTime. Each player uses their phone to participate in zany games like trivia, hilarious drawing challenges, and more. Kids especially love Jackbox because so many of the activities leave you laughing out loud — literally.
Croc Charms
Crocs may have only been popular with nurses and waiters back in the early 2000s, but they've made a resurgence this year thanks to celebrities like Nicki Minaj and Justin Bieber sporting colorful pairs. Today, Crocs are super popular with middle and high schoolers — especially sports teams! So, if your kid loves Crocs, this 50-pack of random charms will help them express their personality as they clasp them to the 13 ventilation holes on their shoes.
Wireless Karaoke Microphone
Gone are the days of refrigerator-sized home karaoke machines! These surprisingly powerful microphones light up in cool colors and also connect via BlueTooth to your phone or your TV so you can sing along to your favorite songs! Plus, there are tons of free karaoke songs with scrolling lyrics on YouTube, so your family will be able to belt out their favorite hits right from your living room. This may be the most fun and interactive pick on this holiday gift guide!
About Bark
Bark is a comprehensive online safety solution that empowers families to monitor content, manage screen time, and filter websites to help protect their kids online. Our mission is to give parents and guardians the tools they need to raise kids in the digital age.