Best Gifts for Teens That Don't Have a Screen: 2023 Non-tech Gift Guide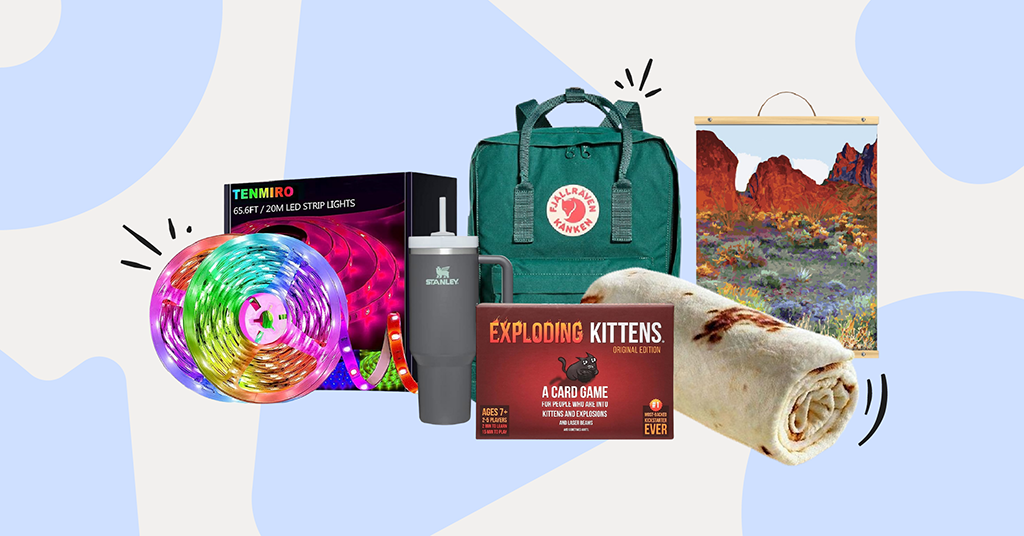 If you ask your teen what they want for their birthday or the holiday season, chances are they'll ask for something tech-related. A better laptop for school, different headphones for music, a new phone to keep up with friends — things like that. And while tech gifts are certainly awesome to give, there's nothing wrong with going a little old school and giving them something analog. So we put together some popular non-tech suggestions that'll make the best gifts for teens. Let's take a look!
Top Gifts for Teens
Burrito blanket
Who doesn't want to feel like a tightly wrapped burrito when they curl up for movie night? The burrito blanket is certainly a simple and silly gift that'll make a great addition to your kid's bedroom. Not a fan of burritos? No problem, you can also find ones that look like a pizza or a donut!
Stanley water bottle
For whatever reason, there always seems to be a new water bottle brand that becomes a must-have among young people. This year, that brand is Stanley. It's the 40 oz tumbler cup in particular that's all over TikTok and Instagram. It comes with a reusable straw and a big handle for easy transportation between classes. It also comes in tons of different colors for your teen to choose from.
LED lights for their room
LED lights became popular on TikTok a couple of years back, and the popularity has not yet gone away. Luckily, most LED light strips are fairly easy to put up and not too expensive. They can turn your teen's bedroom into a raving rock concert or give it a soft ambient glow.
Paint-by-number kits
This is a great gift for any artsy teen out there. Paint-by-number kits come with a canvas with a printed picture, brushes, and paints. It tells you exactly where to paint and with what color, allowing your teen to create a masterpiece — without needing too much skill. It's a great past time and the result is a beautiful work of art! And if you've noticed your teen has been a little anxious lately, paint-by-numbers is a recommended anxiety-reducing activity. 
Exploding Kittens card game
You can never go wrong with adding to your family's game collection, and Exploding Kittens is a must-have. This is a fast-paced game of chance that'll get your teen and the whole family laughing. The goal is to not be the one who pulls an "exploding kitten" card. If you do, you're out — unless you happen to have a "defuse" card. It's a game with a comically ridiculous premise and makes for a hilarious experience!
Fjallraven Kanken backpack
If your kid wants a new backpack, look no further than this Sweden brand, Fjallraven Kanken! Their bags have a simple style yet have become quite trendy among teens. They're also functional and spacious enough to allow your teen to carry their laptop and notebooks to and from school comfortably.
Experience gifts
If you don't want to get your kid more stuff, you could get them an experience instead! This can be a lot of different things, but here's a few suggestions to get the ideas flowing:
Tickets to see a favorite artist or band
Season passes to a nearby amusement/theme park
Lessons to learn a new skill
A trip to explore a new place
Membership to local museum, trampoline park, etc.
Gifts cards
Gift cards may not seem like a super exciting gift, but to a teen, gift cards mean freedom! If they don't yet have a job or don't have a great budget, gift cards let them pick out what they want without having to worry about the price as much. And it saves you stress from guessing what they want, all you have to do is figure out what places they shop from most!
Books
It's never too late to inspire a love of reading if your teen doesn't have one already. You can try finding some popular books for teens, or you can find something that matches your kid's interest or ambition. If they love to cook, get them some fun cookbooks to test out. If they have a favorite sports team, try finding a book about the history of that team.
Photo album
Sometimes the best gifts are the ones that take you down memory lane, especially for teens getting ready to leave the nest. A photo album is a thoughtful gift that they'll probably appreciate more than they let on. There are tons of platforms like Shutterfly or Mixbook that make creating a photo album with your digital photos easier than ever. It'll be a fun project for you to comb through old photos and give them something cherished to keep with them as they become an adult.
About Bark
Bark is a comprehensive online safety solution that empowers families to monitor content, manage screen time, and filter websites to help protect their kids online. Our mission is to give parents and guardians the tools they need to raise kids in the digital age.