Discussing Houston Crime With Crime Stoppers of Houston CEO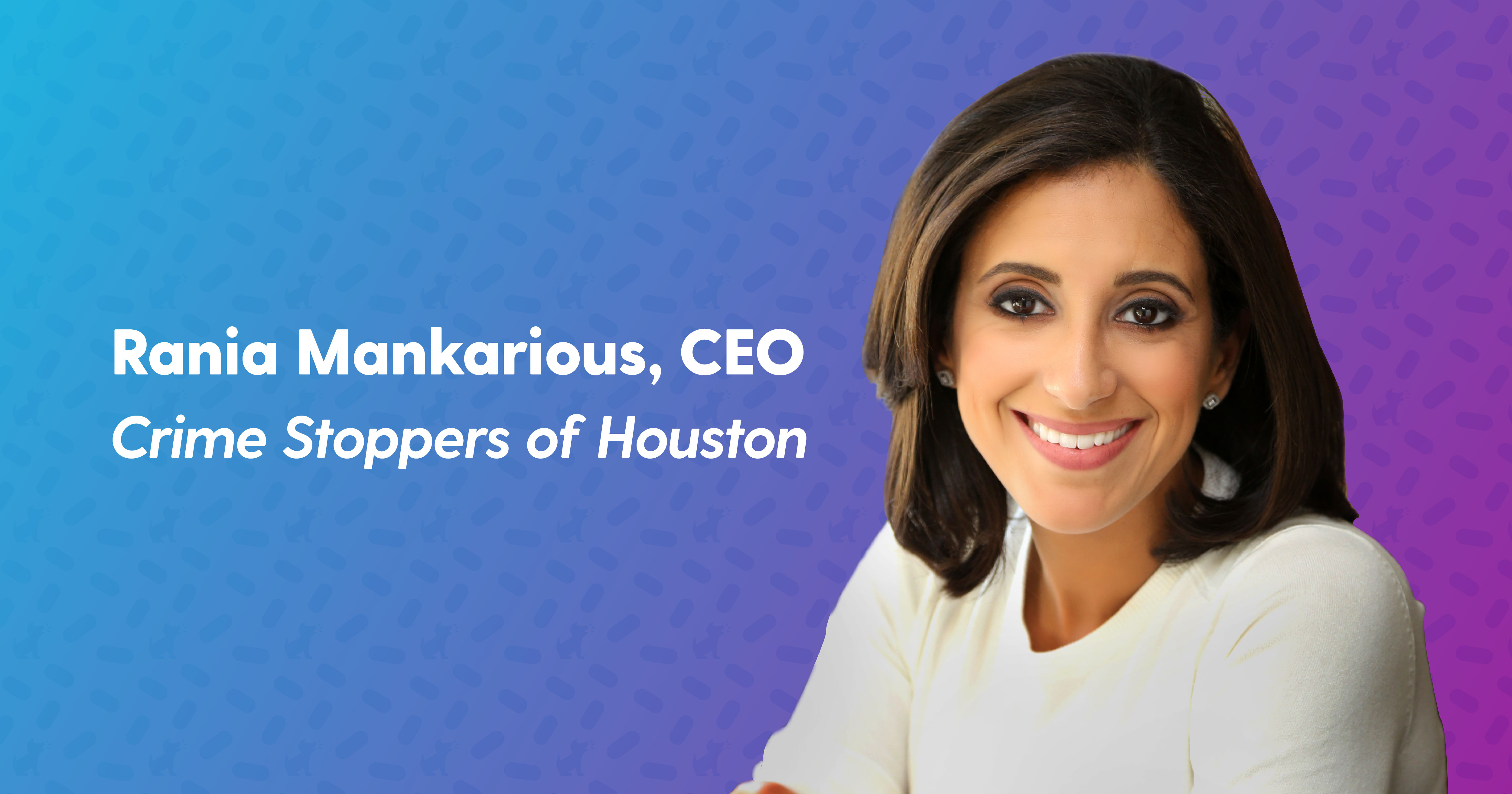 In this interview, Rania Mankarious, CEO of Crime Stoppers of Houston, shares how her upbringing and education led her to champion the mission of keeping children and families safe in Houston and beyond. Child safety is at the top of every parent's mind, and Rania unpacks the risks facing kids today.
Q: Tell us a bit about yourself and your background.
A: I was raised in a home that spoke often of politics, social justice, and public safety, which ultimately led to my career path. I graduated from college with a dual degree, and then obtained a master's degree in marriage and family therapy. Afterwards, I attended law school.
Q: How did you first get involved with Crime Stoppers of Houston?
A: I interviewed at law firms but none were a fit. Fortuitously, I interviewed at a nonprofit called Crime Stoppers. I had no idea what they did at the time but decided to interview anyway. I fell in love with the mission: to solve and prevent crime in partnership with citizens, media, and the criminal justice system.
The only problem was that they were hiring an intern, and I was overqualified. Even though I would be extremely underpaid, I took the internship anyway. There was so much I knew I could do to help scale our message, reach, and productivity.
That was 2006. I've now been here for more than 12 years. I was promoted to executive director in 2013, and this year was named the organization's first CEO.
Q: How has Crime Stoppers of Houston changed during your tenure?
We've accomplished a lot, including having built the first-ever Crime Stoppers facility and headquarters anywhere in the world. It's the first public safety block in the fourth-largest state in the U.S. We've served millions of children in schools and adults in the community, and we've solved hundreds of thousands of felony cases.
We're nearly 40 years old, but in some ways we're just getting started.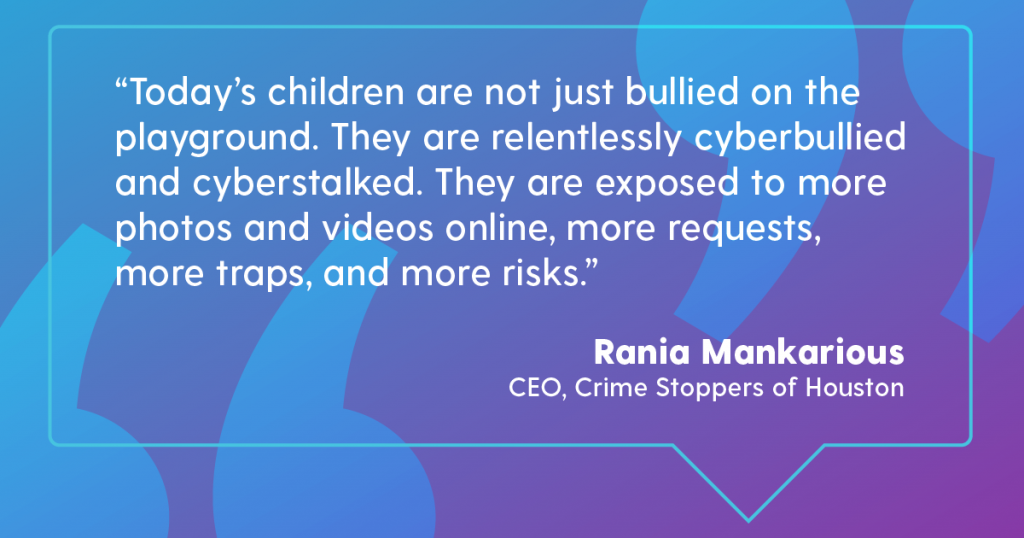 Q: Since the start of the school year, Houston-area schools have had more than 45 threats. How can parents and schools work together to keep kids safe?
It's critical that we take these issues seriously. We're living in a time where kids are more connected than ever before, but they're still isolated. They have access to weapons. They're desensitized to violence. More kids are not only suicidal, but also homicidal.
Today's children are not just bullied on the playground. They are relentlessly cyberbullied and cyberstalked. They are exposed to more photos and videos online, more requests, more traps, and more risks.
Parents and school leaders must be aware of these threats and work together. Here's how:
Understand the risks,

as well as the

fact that those risks don't necessarily change based on your home, socioeconomic status, or zip code.

Educate children on those risks

in an age-appropriate manner, year in and year out. This includes the real dangers and challenges they might face and the laws that pertain to them by age.

Monitor their online use.

It's not about privacy, it's about protection. Today's kids, while more mature than ever, are still not mature enough (mentally or emotionally) to handle the amount of content presented to them online. Parents must make sure this activity is monitored, and

Bark does this!

It's what I love about your platform.

Give kids solutions

and talk them through scenarios and how they'll react. Children shouldn't have to navigate hard situations alone — talk things through at the dinner table or on the way to school.

Give them an anonymous way to report.

There's a Crime Stoppers in every major city, and we operate an anonymous reporting platform that is protected by state statute. Names and data are never collected, and tipsters get a cash reward.
Crime Stoppers of Houston visits classrooms through our Safe Schools Institute. We cover issues like cybersafety, teen dating violence, the laws surrounding terroristic threats, and the be nice.® mental health plan.
Q: What are the warning signs of potentially dangerous situations that parents should watch for in their children?
A: In most cases there are true warning signs. Parents, trust your instincts. That said, your instincts depend on you being active and involved. Watch for changes in your child's:
behavior

habits

friends

communication (are they more withdrawn?)

eating and sleeping patterns

clothing (the way they dress)

social media posts (the frequency of posting and/or the content)
Q: How can technology like Bark help kids stay safe?
A: Bark is lifesaving technology. There's absolutely no way a parent or school can monitor the entire online worlds of their children — things like content, searches, what they're sharing and putting out there. The sheer volume makes it impossible.
In addition to talking to kids in an age-appropriate manner about risks and dangers, we need to leverage technology to help search for and flag potential problems.
Bark does this . Bark's algorithm scans our children's online activity and sounds the alarm when online conversations turn dangerous — when suicide or threats of school shootings are discussed, or when illegal activity begins to brew. It's absolutely incredible.
Through Bark's innovative technology, dangerous activities can be stopped before they turn deadly or life-threatening. What parent wouldn't support that kind of help? What school wouldn't implement that kind of technology? In today's world, there's no way around it — it's an absolute must-have technology.
Q: There are a ton of resources on the Crime Stoppers of Houston website — what are some of the most useful tool kits you recommend to parents?
A: Our Safe Schools Institute is a hub for all things related to crime prevention and public safety in schools — everything parents need to know about online risks, updates to popular platforms, the latest gaming challenges, crime trends like human trafficking, and so much more. We aim to supply families with free resources on a national level.
Q: If you could give one piece of advice to parents worried about their kids in today's climate, what would you say?
You're smart to worry. Child safety today is not only about you or how you've raised your child. You can live in the nicest neighborhood and have the most loving family in the world — but with one click, your child can be lured into the darkest of places. The endless reaches of social media and the world wide web expose all of our children to just about everything and everyone.
It's impossible for parents to stay on top of the overwhelming input and output of our children's online activities. You need — we all need — a tool that can help.
Bark covers unlimited devices, social and email accounts, and as many children as you have in your family for a small monthly fee. Bark for Schools is completely free and available for all K-12 public and private schools. today!
About Bark
Bark is a comprehensive online safety solution that empowers families to monitor content, manage screen time, and filter websites to help protect their kids online. Our mission is to give parents and guardians the tools they need to raise kids in the digital age.