7 Shows About Teens That Aren't For Teens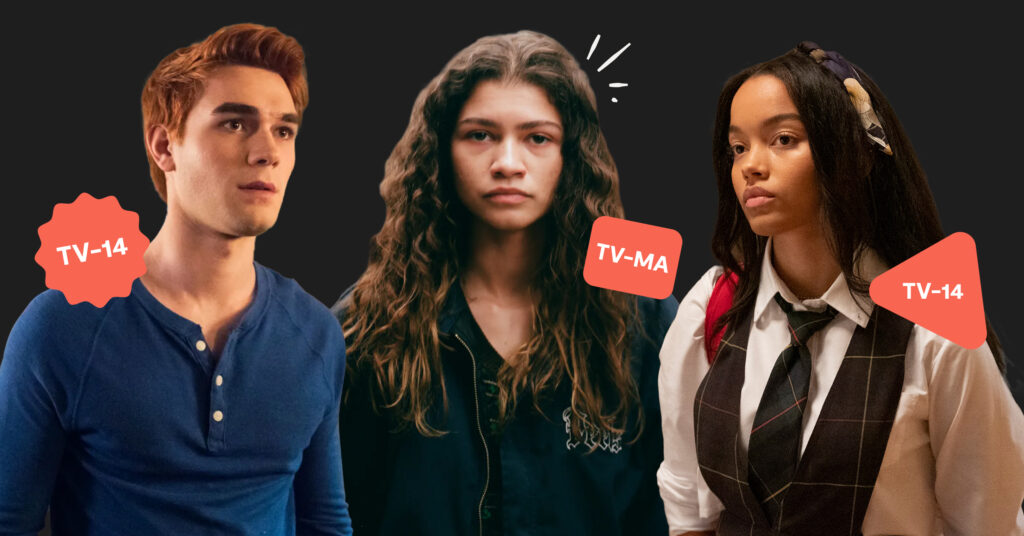 First romances, Friday night lights, and finding yourself—it's easy to see why tv shows about teens are so popular. As many teenagers struggle with feelings of isolation and misunderstanding, it can be helpful to relate to characters, acknowledge common struggles and learn from make-believe mistakes.
But not all teen series are so enriching. Once you look beyond the high-school basics, you'll find that some shows about teens aren't made for teens at all. From inappropriate student-teacher relationships to drug use, we've compiled a list of shows that aren't for teens and should be skipped or watched with an adult.
Seven Shows That Aren't For Teens
Euphoria—Rated TV-MA for drugs, nudity, language, and mature content.
This Emmy Award-winning drama follows Zendaya as Rue and her cast of friends and foes as they navigate drug addiction, high school relationships, and societal expectations. Far from the wholesome shows of years past like Boy Meets World and Saved by the Bell, Euphoria takes teen drama to the extreme showing the cast partying with drugs and alcohol and engaging in sexual acts in almost every episode.
While it's important to address these very real issues that some teens may be dealing with, the extent to which the characters party and do drugs without consequences is unrealistic and can be harmful to impressionable minds who see this behavior as "normalized." The frequent depictions of sexual, physical, and emotional abuse are also romanticized at their worst and at their best, still graphically shown and suitable only for viewers at a more mature age.
Riverdale—Rated TV-14 for sex, violence and alcohol.
Based on the beloved Archie comics, Riverdale follows key characters Archie, Betty, Veronica and Jughead throughout high school as they investigate assorted crimes in their quaint town of Riverdale. Comparisons to the comics stop there, though, as Riverdale often diverges from its source material, splicing in darker content like inappropriate teacher-student relations, gratuitous violence, suicide attempts, and even an underground fight club and strip club run by students.
Gossip Girl—Rated TV-14 for sex, drugs, alcohol and mature content.
A cult classic from the early 2000's Gossip Girl was one of the first CW shows to take teen dramas in a new, over-the-top salacious direction. The 2007 show depicts ultra-wealthy upper eastside teens who attend a boarding school where they consistently have their sordid affairs and ugly secrets outed by an anonymous source known as Gossip Girl.
Among the general drinking, partying, sex, and drugs, one of the first episodes features an attempted sexual assault by one of the main characters, Chuck. This assault is smoothed over, and Chuck continues to abuse women emotionally and physically for the rest of the series. The show also touches on mature themes like suicide and eating disorders without providing resources or modeling realistic experiences. The series was recently rebooted in 2021 with a new cast and an even more mature rating of TV-MA.
Chilling Adventures of Sabrina—Rated TV-14 for violence, gore, sex, and frightening scenes.
Another comic book riff that deviates far from its source material, the Chilling Adventures of Sabrina, is very loosely based on Sabrina The Teenage Witch. However, in this iteration, things take a much darker turn as Sabrina must decide whether to remain at her normal school with her mortal boyfriend or go "full witch" and attend a dark arts school where she will learn things like necromancy and demonology.
For many parents, the recurring jabs at Christianity and satanic rituals featured at the show's center are alarming and difficult to explain to kids or teens. Beyond that, the overt sexualization of teenagers, gratuitous violence, gore, and many frightening scenes make this show a "must-skip" for kids under 18.
13 Reasons Why—Rated TV-MA for violence, sex and nudity, and mature content.
Since its release, 13 Reasons Why has been criticized for its depiction of suicide and its triggering content. The show follows a young girl named Hannah who recorded tapes around the "13 reasons why" she chose to end her life.
While debate still surrounds the education versus glamourization of such an important topic, the show has moved onto other problematic themes. In the later seasons, the show touches on sexual assault, school shootings, and drug use. Parents across review sites point out that many of these topics were handled poorly and, in some cases, could hurt more than they could help.
Vampire Diaries—Rated TV-14 for sex, violence, alcohol, and drugs.
The Vampire Diaries follows the life of Elena Gilbert, a high school girl who, after losing her parents in a car wreck, falls in love with a vampire named Stefan. The show chronicles the love triangle between Elena, Stefan, and his brother and how the brothers fight (often gory battles) to protect Elena and the town from villains.
While the vampires take on a protective role, parents cite several scenes where the trio and other high schoolers are seen drinking and doing drugs. The treatment of women is also poor throughout, with women physically and sexually assaulted in many scenes.
Pretty Little Liars—Rated TV-14 for violence, sex, and frightening scenes.
Pretty Little Liars focuses on four friends whose clique falls apart after the disappearance of their leader, Alison DiLaurentis. The group is reunited a year later as they begin to be blackmailed by an anonymous figure who goes by "A." The violence and frightening tone heat up as the girls race to figure out who "A" is.
While the series is criticized for its overt depiction of dead bodies and violence, one of the most problematic storylines entails the series' long romantic relationship one of the students, Aria, has with her high school English teacher Ezra. Throughout the series, the relationship is romanticized, with the two even getting married and ending up together at the end.
How to Monitor What Your Kid is Watching
With all of the available streaming services, networks and channels, it can be challenging to ensure everything your child is watching is age-appropriate. Bark helps save you time and takes the guesswork out of finding a fun family feature by providing smart parental monitoring that allows you to observe, block and control certain apps. Find out more about your options here.
About Bark
Bark is a comprehensive online safety solution that empowers families to monitor content, manage screen time, and filter websites to help protect their kids online. Our mission is to give parents and guardians the tools they need to raise kids in the digital age.