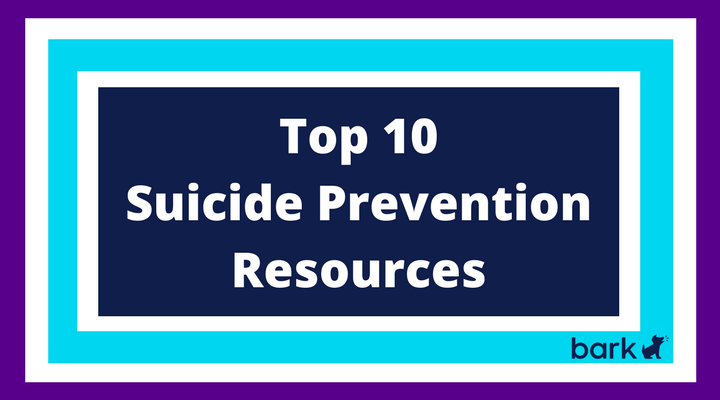 Top 10 Suicide Prevention Organizations and Resources
Suicide is a topic that deserves year-round awareness, but as Suicide Prevention Awareness Month, September shines a spotlight on this issue. If you or someone you care about is struggling with suicidal thoughts, there are many suicide prevention organizations that can help. If you believe your child or another person may be in immediate danger, call 911. Thoughts of self-harm and suicide are serious matters that always require swift attention.

Below, you'll find 10 suicide prevention resources and organizations that can provide your family with the support you need when dealing with this difficult situation.
1. Suicide Prevention Resource Center (SPRC)
Website: http://www.sprc.org/
Crisis Line: 1-800-273-TALK (8255)
Chat: http://chat.suicidepreventionlifeline.org/GetHelp/LifelineChat.aspx
SPRC is one of the most comprehensive resources for suicide prevention. In addition to information and training, they offer a hotline to help anyone who's experiencing suicidal ideation: 1-800-273-TALK. Their website has links to resources in different states and a video providing advice on how to help support those considering suicide.
2. National Institute of Mental Health (NIMH)
Website: https://www.nimh.nih.gov/health/topics/suicide-prevention/index.shtml
This website has lots of information about mental illness and suicide prevention, including statistics, symptoms, treatment options, and risk factors. It also provides resources that can help people understand the connection between suicide and other mental health issues such as depression, bipolar disorder, and more.
3. Society for the Prevention of Teen Suicide (SPTS)
Website: http://www.sptsusa.org/
Teen suicide is a growing problem in America and many other countries. SPTS is a nonprofit organization created by parents whose teen children died by suicide. It's dedicated to helping to reduce the problem of teen suicide by providing resources for teens, parents, and educators. SPTS also pushes for legislation requiring teachers to undergo training in suicide prevention.
4. Centers for Disease Control and Prevention (CDC)
Website: https://www.cdc.gov/violenceprevention/suicide/resources.html
The CDC views overall mental health and suicide as important public health issues. On this site, you'll find statistics, resources, and more. 
5. Action Alliance for Suicide Prevention
Website: http://actionallianceforsuicideprevention.org/resources
This is a public and private alliance of organizations dedicated to preventing suicide. The Action Alliance works with many groups, including government agencies, religious groups, schools, and mental health organizations to help people understand and prevent suicide.
6. American Foundation for Suicide Prevention (AFSP)
Website: https://afsp.org/find-support/resources/
The AFSP website has a long list of resources including crisis hotlines, advice for finding mental health care, substance misuse treatment, and resources for issues such as self-harm, borderline personality disorder, schizophrenia, and other issues that often overlap with suicide. The AFSP also provides help to people who have lost loved ones to suicide.
7. Crisis Text Line
Website: https://www.crisistextline.org/
Crisis Text Line: Text HOME to 741-741
Teens are often more comfortable texting than talking on the telephone, which is why Crisis Text Line provides an alternative option for those unwilling — or unable — to voice call. Specially trained crisis counselors will help de-escalate individuals who are considering suicide or dealing with severe mental health issues.
8. HelpGuide
Website: https://www.helpguide.org/articles/suicide-prevention/suicide-prevention.htm
HelpGuide provides information on a wide variety of mental health issues, including suicide. Their suicide prevention page has advice for both people contemplating suicide and those who want to help someone else who's suicidal. It also provides a list of common myths about suicide, such as the idea that people who talk about ending their own lives won't actually do it.
9. Suicide Awareness Voices of Education (SAVE)
Website: https://save.org/
Crisis line: 1-800-273-8255
Founded by a mother who lost her daughter to suicide in 1979, SAVE's mission is to help prevent suicide through public awareness and education, reduce the stigma of suicidal ideation, and serve as a resource to those touched by suicide. The website provides resources, training kits, ways to get involved and donate, and more.
10. The Trevor Project
Website: www.thetrevorproject.org/
Founded in 1998 by the creators of the Academy Award-winning short film TREVOR, The Trevor Project is the leading national organization providing crisis intervention and suicide prevention services to LGBTQ+ young people under 25.
About Bark
Bark is a comprehensive online safety solution that empowers families to monitor content, manage screen time, and filter websites to help protect their kids online. Our mission is to give parents and guardians the tools they need to raise kids in the digital age.