The Video Sharing Apps Your Child Is Probably Using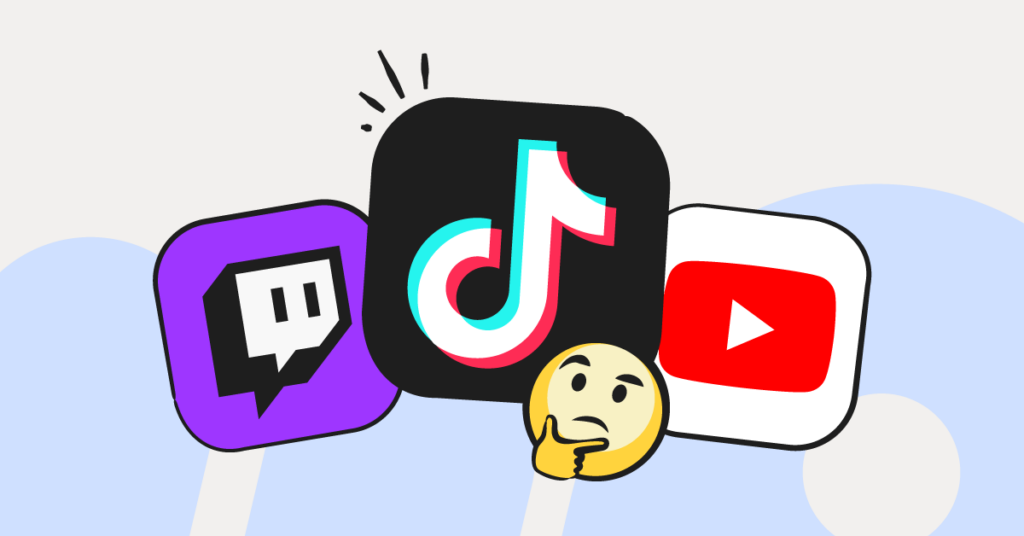 Viral TikToks. YouTube how-to instructions. Highlights from football games. What do these all have in common? They're all popular clips you can watch on video sharing apps. Young and old alike use these video sharing apps, and many kids even get in on the action by creating and sharing their own videos. Others, meanwhile, simply enjoy scrolling through videos from their favorite online creators and brands.
But are video sharing apps safe for kids? And how much should you monitor them as a parent? To help you understand what your kids are seeing and which video posting apps they are using, we've got all the details on the three most popular video sharing app options for teens and tweens.
TikTok
TikTok is the leading video sharing app in the U.S. and across the world. It's been downloaded more than 200 million times from within the U.S. and boasts an audience ranging in age from 13 to 60. More than a billion people use the app every month, and many visit daily to follow their favorite creators.
TikTok is rated 16+ but allows users as young as 13 to join. Those under the age of 16 are automatically given private accounts. This stops strangers from sending them direct messages within the app but doesn't guarantee that young users won't see inappropriate content. While there is a lot of clean, kid-friendly content available, there's just as much if not more content that isn't appropriate for younger users.
Pros for kids
Family Pairing allows parents to link their child's account to their own.
Digital Wellbeing features create limits on the number of hours the app is used.
Cons for kids
Having a private profile doesn't block kids from seeing public videos.
A lot of inappropriate content exists — sex, profanity, drug/alcohol, and more.
Bullying and aggressive behavior are rampant.
Accounts can be hacked.
YouTube
YouTube has been around longer than TikTok and allows creators to upload longer, more detailed video content. Creators establish their own channels, and users follow their favorites to keep up with the latest content. There are now more than 2.5 billion YouTube users, and many consider it a search engine like Google. This is due largely in part to the incredible variety of educational and informative videos presented on the app. In fact, YouTube generates over a billion views every day.
Pros for kids
YouTube has good parental control settings for pre-teens and older kids.
A lot of content is suitable for kids as well as pre-teens and teens.
Oftentimes, harmful content is removed quickly.
It's one of the safest video sharing apps available.
Cons for kids
There are lots of inappropriate things for kids of all ages.
Interaction with strangers in comments is possible.
Twitch
Twitch is a video game streaming app that allows users to share video of their screens while they play popular video games. While the content usually revolves around gaming, this doesn't mean users aren't exposed to explicit language and other inappropriate content. Some mature video games like Grand Theft Auto are played and shared freely with no age gates that prevent younger users from watching.
Twitch allows users 13 years old and older to register without parental permission. There are also no parental controls in place. You can set your child's account to block videos containing profanity, discrimination, hostility, or sexually explicit language, but there's nothing stopping your child from turning those settings off.
Pros for kids
There are tons of creative and educational video games to watch.
Many kids feel connected to friends within the platform.
Cons for kids
There are no real enforceable parental control settings.
Games with violence and profanity are allowed.
Kids may interact with adult users.
Are Video Sharing Apps Safe for Kids?
The three video sharing apps featured here aren't safe for young children without direct adult supervision — and even then, some sketchy things may still pop up! It's difficult to find consistently family-friendly content on TikTok because every flick of the screen brings up something new. While YouTube does offer cartoons and a wealth of educational videos, it also has some potentially dangerous content for young kids and even pre-teens. And Twitch can be incredibly hit or miss.
While video sharing apps may be entertaining and educational, they can still be dangerous for your children. If you're worried about your child interacting with video posting apps, Bark can help. You can block websites and apps to help keep your kids safe from inappropriate content. You can also manage when they can access them — like no YouTube until after school. 
About Bark
Bark is a comprehensive online safety solution that empowers families to monitor content, manage screen time, and filter websites to help protect their kids online. Our mission is to give parents and guardians the tools they need to raise kids in the digital age.