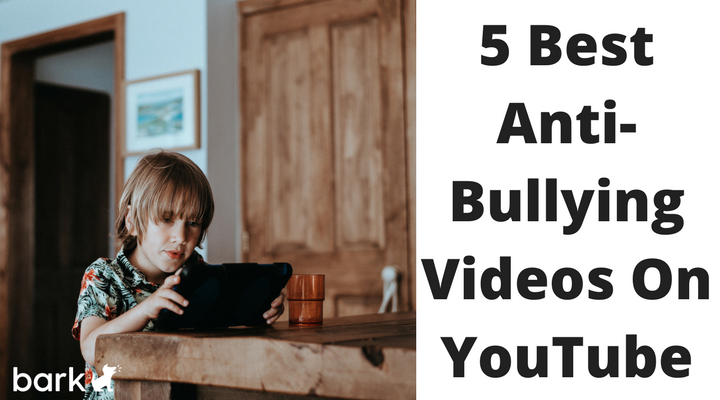 5 Best Anti-Bullying Videos On YouTube For Tweens And Teens
For the past three weeks we have been sharing the top movies and TV series that promote strong positive values. These posts include: The Top 5 Shows for Kids Currently Streaming on Hulu, The 5 Best Movies And Shows On Netflix For Kids, and The 5 Best Shows For Kids On Amazon Prime.
Talking with kids about intense subjects like cyberbullying, sexting, online sexual predators, and other online issues can be tough. However, using YouTube as a resource can help your tween or teen relate to the topics you are discussing with them. Today we are sharing the 5 Best Anti-Bullying Videos on YouTube for Tweens and Teens. We recommend parents watch the videos first to understand the content in order to help facilitate a meaningful conversation with their kids on these topics.
The Bully
First, we have The Bully. This short film, created by 12-year-old Jonah Maxwell, has over a million views. With the help of his father, Jonah created a poignant message about the impact of bullying and cyberbullying. Additionally, he provides tips and encouragement for those who are being bullied.
Silent
Next up is Silent, an award-winning short film about a girl who is deaf. Made by high school freshman, Lindsey Hunter, Silent focuses on the power of kindness and being an "upstander" and not just a bystander.
Thirteen
Thirteen was written and directed by Robert Randall for the Young Actors Project. This anti-bullying video addresses bullying at the middle school level by telling the story of a 13-year-old named Caroline who struggles with fitting in and wants to learn how to "just be herself."
Strain
Strain is the story of two girls who were best friends until one of them joins a popular clique in high school. The childhood friends have a falling out when the leader of the clique is mean to the girl who is not part of their group. Strain is a moving story with high production quality. But it also deals with topics like alcoholic parents, self harm, and even suicide.
Sincere Compliment
Finally, check out this uplifting and inspiring video designed by a high school junior named Jeremiah to combat cyberbullying. Jeremiah sends compliments and good cheer to people via social media; he created a Facebook page and Twitter account to send sincere compliments and encouraging messages to students.
Jeremiah's anti-bullying movement has grown into a group of caring and kind students who are inspired to make a huge difference by helping lift the spirits of teens and tweens who are down because of bullying. "Help us celebrate people filled with kindness, those overcoming adversity with grace and inspiration, and the good in life."
We know that monitoring your child's viewing options can be an overwhelming challenge. Bark is here to help you and your children navigate these difficult waters with educational articles and providing a phone monitoring program that alerts you to issues on your child's social media and email accounts, and devices. Because some of these videos may be triggering for younger kids or sensitive tweens and teens, we recommend that you watch them before sharing with your children. This will help you decide which ones will facilitate meaningful conversations.
Helping you keep your children safe in the world of technology is our job. If you have any questions or suggestions check out our website or contact us at help@bark.us.