The Best Educational Apps and Learning Tools for Kids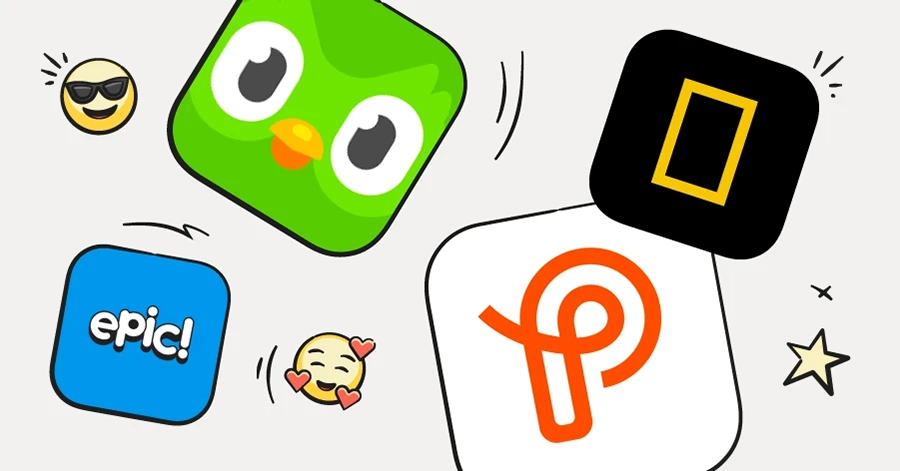 Kids nowadays spend a lot of time on their screens and as parents, we know it's important to limit screen time when we can. But the reality is technology and screens are a huge part of our lives. Most of us can't just give up screens entirely, which means we just need a healthier approach!
So we put together a list of educational apps that your kids will love, while also giving you peace of mind that their screen time will be more productive and beneficial to their development. And there's a lot — so let's jump in!
Best language learning apps for kids
Communication is key to success in school and throughout life. Learning to read and write empowers your child to express themselves clearly and confidently.
Here are a few apps that are great for language learning.
1. Duolingo
Duolingo is one of the most popular language-learning apps out there. The gamified approach has made learning new languages more fun for both kids and adults.
You and your child can unlock new levels as you complete lessons. Plus, you can earn points and compete against others. You'll also earn points as you unlock.
The rewards system and colorful, child-friendly design make learning a new language more engaging and help to keep kids motivated!
Pros: Duolingo is great for everyone, from beginners to advanced learners. It's also available in over 38 languages. (Including even some fictional ones!).
Cons: It's not available in all languages and requires an internet connection to access the content.
Cost: Duolingo app is free and gives you access to all content. However, to remove ads and access offline content, you'll need to upgrade to Duolingo Plus.
2. Epic!
Epic is like Kindle – but for kids! From picture books to non-fiction, Epic puts the world of reading at your child's fingertips. You can let them browse with confidence, knowing they're accessing books that are parent (and kid) approved.
Epic also stands out with built-in learning tools, like dictionaries and quizzes, to make the most out of your child's reading journey. There are also other elements like badges and reading buddies to help keep your child motivated.
Pros: Access to over 40,000 titles in just one subscription, including books that are exclusive to Epic.
Cons: Epic's library is designed for ages 12 and under, so it's not a great solution for older kids and teens.
Cost: Epic is a subscription-based app that starts at $6.67 a month. A free trial is available to explore the offering.
3. Night Zookeeper
The name doesn't quite do it justice, but Night Zookeeper is designed to help kids with their vocabulary, spelling, and grammar skills.
Night Zookeeper makes learning to write more engaging and interactive. The storybook-inspired environment is designed to help encourage creative thinking and writing. Kids can start with simple vocabulary activities and progress to writing short stories.
They also include unique ways to keep kids engaged, like drawing their own avatars!
Pros: Instant writing feedback from Night Zookeeper characters and educators.
Cons: Relatively expensive subscription compared to other apps on the list.
Cost: Night Zookeeper has a free 7-day trial. Subscriptions start at $9.92/month.
4. Write about this
Kids have some of the wildest imaginations, but they can get writer's block sometimes too.
Write about this helps get the creative juices flowing by providing prompts. The prompts range from random ideas to images. Then your child can use the prompt to write directly in the app, use the voice recording feature, or start writing elsewhere.
The app is a unique way to get kids to write more and feel comfortable doing it. There are also publishing features to encourage your child to share their writing.
Pros: Simple to use and can be repurposed in many different ways, from journaling to other creative projects.
Cons: Built-in editor has limitations which can make writing in the app challenging at times.
Cost: Write about this has a one-time app fee, currently at $5.49.
Best math and science learning apps for kids
Whether your kid dreams of being a doctor or has other goals in life, math and science help provide the foundation for learning. They're great subjects for developing critical thinking skills.
These educational apps will help your child develop their love of science and math early on.
5. Prodigy
Take learning math into a whole new world with Prodigy.
Kids take on a role in a fantasy world where they can win battles with – you guessed it – math. They go through different daily and seasonal quests in order to earn items and rewards.
There are also interactive elements like pets and treasure hunts that make Prodigy feel more like playing a game. It's a perfect alternative for the child who struggles with traditional learning and math.
Lessons and activities are based on standard curriculums, so you know your child is on track. There is also an English stream for language learning.
Pros: Interactive features allow your child to play with friends online in a safe, child-friendly space.
Cons: Some parents have provided feedback that the math components could be better integrated into the game.
Cost: The basic version of Prodigy is free and includes all core game functionality. There are also Level Up and Ultimate memberships that unlock things like items and additional pets.
6. National Geographic
Let your child explore the world from the comfort of the couch with the National Geographic app.
This app gives your child unlimited access to interactive and digital versions of National Geographic's world-class stories and photographs. National Geographic is one of the best ways to learn about the world around them – from people and animals to the creatures that roamed the earth millions of years ago.
In general, this app is better for older kids who have developed solid reading skills. You can also pair it with a National Geographic Kids subscription for the ultimate Nat Geo experience.
Pros: A subscription includes access to past articles and issues, so there's plenty for kids and adults to enjoy.
Cons: Free content is very limited, but subscription costs are reasonable.
Cost: Free with a National Geographic subscription. Otherwise, a subscription costs $2.99/month.
7. NASA App
The perfect app for kids dreaming of going to the moon. The NASA app is home to all content related to NASA.
From podcasts to space photos, this is the ultimate app for any space lover. There's even an educational center that includes a solar system simulation.
Whether it's browsing pictures of space or discovering missions in 3D, the NASA app is a comprehensive resource for all things space. Even adults will love exploring everything the NASA app has to offer.
Pros: Take a deep dive into real-life examples of the work that NASA is doing.
Cons: Content can be technical, so it's not very friendly for kids under 10.
Cost: The NASA app can be downloaded for free.
Best technology learning apps for kids
AI and robots aren't taking over the world yet, but we know computers are powerful tools.
Take a deep dive into the world of computers with these apps that will help improve your child's computer literacy.
8. Typing club
With more and more education and testing taking place digitally, building typing skills early on is more important than ever.
Typing club helps children develop their touch typing skills through interactive typing lessons. It teaches to build muscle memory while encouraging proper hand posture. Kids can advance through the lessons and levels as they progress in their typing skills.
The badges and stars gamify the experience and act as great motivators.
Pros: Unlike most apps, there's no need to create an account. But you still can create one to save your progress.
Cons: Since it's typing-focused, it's not a traditional app and requires a laptop and keyboard.
Cost: Typing club is free to use.
9. Code.org
Code.org is a nonprofit helping kids, and underrepresented communities get access to computer science education. The site has many activities so kids can dip their toes into computer science.
There are resources and activities for kids as young as kindergarten to Grade 12. Many of the tutorials also relate directly to popular games like Minecraft or trending music. It's a great way to apply computer science to the real world.
Pros: Code.org partners with major organizations like NASA to develop activities and campaigns that go beyond just coding.
Cons: There is no standalone app, and it must be used online in a browser.
Cost: Code.org and its resources are free to use.
10. Scratch
Scratch is a coding language designed especially for kids. It takes the fundamentals of coding to create a visual programming language. Kids can drag-and-drop blocks to create their own designs and animations – without the complications of text-based coding.
There's also an online Scratch community for kids to learn more about coding and share their projects.
For kids below age 8, consider Scratch Jr.
Pros: Scratch can be used via a web app or downloaded to be used offline. There is a mobile app, but it has limited access to the creator.
Cons: There are limited resources to help older kids transition to text-based programming languages. The online community also offers limited content monitoring.
Cost: Scratch is funded by donations and is free to use.
11. Tynker
Learning to code is about more than just programming. It can teach children problem-solving and critical thinking skills that can be applied to all aspects of life. So it's no wonder coding apps are taking the educational app space by storm!
Tynker is another platform designed to introduce kids to the world of coding.
Tynker's partnership with brands like Star Wars and Barbie makes the activities more fun and relatable.
Pros: Unlike the other coding apps on this list, Tynker has a hybrid approach that gives your child access to live coaches. There are also dashboards for parents to stay up-to-date on progress.
Cons: You can only access very basic features in the free plan. Most benefits of Tynker require a subscription.
Cost: Subscriptions for Tynker start at $20/ month.
Best educational apps for ages 8 and under
Even the youngest of learners have access to apps that can help them grow and develop. Most importantly – they need to be fun and safe!
Here are some apps that are perfect for the youngsters in your family.
12. ABCmouse
ABCmouse is regarded as one of the premier learning apps for young children – even boasting several awards!
The curriculum is well-rounded, offering activities in everything from reading to the arts. From puzzles to games, there is something for every kid. Plus, the stunning graphics and animations alone are bound to keep your child entertained for hours.
As a paid app, you can ensure that your young children are in a safe environment, free from any potentially inappropriate content.
Pros: Activities for children as young as pre-k.
Cons: ABCmouse is on the pricier side for a children's learning app.
Cost: ABCmouse's subscription is $12.99/month. You can try the app first for free by taking advantage of the 7-day free trial.
13. PBS Kids Games
From TVs to apps. PBS's Kids Games app is the best of both education and entertainment.
The app is designed to help kids aged 2-8 learn basics in a wide variety of subjects alongside the characters they know and love from their favorite shows. There are well over 200 games, videos, and activities to create a seamless transition from TV to the app.
PBS is a trusted nonprofit educational organization. So you can feel comfortable letting your child browse on their own. The content is well-researched and developed with your kids' best interests in mind.
Pros: It also includes resources for parents, like TV schedules and storage management.
Cons: Some parents note that there are so many options on the app that it can be overwhelming for young kids.
Cost: The PBS Kids games app is free to use.
14. HOMER
HOMER is designed for early learning – making it the perfect app for kids under the age of 8.
They use a four-step approach throughout all their activities to help kids become better learners at a young age. HOMER also covers topics across all subjects to help set your child up for success.
Pros: HOMER is created by experts who have backgrounds in early childhood education and development. So you know that your child is in good hands with Homer.
Cons: There is limited functionality offline, making it difficult to take HOMER on the go.
Cost: HOMER has a free 30-day trial. Memberships start at $4.99/month.
15. Starfall
Starfall has several learning and education apps for young children. However, it's mostly known for its learn-to-read curriculum.
Your child can go on a journey from learning the alphabet to reading at a Grade 3 level – all with Starfall. The main character is Zac the Rat, who takes the user on a journey through colorful stories and reading-related activities. The app also includes learning streams in math, social subjects, art, and more.
Pros: Starfall has several different education apps that you can download for your child. You can also access a majority of the content directly through a web browser.
Cons: Some users report that the content can get repetitive at times, but it seems the developers are continuing to make improvements.
Cost: Starfall is a free app, but certain content is available for a cost in-app.
Best educational apps for teens
Games may offer less intrigue for older kids, but technology and apps can still empower them to learn.
Here are some favorite learning apps among teens:
16. Khan Academy
Khan Academy is a nonprofit whose mission is to help more children around the world access educational resources.
The biggest areas of learning for Khan Academy include math and science. However, you'll find lessons and videos on everything from economics and humanities to life skills. For high school kids, you'll even find lessons on SAT prep.
Pros: The reliable and high-quality content for children of all ages makes Khan Academy a trusted education source.
Cons: It's less interactive which can be a challenge for kids who need an extra layer of motivation when it comes to digital learning.
Cost: Khan Academy and all the resources are available for free.
17. Quizlet
Quizlet itself isn't an education or learning app; rather, it's a platform that helps children study through flashcards and quizzes.
No matter the subject, you can create digital flashcards to help you memorize and test your skills. You can even add images and diagrams. There are also other learning features like Match, where you can drag and drop matching answers.
The different tools mean there's a solution for every learning style.
Quizlet can be a great way for parents to help kids study or learn new skills.
Pros: Completely customizable to supplement school curriculums.
Cons: Flashcards and quizzes already available on the site are created by individuals, which means the content has not been vetted for accuracy.
Cost: Quizlet is a free resource. But you can remove ads and get access to offline studying with Quizlet Plus, which costs about $48 a year.
Making digital education a priority with Bark
Technology and apps have so much to offer kids of all ages. The best part? All these apps are parent and kid-approved, so you can feel confident knowing that your children are getting the best possible digital learning experience.
The world is becoming increasingly screen and technology-centered. It's inevitable that your children will spend time online – whether they're learning or just having fun!
However, it's normal to be wary as a parent when it comes to screen time and digital access. Use tools like Bark's website blocking and screen time management to make sure that your child is balancing online fun with online education.
With Bark, you get detailed reports about the sites and apps your child is using. Plus, you can even monitor content and set alerts– so you can enjoy peace of mind that your child is staying safe online.
About Bark
Bark is a comprehensive online safety solution that empowers families to monitor content, manage screen time, and filter websites to help protect their kids online. Our mission is to give parents and guardians the tools they need to raise kids in the digital age.