10 Top-Rated Family TV Shows and Networks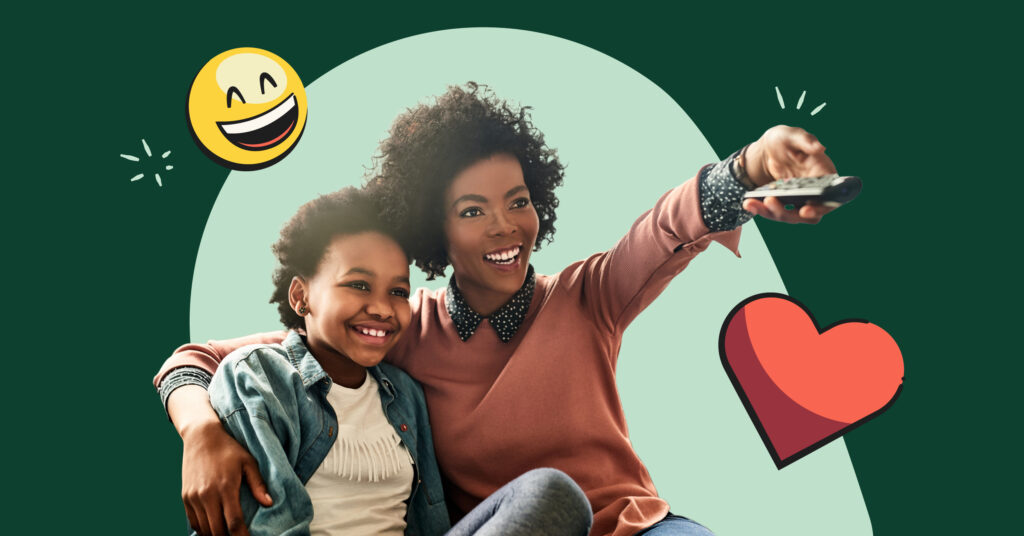 If you feel lost in a sea of content, looking for a safe, fun, and entertaining family TV show, you aren't alone. While it was once easy to sift through three or four channels, with the rise of streaming, parents and kids now have hundreds of options—some more age-appropriate than others. To help you navigate the rough waters of finding just the right family TV show for your brood, we've gathered 10 top-rated shows and family TV networks that you can count on for wholesome, crowd-pleasing content.
Five Popular Family TV Shows
Modern Family—Streaming on Hulu and Peacock
This Emmy Award-winning comedy ran for 11 seasons, capturing the crazy and chaotic lives of traditional and nontraditional families. The light-hearted mockumentary entertains the whole family while providing feel-good lessons about family dynamics and friendships. Plus, short 20-minute episodes serve as the perfect treat post-homework for teens 13 and up.
MythBusters—Discovery Channel
MythBusters mixes education and entertainment to create a show that sparks curiosity and creativity in young minds. For 14 seasons, special effects experts Adam Savage and Jamie Hyneman worked to methodically test some of the world's biggest myths proving them true or false. From fun with jello to crash test craziness, parents and kids can laugh along and learn something from this science entertainment program.
The Mysterious Benedict Society —Disney+
The Mysterious Benedict Society is a new mystery adventure television series based on the children's books by Trenton Lee Stewart. The exciting and sometimes intense plot follows four orphans recruited by a mysterious benefactor to stop a global emergency. Parents and kids praise the show for its exciting cliffhangers and compelling storylines, which draw you back for each episode. While not scary, some scenes can be intense, and parent supervision is suggested for children younger than 10 years old.
Kids Baking Championship—Food Network and Amazon Prime
If your family has a competitive streak, Kids Baking Championship is just the show for you. Contestants 10-13 years old are invited to come up with and cook their best dishes made to impress the judges. Inventive and empowering, parents and kids can cheer on their favorites each week until only one winner remains! 
Just Add Magic—Amazon Prime
Described by parents as good, clean, wholesome fun, Just Add Magic focuses on three tween girls with a magic cookbook. The trio works together to solve mysterious problems as they deal with common coming-of-age issues. With a focus on friendship and family, parents love how the main characters model good values, and kids love riding along with all the fantastical adventures.
Five Popular Family TV Networks
Disney and Disney+
The original family-friendly TV network for years now, Disney cranks out new and exciting family-friendly content like The Mysterious Benedict Society and Andi Mack. It also showcases classics like Boy Meets World and Lizzie McGuire. Despite all of the great TV shows and movies, kids shouldn't be given free rein when it comes to Disney+. The brand also has more mature content under its Marvel and ABC umbrellas, which may prove too intense for young minds. 
Discovery+
Discovery+ has recently added even more family-friendly entertainment to its repertoire. You can find fan favorites like the Food Networks Kids Baking Championship, Animal Planet's Too Cute, and the Science Channel's MythBusters. There is, however, more adult-centered content, and Discovery recommends that parents either supervise their children while watching or set up parental controls through the app.
Cartoon Network
Cartoon Network is home to animated classics like Tom and Jerry, The Powerpuff Girls, and Adventure Time, as well as new shows like DC Superhero Girls and We Baby Bears. During the day, most of the content stays pretty family-friendly, but parents should take care to monitor viewing or change the channel when the brand's Adult Swim content comes on at 8 p.m. 
Nickelodeon
The content on Nickelodeon can skew a little more toward tweens and teens. Shows like Spongebob Squarepants, Monster High, and The Loud House are big hits among this age group but may occasionally feature content a little mature for younger kids.
PBS Kids
As a public broadcasting station, PBS Kids keeps its content squeaky clean and family-friendly. Parents and kids can gather around for inventive shows like Kid Stew and Wild Kratts, as well as older episodes from shows like Arthur and Sesame Street.
How to Monitor What Your Kid is Watching
With all of the available streaming services, networks and channels, it's to find good content that's age appropriate. Bark helps save you time and takes the guesswork out of finding a fun family TV show by providing smart parental monitoring that allows you to observe, block, and control certain apps. Find out more about your options here.
About Bark
Bark is a comprehensive online safety solution that empowers families to monitor content, manage screen time, and filter websites to help protect their kids online. Our mission is to give parents and guardians the tools they need to raise kids in the digital age.