Monster Messenger Monitoring: What Parents Should Know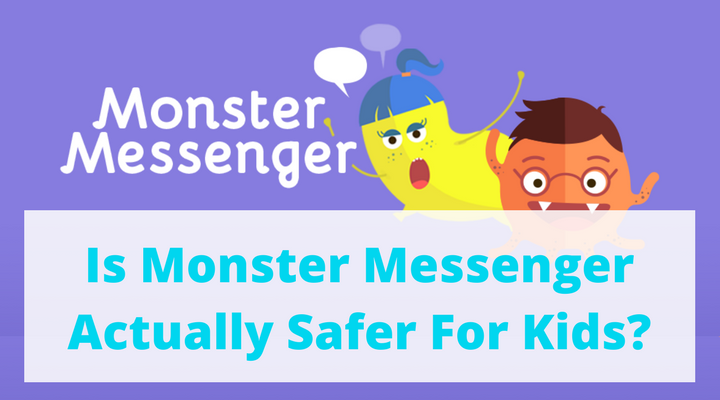 Monster messenger is touted as a safer social media app. But is Monster Messenger really safe for kids? There are some safety features built into the app, which we discuss below, but there are also some risks in using even this "safer for kids" app.
What is Monster Messenger?
Monster Messenger is an app that is available on iOS and Android platforms. It is designed to be similar to instant messenger services like Facebook Messenger, except that it is targeted at children under 13. Legal restrictions put the minimum age for Facebook accounts at 13 years old, so Monster Messenger was created as an alternative for younger children.
The app has many fun features. Kids can choose from a large collection of stickers to send as messages or add them to photos. They can also change photos by drawing on them or adding text to them.
Moderation of Public Content
Monster Messenger has features that automatically take care of risky factors that in other apps require parental involvement. The most obvious of those features is the automatic moderation of all publicly posted content. This means that your child is in less danger of seeing photos or words you wouldn't want them to see.
Approve New Contacts
With other messenger apps, the owner of the account is responsible for adding contacts. This means that your child could end up connecting with a stranger. Monster Messenger is different. With Monster, you have a parent account to compliment your child's kid account.
Whenever your child invites a new person, or a new person invites them, you will be notified by email and from within the app. However, if the child has a mutual contact with the new person, then they will be flagged as trusted and the child will be able to talk to them right away. You can revoke that connection from within the app once notified. If the invitation is for someone not already connected to someone in your child's contacts, you manually approve the invitation.
Blocking and Reporting Users
If your child is being bullied or otherwise harassed by someone in Monster Messenger, you can block and report them. Log into your parent account and going to the settings for your child, then you can block a contact.
Unfortunately, while all communications with that person stop, all conversations between them will be deleted. So your child does not have to see them, but if you need screenshots or proof you must do this before blocking them.
Every conversation has the option to report it. Swiping on the conversation brings up this option. When a user is reported, they get a strike against them. Eventually, the child's parents will be notified and their account may be restricted or permanently disabled.
Since this must be done from the account that has the conversation on it, you should inform your child of how to report someone if they are being harassed. This empowers your child how to respond to cyberbullying.  Be sure to teach your child to use this feature responsibly.
Is Monster Messenger Safe?
While Monster Messenger has some decent safety features, there are a few risk factors. The main one is that if another child has an approved contact that is a predator posing as a child, your child is now connected to that predator. Furthermore, they can start chatting with your child right away. That is, until you check your notifications and disapprove of the contact. It's always important to remind your children that there are less discerning kids out there, that there are tricky adults who pose as kids, and that they shouldn't communicate online with anyone they do not know in person.
Another risk factor is the Newsfeed. While it is moderated, it's content from people you and your child does not know. This opens their circle of contacts and poses a risk.
Monster Messenger has some safety features, but it is not risk free. That is why it is important to talk to your kids about how best to use social media and to come to you if they encounter something that makes them uncomfortable. Additionally, use Bark to monitor their phones, email, and other social media accounts. Get alerts when something potentially inappropriate happens.
About Bark
Bark is a comprehensive online safety solution that empowers families to monitor content, manage screen time, and filter websites to help protect their kids online. Our mission is to give parents and guardians the tools they need to raise kids in the digital age.