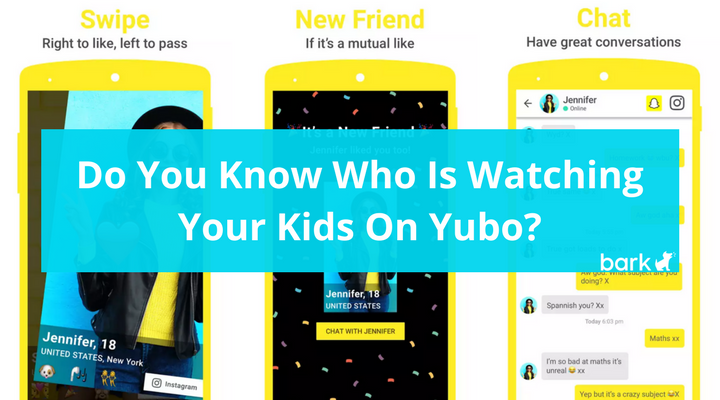 What Is Yubo App? And Is It Safe?
What is Yubo? We'd like to think that most adults are anxious to protect kids, but unfortunately, that's not always the case. Apps like Yubo are designed to mimic social apps created for adults. However, they have a potential for even greater risk due to their younger target audience. While at first glance Yubo may seem harmless for kids- and even fun- taking a closer might lead you to ask, 'Is Yubo safe for kids?'
What is Yubo?
Yubo is the recently updated name for an app that was originally called Yellow. Yellow was originally marketed as a Tinder for teens. This was on the heels of Tinder's prohibition of underage users. The app's name changed, possibly as a result of the bad reputation it was getting among parents concerned for their kids' online safety.
In Yubo's app store description, it says, "Yubo is a social app to meet new friends and have fun with them. Friendship is going to the next level! It's like being in a party and meeting cool people every 10 seconds."
In reality, it's an app for kids and teens to connect with strangers. Signing up for the app is simple, and while parental consent is required, it only takes a simple click of a check box. Any one with a device can perform this action easily, even a kid. Users can also put any age they wish on their profile with no verification necessary. Members can choose whether or not to show the city or town where they live.
How Does Yubo Work?
The app allows users to create image-only profiles, and then connects users to profiles of others in their area. Adding a new chat friend is as simple as a swipe. Now that person is on your kid's contact list. Other users can see when they've been added to your contact list. Then it's easy to invite them to chat by text or even live video.
Yubo's description says, "Create live video rooms with up to 4 friends and an unlimited number of watchers." Who are these unlimited numbers of watchers? Chances are good that they're people neither you nor your child knows.
Is Yubo Safe?
Yubo is in fact like a party, but it's more like an unchaperoned party that's taking place in your child's bedroom, behind closed doors, with complete strangers.
You wouldn't invite unknown teens into your home to party with your child without a trusted adult present. Similarly, you should should take a very close look at what happens on Yubo. Chances are good that it's not just unknown teens connecting with your child through the app, but adults too.
Because members' profiles are image-based, users can choose any photo they wish for their identifying pics. Stealing photos of a friend's kid from a social media page is as easy as a click-and-drag. A predatory adult can then use those photos to set up a fake account with a fake age to lure unsuspecting teens into an online friendship. There is simply no way to know who is behind the Yubo account that your child sees on their screen.
From an initial contact, it's not hard to imagine what could happen next. A "friendship" may start out innocently enough, but adults who troll teen social media apps are usually looking for more than friendship, and they will start the grooming process with the ultimate goal of eventually meeting up with the child in person.
Being aware of new social apps and understanding what Yubo is all about is the first step to keeping your child safe. Monitoring the content on their emails, phones, and social media sites with Bark is the next step toward understanding who they're interacting with and how. This knowledge allows you to keep an open dialogue with them about these risky sites or behaviors. Our unique software alerts you of concerning activity and gives you the tools you need to help you guide your child into safer internet usage.