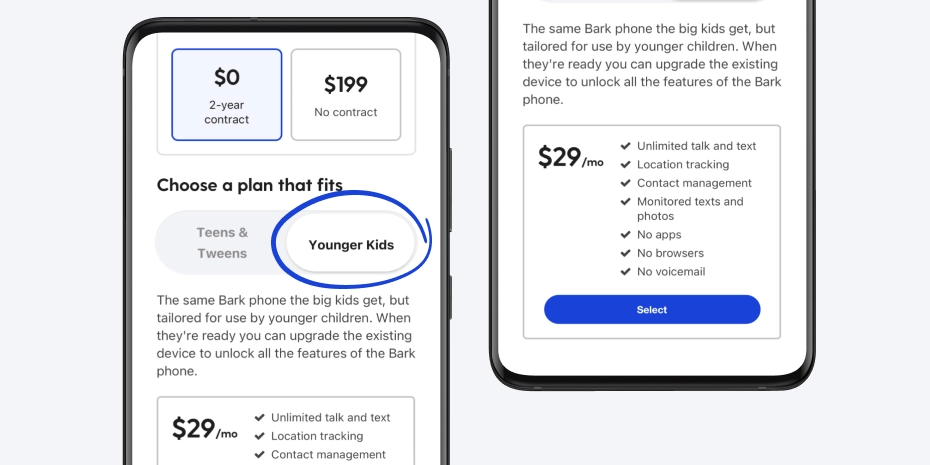 Bark Phone Starter Plan
The Bark Team | October 31, 2023
---
We heard you loud and clear, and we're thrilled to announce we're introducing our brand-new Bark Phone starter plan at just $29/month, designed for families looking for a more locked-down Bark Phone right out of the box.
Our starter plan is the premier first phone for kids, and it comes packed with features to create a safer and more controlled digital environment for your child:
Unlimited talk and text: Stay connected with your child through unlimited calls and text messages, ensuring seamless communication whenever they need it.
No apps or games: The starter plan provides a streamlined digital landscape with no distractions or potentially inappropriate content.
No social media: Say goodbye to social media concerns with a plan that keeps those platforms at bay, offering peace of mind for parents.
No web browsers: Web browsing is completely off the table, ensuring a worry-free online experience for your child.
Automatic text monitoring: Bark's advanced technology will scan conversations and alert you to potential issues.
Mandatory contact approvals: You'll give the okay to every single person your child wants to message — no exceptions.
Disabled voicemail: Voicemail is disabled to maintain a controlled and focused phone experience.
Monitored camera: You can choose whether to allow the device's camera, and rest easy knowing that any problematic photos and videos will trigger alerts.
24/7 location tracking: Keep an eye on your child's whereabouts no matter where they roam.
We believe the Bark Phone starter plan is the perfect solution for families with younger kids or teenagers who need a well-structured digital environment without any potential workarounds. It's the ideal way to provide a nurturing digital space for your child as they begin their technology journey, enabling them to start building healthy digital habits.
And the best part? You have the flexibility to upgrade and keep the same phone as your child grows and becomes ready for more responsibility. Our advanced plans, starting at just $49 per month, allow you to introduce games, internet access, and additional features when the time is right for your family.