2022's Top Holiday Gifts for Kids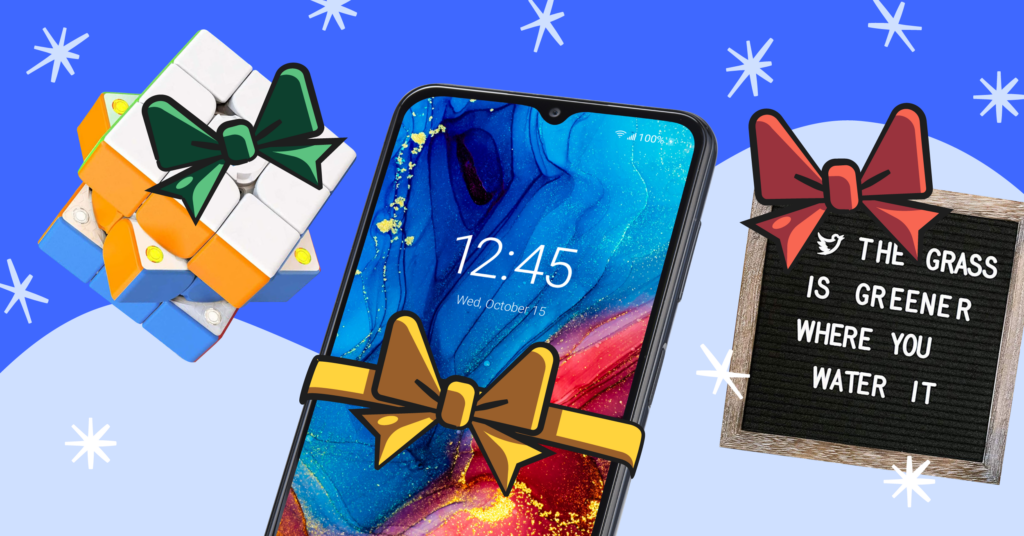 It's that time of year again and Bark is here to deliver what you've been waiting for: our annual review of top holiday gifts for kids! We've hand-picked great presents that your kids are sure to love, and you'll also stress less figuring out what's cool and what's not. This year, we have two categories: tech-savvy gifts and not-so-tech-savvy gifts. Let's dive in!
Must-Have Tech Gifts
The Bark Phone
The Bark Phone is an absolute game-changer when it comes to online safety. It's a Samsung A series that comes with Bark built-in, as well as robust parental controls like GPS-powered location tracking, app management, call blocking, and more. Bark also can't be deleted, and the parental controls are completely customizable so it grows with your child. The best part? It has a sleek and modern design, so teens and tweens will be excited to use it. The Bark Phone starts at $49/month with a 30-day, money-back guarantee.
HP Portable Photo Printer
Nowadays, kids are constantly taking pictures on their phones, whether it's cute selfies or silly snaps of the world around them. And now, they can have those pictures physically printed in a matter of seconds with this portable photo printer from Amazon. Through an app on their phone, the printer connects with Bluetooth and — voilà! Any picture they want right in their hands!
iHome PlayTough Bluetooth Speaker
There are literally tons of options out there for Bluetooth speakers. All of them promise great sound and easy Bluetooth capabilities, but it's hard to know which one is actually the best choice. We found that this speaker from Best Buy is a solid option for on-the-go music with a price that won't break the bank!
Holy Stone Drone
Drones have been super popular for the past couple of years, so if your kid has been asking for one — it's no surprise here! This one is a great option for beginners to learn how to fly a drone and take awesome pictures and videos. It comes with tons of different features, so it'll definitely grab the attention of any kid who gets their hands on one!
Bluetooth Rubiks Cube
This gift will also be fun for parents who love the classics — a Rubik's Cube with built-in Bluetooth! You can connect the cube to your phone to track your progress as you solve the puzzle and it'll even help you along the way with helpful hints.
mBot Coding Robot Kit
If your kid loves computers and is interested in coding, this gift will blow their mind! They'll get to build their own robot and program it with easy-to-use software. There are included learning resources and tutorials so they'll learn everything they need to know. It'll serve as an amazing introduction to programming and electronics for your kid.
LARQ Self-Cleaning Water Bottle
Yes, you read that correctly — almost a hundred dollars for a water bottle! Sounds crazy, right? Well, this water bottle from LARQ isn't just your typical fill-and-empty water bottle. It was built with UV technology that will clean the inner surfaces of the bottle AND the actual water inside! So if your kid uses this as their everyday water bottle for school, practice, and anything else, you can be sure it's clean and odor-free all the time!
Zihnic Headphones
Similar to Bluetooth speakers, there is no shortage of headphones to choose from. And we know parents want to get their kids good quality for a reasonable price, so that's why we suggest these headphones from Zihnic. They come with Bluetooth capabilities and are promised to fit comfortably for long periods of time.
PhoneSoap Pro Smartphone Sanitize and Charger
If there are two things that collect germs in a matter of seconds, it's kids and phones. So a kid's phone is one thing that could definitely use a good cleaning! This phone sanitizer from Amazon is for uses UV-C technology to sanitize all the surfaces of your kid's phone, and you can even charge it while it's sanitizing.
VTech Kiddi Zoom Creator Camera
In the age of YouTube and TikTok, lots of kids want to try their hand at directing and recording their own videos. So start them off with this kid-friendly camera from VTech, which comes with a mini tripod, green screen fabric, and easy on-camera editing.
Mini Portable Projector
Take your family's movie game to another level with this mini portable projector from Amazon! This tiny box will connect to your phone, tablet, laptop, or TV and project your shows and movies onto any wall in your house. It's a great way to make TV time more exciting and keep kids' eyes off phone screens.
Back to Classics: Holiday Gifts for Kids from the Non-Tech World
Wordle the Party Game
You might recall how the New York Times Wordle puzzle recently took the world by storm. Every day, a new puzzle would be posted to their site and people would scramble to solve it. This got so popular that it was turned into a board game! So instead of solving for computer-generated words on the NY Times site, each player in the game gets to pick a word for the rest of the group to solve!
"Not Parent Approved" Card Game
Despite the name, this game is a favorite for kids and parents alike! It's easy to play and will get everyone giggling by the end of it. How it works is each player has seven red cards and one player draws a Blue question card. The rest of the players put down one of their red cards with the silliest answer. And whoever has the best answer wins the round!
TeeTurtle Reversible Octopus Plushie
Sometimes simple is best, and plushie toys never get old. These little octopus stuffed animals are cute, soft, and have a fun feature — they're reversible! Each side of the octopus is a different color and has a different facial expression, either happy or mad. So your kids can show their mood without saying a word!
Charger Protectors
We've all experienced our chargers getting old and warped over time. But these charger protectors will keep your kid's cords good as new, with the added bonus of looking fun and colorful! They come in a pack of 10, with different designs like a watermelon, a frog, and a bumblebee.
Felt Letter Board
If your kid wants a fun way to decorate their room, these felt-letter boards are a great bedroom addition. It comes with all the letters they need for any kind of message they want. Maybe they'll put a great knock-knock joke or a killer quote from their favorite show — either way, they'll love having this in their room, making it one of the best holiday gifts for kids out there.
About Bark
Bark is a comprehensive online safety solution that empowers families to monitor content, manage screen time, and filter websites to help protect their kids online. Our mission is to give parents and guardians the tools they need to raise kids in the digital age.