BeReal: The New Photo-Sharing App That's All About Authenticity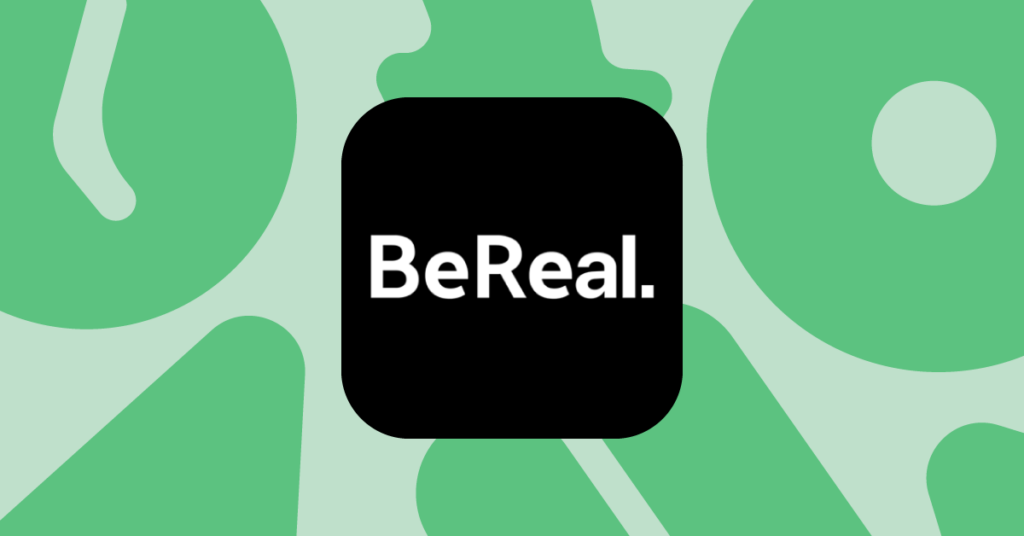 For every new social media platform popular with young folks, there exists a glorious moment when it's free from adults, family members, and advertisers. Facebook had it in 2005. Instagram had it in 2012. Snapchat had it in 2015. And right now, a new app called BeReal is currently riding a wave of newfound popularity among teens and tweens. Its angle? Authenticity and spontaneity. Confused? No worries, we've got everything you need to know about this hot new social media platform.
What is BeReal and How Does It Work?
Developed in France in 2019, BeReal is a photo-sharing app that's growing in popularity at a rapid pace — monthly active users have grown 315% since the start of 2022. It's particularly prominent among college students, a trait common in the explosive growth of new social media platforms (think Facebook and Yik Yak).
Here's how it works: Once a day, users get a time-sensitive notification. You then have exactly two minutes to snap a photo — it then will automatically create a collage of an image taken from both your front and back camera. The time you get this alert changes every day, so it's always random when you'll need to be photo-ready. Once the time's up, you'll be able to see what all of your friends are currently doing and react with emojis and comments. You can only post once per day in this tiny sliver of time. Also, if you don't post your photo of the day, you can't see others' until you do.  
Why Kids Are Drawn to BeReal
Why is BeReal suddenly taking off when so many other photo-sharing apps currently exist? The short answer is: It's complicated! But when you break it down, it all starts to make sense. Here are some of the selling points that help explain its rapid growth and popularity among young people. 
It can be more authentic
You can't choose when you're going to get the notification that it's time to post. This can be a little nerve-wracking, because what if you're just on the couch? What if you're at Target? It doesn't matter. The whole point of BeReal is to share what you're actually doing — not a painstakingly curated photo of tacos or a group photo of friends smiling but who are actually all mad at each other.
The upside of this is that you only see real, everyday activity, and it can truly be a fascinating glimpse into the behind-the-scenes activities of your loved ones. The downside? It can be kind of boring sometimes. Blurry photos of cereal. Out-of-focus selfies in a dark room. A zoomed-in picture of a bug on the floor. When you only have two minutes, it's not always a masterpiece of photography that's created — and that's the whole point. Think of BeReal like a complete reaction to — and rejection of  — more stylized social media platforms.
It's not overrun with ads
A quick scroll through anyone's Instagram account will reveal just how monetized the app has become. Peppered in between your friend's stories are targeted ads selling clothes, medicine, perfume, sporting equipment, and nearly anything else you can think of (or buy). When you check out the feed, you get served "suggested" posts from people you don't even know. BeReal has none of that — just the random daily snapshots from the lives of people you choose to follow. This isn't to say that ads won't happen eventually, but for now, it's glaringly free of advertising. For kids, it feels less like an established product and marketing tool and more like pure social media. 
It hasn't been infiltrated by older family members yet
Let's face it — when we were young, we wanted cool places that weren't infiltrated by parents and aunts and uncles. Back then, these spaces were real, like friends' houses, parks, or even just on bikes cruising aimlessly around the neighborhood. Today, kids crave cool digital spaces, too. After all, even Facebook started out only for college students. Instagram was edgy for years before it, in turn, overtook Facebook as the go-to social media platform for the masses. BeReal is the latest social media phenomenon that gives teens and young adults a more private experience. That is — for now.
Dangers of BeReal
Like most social apps, BeReal isn't immune from its share of dangers. Here's what parents and families need to know.
Inappropriate content
Whenever you give people access to a camera and the ability to publish photos, the chances of inappropriate content appearing are near inevitable. The app states that it's for ages 13 and above, but many adults use the platform, which means that photos could include sexual content, drugs/alcohol, violence, and more. Another feature to note is that users can only delete one of their old photos per day. This means that potentially problematic photos that were posted in a moment of poor judgment could be up for longer than is prudent.
Connections with strangers
Users can access a public feed composed of users from all around the world, and it's just a quick button tap to add them as a friend. Once the invite is accepted, users can then leave comments, which could quickly lead to a jump to a different platform where chatting is easier. There's no direct messaging feature on BeReal, currently.
Privacy concerns
When you go to post your daily photo, it automatically defaults to geotagging your location. This means that other users could see potentially identifying clues to where you're currently at. Coupled with a public feed, this could spell trouble. Fortunately, this feature can be turned off so that location doesn't appear next to posts.
Distraction
It's completely random when users get the time-sensitive notification that it's photo-sharing time. For some kids, this could result in dropping everything to search for something cool to post. It's only two minutes, but this may interfere with school work, walking safely across the street, or even just paying attention to a conversation.
How Bark Can Help
While we don't monitor BeReal yet, Bark's blocking and screen time tools allow parents to manage when — and even if — kids are allowed to use the BeReal app. You'll also receive an alert if your child creates a BeReal account or downloads the app, so you can stay in the know when it comes to what's going on in their digital world.
About Bark
Bark is a comprehensive online safety solution that empowers families to monitor content, manage screen time, and filter websites to help protect their kids online. Our mission is to give parents and guardians the tools they need to raise kids in the digital age.