Awards
We're honored to receive recognition from such respected organizations who provide independent testing procedures to evaluate products and services created for children, families and educators – establishing the benchmark of excellence in family-friendly media, products and services.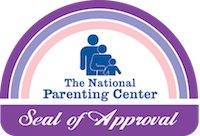 The National Parenting Center – 2017 Seal of Approval Winner: Products for Parents
The National Parenting Center's Seal of Approval program, created in 1990 as an adjunct to TNPC's support services, identifies the finest products and services being marketed to the parent/child audience. From educational and entertainment products and equipment to travel destinations, the consumer oriented testing process solicits evaluations from parents and their children. This award signifies to other parents that their peers have acknowledged a product's quality and desirability based on a wide variety of determining factors. It is the sole intention of The National Parenting Center to advise, support and guide parents with sound, responsible advice.
Mom's Choice Awards – Gold Seal Winner: Apps and Websites
Around the world, parents, educators, retailers and members of the media look for the Mom's Choice Awards mother-and-child Honoring Excellence seal of approval when selecting quality products and services for children and families.
An esteemed panel of evaluators includes education, media and other experts as well as parents, children, librarians, performing artists, producers, medical and business professionals, authors, scientists and others.
National Parenting Product Awards – 2017 Winner: Internet Safety App
The National Parenting Product Awards (NAPPA) is one of the longest-running and most respected awards programs in the country. With 25 years of experience in the industry, they have been continuously celebrated as the "go-to" source for parents and professionals seeking the best products for their children and families.

Ready to get started?
Bark was created by parents, for parents, to offer a better, easier, and more effective way to help families create healthy digital habits.