Top 10 Educational TikTok Accounts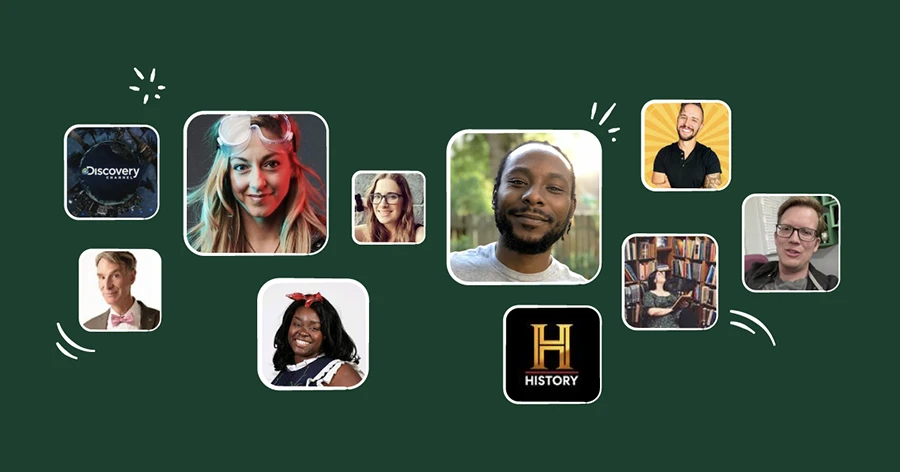 Ever hear the phrase if you can't beat 'em, join 'em? Well, if you can't get your teen to stop scrolling TikTok, it might be worth making some follow suggestions that'll make the most of their time. While there are plenty of adorable dogs, hilarious comedians, and amazing dancers to go around, we'd like to submit one more category for your consideration—educational TikTok.
We aren't here to suck the fun out of anything or suggest that educational content on TikTok takes over, but if every tenth or even twentieth video is engaging, funny and useful educational content, your teen might just pick up on something outside of the latest dance craze. Today, many educators and experts are using the app to share content specifically geared toward helping your teen succeed in school and beyond. In this blog, we'll highlight the top 10 educational accounts you might subtly suggest next time you're talking TikTok with your teen.
Top 10 Educational TikTok Accounts
As the name suggests, this account focuses on physics and has over 176,000 followers. The Physics Girl shares cool experiments and teaches complex concepts in an easy-to-understand way that's engaging and entertaining. Her videos also cover topics like astronomy, engineering and more.
From quick snippets on Blackbeard's background to the story behind iconic female writers and VanGogh, The HISTORY Channel's TikTok is full of bite-sized nuggets that cover a wide variety of historical events, people and myths. The timely and trendy videos also provide fun historical context on current events like past pie-day champions and legendary Academy Award winners.
With a little bit of science and a dash of creativity, almost one million people follow Benjamin The Baker for tips on how to turn their next bake into a success. Ben shares science-based hacks that'll make your bakes better, from the ideal temperature for your cake's ingredients to how long you should mix your icing.
Hank Green shares his eye-opening insights on the latest scientific research, the workings of the human brain and more with his over 7.4 million followers. Some of his most popular videos inspire interesting and open conversations about various topics from AI to aliens.
Marcus Bridgewater believes when you nurture your garden, you nurture yourself. From those struggling to get started to garden gurus, Bridgewater's easy-to-understand videos can teach you the skills you'll need to get your flora flourishing in no time.
If your teen is looking to explore new horizons and learn another language, the Spanish Teacher Madrid makes picking up on short Spanish phrases and words easy and fun. Instead of outdated textbooks or out-of-touch language apps, the Madrid resident shares the real phrases and vocabulary you need to know when talking to native Spanish speakers.
Araba Maze has made it her mission to bring reading to Baltimore's "book deserts" by creating free book vending machines and libraries in high-traffic areas. On her TikTok @storybookmaze the radical street librarian shares her expert recommendations on the next book you or your teen should pick up and why. From Mother's Day tomes to must-have reads for back to school—there's a book for every type of reader here.
Lions, tigers and bears, oh my! The Discovery Channel brings the wonders of the natural world to the small screen so your teen can learn about queen bees, sea turtles and more. Plus, Discovery also features interesting videos on some not-so-natural wonders, like an up-close look at how rubber basketballs are made.
Beyond the typical math, science and language learning, it's also important that your teen learn a thing or two about taking care of their mental health. Dr. Jason Puder is a licensed therapist who shares mental health tips and strategies for emotional regulation and reducing anxiety that are perfect for teens.
You can't close out this list without the original cool-kid educator! Beloved early 2000s science star Bill Nye has transitioned over from VHS to TikTok. While he doesn't post as much as some of the other accounts listed here, his wacky and endearing humor make his videos on climate change, conservation and more just as impactful as ever.
By following these educational TikTok accounts, teens can access informative and engaging content that is specifically tailored to their needs. TikTok has become an incredibly valuable tool for learning, and these accounts provide a great way for teens to supplement their education and explore new things.
About Bark
Bark is a comprehensive online safety solution that empowers families to monitor content, manage screen time, and filter websites to help protect their kids online. Our mission is to give parents and guardians the tools they need to raise kids in the digital age.