Instagram Monitoring: What Parents Need to Know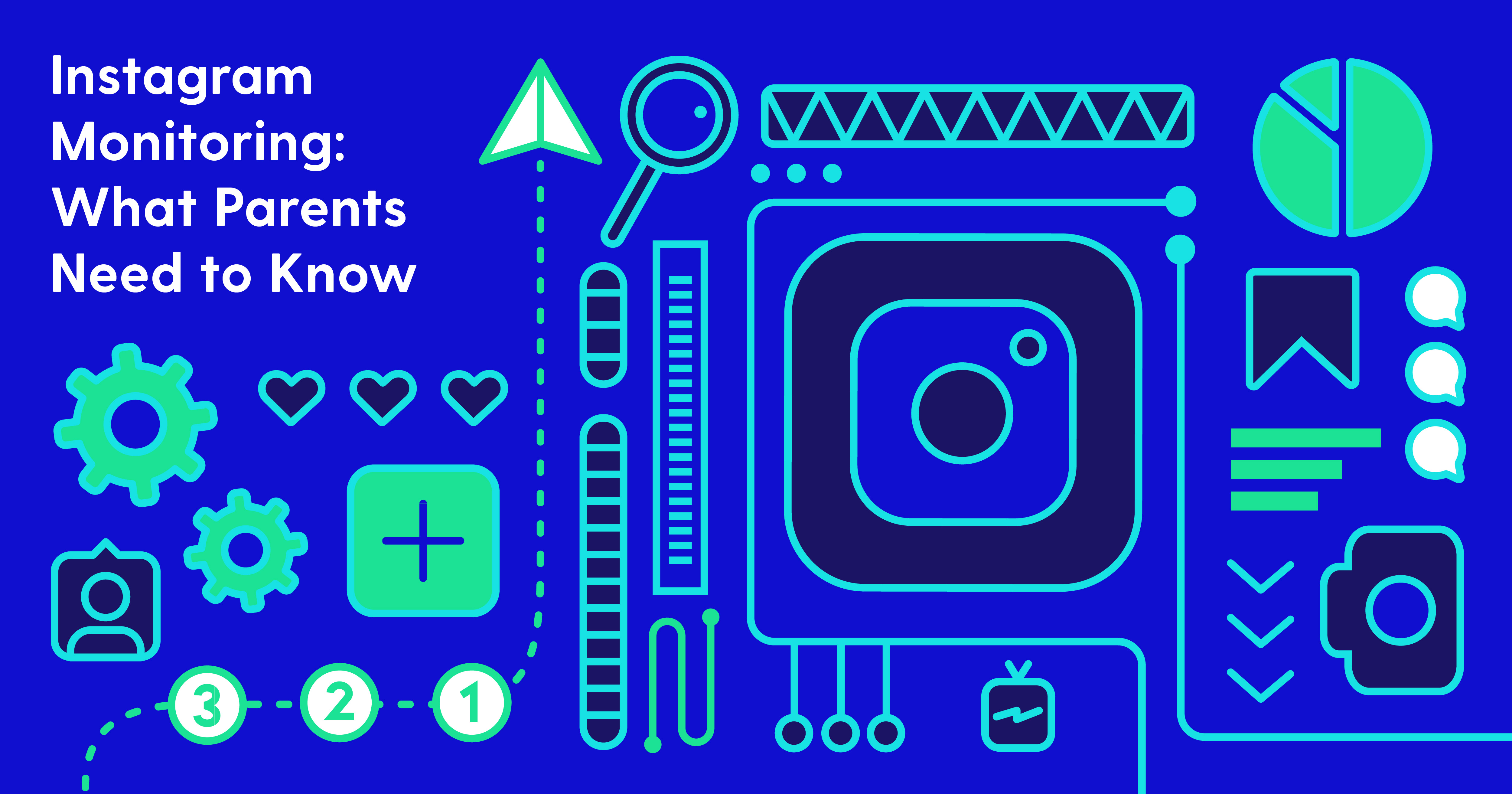 Instagram is a popular social media platform for teens to share photos and videos. People can post things like selfies, memes, and anything else they enjoy, all while allowing others to leave comments. Instagram is a great way to keep in touch, but it also presents plenty of opportunities for cyberbullying and inappropriate behavior. So, is Instagram safe for kids?
Who are your kids following?
First, find out who your kids are following. Today, there's no shortage of viral YouTubers, Instagrammers, and Snapchatters. Unfortunately, some of these internet celebrities create content that is inappropriate. And despite Instagram's safety features and community guidelines, many people get away with posting explicit photos by simply putting a "sticker" on the photo. Check your kid's list of people they are following and go over with them who is an appropriate person to keep following and who they should unfollow.
Is Instagram safe?
Instagram does have some in-app controls, like putting together a list of banned words. The list of banned words will prevent posts with those words in the comments from appearing in your kid's feed and also prevent them from using the banned words. Consider creating a list of words together that your child will ban on Instagram. The banned words can also become part of your technology contract with your child. Creating a list with your child helps maintain open and honest communication about technology. It can also lead to some enlightening discussions about how to be a responsible digital citizen. You can also check out our handy guide for setting parental controls on Instagram here.
Online safety challenges arise as teens learn how to use Instagram and other apps responsibly. It's essential to keep in mind that the frontal lobe – the impulse control and decision-making part of teens' brains – is not fully developed until their early 20's. Kids do not always understand the permanent and future consequences of today's actions. This means that kids today often deal with online issues like cyberbullying and viewing inappropriate content. It's important we have multiple conversations with our kids about online safety and go over the safety features of each app they use. Sometimes, it's not our kid's actions that we have to worry about, but those of others. Online predators are rampant on social media. For an in-depth look at just how dangerous Instagram can be for kids, read what happened when members of the Bark team went undercover as an 11-year-old.
Recently, Instagram has attempted to address the issue of cyberbullying and harassment with something called "nudging". Essentially, if a user types out a comment that contains harmful or abusive language, Instagram will "nudge" the user with a notification that reminds them to be respectful to others. It serves as an encouragement to think about what you post before you do so. Meta (Instagram's parent company) says that since rolling this feature out, they've seen about 50% of people change or delete their comment after viewing this reminder. This is certainly heading in the right direction, but remember your kid can still be exposed to hurtful comments since not everyone is guaranteed to change their words based on the nudge.
Instagram has also launched some parental controls meant to better protect its younger users. Unfortunately, they're easy for kids to work around. One safety feature requires users to confirm they're at least 13 by entering their birth date — but it's not hard for underage kids to enter an age that's older than they really are. The second feature enables users to turn off direct messages from people they don't know, which is meant to prevent strangers from contacting kids. However, there's nothing to prevent kids from turning it back on once their parents leave the room.
The most recent addition to Instagram's parental controls is the supervision feature. This allows parents to connect their Instagram account to their child's, giving them access to monitor their kid's account activity. Some things parents can do with this feature are set daily time limits for the app, see how long their kid spends on the app, and see when their child reports a post/account. These are great parental controls, but the same problem remains — kids can turn this off at any point they decide to. Without a lock or pin code feature, it's essentially based on your kid's willingness to be supervised.
What are Instagram stories?
Instagram now incorporates "stories," which gives users the ability to send disappearing photos and videos, a feature inspired by Snapchat. This functionality is found in the Direct Message section.
You can send a disappearing photo or video either as a group or an individual message. After someone opens a disappearing photo or video you've sent them, the message is no longer visible in their inbox unless you've allowed a replay of your message.
To see messages sent with Instagram Direct, tap the paper airplane icon in the top right of your feed. From there, you can manage the messages that have been sent and received.
What is a Finsta?
Finsta is slang term for a fake Instagram account. Teens and tweens started making these accounts after older generations (and parents) joined their favorite social media platform. Finstas have become a perfect venue for cyberbullying. They allow a person to hide their identity, as tracing an account back to its creator is very difficult without some serious sleuthing. Using Finstas therefore give the perception of no accountability for one's actions.
What is Messenger Rooms?
Messenger Rooms is a feature of Instagram (as well as Facebook Messenger) that lets you video chat with up to 50 other people. To start a room, you must have both an Instagram and a Facebook account. Users can then invite their friends to join the call by sharing a link, and they'll be able to participate whether they have an Instagram, Facebook, or WhatsApp account — or no account at all! Messenger Rooms was created as an alternative to other video conferencing apps like Zoom and Google Teams, but with a focus on making it more "whimsical" and something folks would use for hanging out and socializing, not work. While in a room, users can take advantage of features like:
Playful interactive filters

Virtual party games

Custom 360-degree backgrounds
Potential Dangers
Like other video chat apps, the potential for unwanted guests and inappropriate content are two primary dangers. Fortunately, Messenger Rooms puts the room-creator in control of their guests, with the ability to make a room private, block users, remove guests, and more. If you're worried that your child's room might become overrun with uninvited guests, have them lock it as soon as their friends have joined the call. This will ensure that a stranger who somehow found the video chat link won't be able to participate.
Live Rooms
Live broadcasting has become especially popular in recent months for events like religious services, cooking classes, and workout sessions. Broadcasting is different from a video chat in that the former is one-sided — think of it like a TV show or a podcast. When users tune into a Live Room, they just listen, though they can ask questions in the chat that the broadcaster can respond to in real-time. Messenger Live Rooms has recently expanded its capability to include four live users at once. However, this feature is probably less common among kids (because it's more of a formal presentation than a chill hangout), but it's important to know all of the app's functionality.
What you can do right now to keep your child safer
How to set up a supervised account
From your account, tap your profile icon in the bottom right-hand corner.
Tap the three lines in the top right corner.
Tap Settings.
Tap Supervision.
Tap Create Invite.
Text it to your child. They'll have 48 hours to respond before the invite expires.
Once your child accepts, you're now set up for Instagram Supervision. Follow the on-screen instructions from your Family Center (accessible via Settings>Supervision) to view/make changes to your child's Instagram Settings.
How to set your child's account to private
A private account enables users to select who can access and follow what they post. Public accounts can be seen and followed by anyone, approved or not.
Open up Instagram.
Tap your child's profile picture in the bottom right corner.
At the top right of the screen, tap "...".
A screen will slide open to the left. At the bottom, click Settings.
Scroll down and tap Account Privacy.
Tap to toggle and enable Private Account.
How to block accounts
Tap the offending user's username or profile photo. This will take you to their profile.
Tap the "..." in the top right corner.
Tap Block.
How to report content that is abusive or inappropriate
Tap "..." in the top right corner of the offending user profile or specific post. Or, if it's a comment, swipe left on the comment itself and tap the exclamation mark.
If it's a message, tap and hold on the message and then tap Report.
How to turn commenting off or on for a post
Tap "..." above your post.
Select Turn Off Commenting or Turn On Commenting. You can also turn off commenting for a post before you share it. On the screen where you add a caption or location to your post, tap Advanced Settings, then tap Turn Off Commenting.
About Bark
Bark is a comprehensive online safety solution that empowers families to monitor content, manage screen time, and filter websites to help protect their kids online. Our mission is to give parents and guardians the tools they need to raise kids in the digital age.