Transform Summer Safety with the Bark Phone for Kids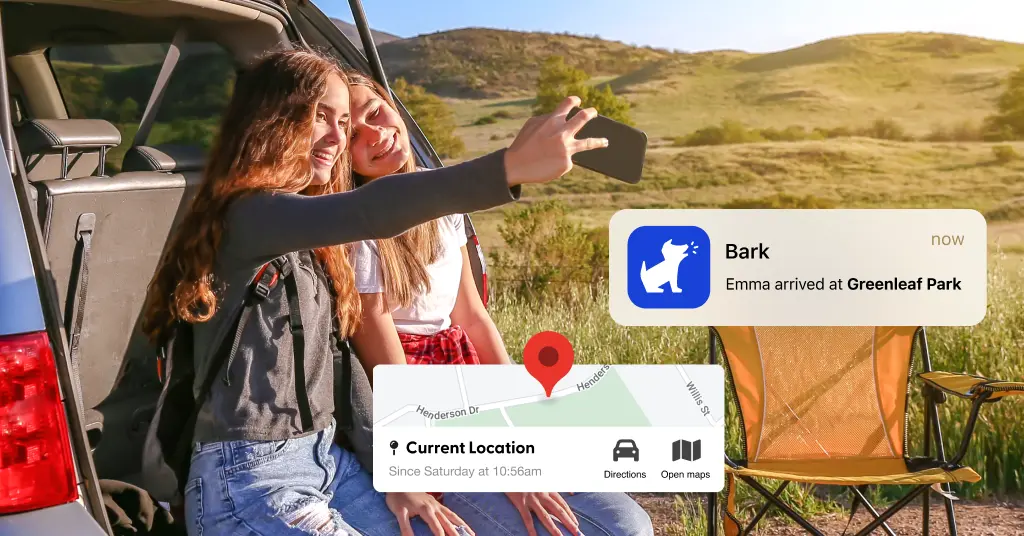 Summer 2023 is here and kids everywhere are rejoicing! Parents, on the other hand, are looking for a way to help keep their kids safe online and in real life. The Bark Phone is the absolute most perfect phone for kids, with features like location tracking, contact approval, and so much more. Check out all of the ways the Bark Phone can give you peace of mind this summer.
Stress less with location tracking
Trips to the local pool, baseball games, and sleepovers — being a kid in summer is one of the great pleasures in life. But as a parent, you also want to keep track of where your child is when they're out and about in the warmer months. With the Bark Phone, you can track their location in real-time.
You can also add in frequently visited locations — like a best friend's house, a co-parents home, or the local park — and get automatic alerts when your child arrives or leaves. No more constant, back-and-forth "Where are you?" texts!
Win the battle against screen time
With school being out and facing less daily supervision, kids may wish for a no-holds-barred approach to screen time this summer. But even if your family is cool with a relaxed screen time schedule, it's good to still have some bumpers in place.
The Bark Phone lets you create customized screen time rules that let you get super granular. For example, mornings could be "only text and calling" and afternoons could be "just YouTube." And for sleepovers, you could block internet access to prevent any potential unsavory googling. This way, you can help keep some healthy boundaries and encourage more outside time and in-person socialization. Pro tip: With the Bark Home, you can also manage your child's online video game schedule. Say goodbye to marathon Fortnite sessions with our scheduling tool.
Get alerts for potential dangers
Kids may have the summer off, but many parents don't. Similarly, online dangers don't take a break, which is why the Bark Phone is a must-have for families. Bark scans your child's device and accounts for signs of potential dangers — issues like online predators, sexting, depression, and more — and sends an alert if something concerning is found. This way, you can check in and make sure everything's okay in your child's world.
Manage contacts for all those new friends
One of the best things about the Bark Phone is that it lets you manage who your child can communicate with online. When your child's at camp or roaming the neighborhood this summer, you can approve all of the new friends they want to add as contacts. This helps keep your child's online world a little smaller and, hopefully, safer.
Stay on top of schedules with remote alarms
Summer can mean the opportunity to sleep in, but sometimes you don't want your child staying in bed until noon. Whether they have a day camp, medicine to take, plans with friends, or just chores around the house, kids can get a wake-up call from their phone with an alarm you set.
Learn more about the Bark Phone
The Bark Phone starts at just $49/month and comes with unlimited talk and text. Try it risk-free — 30 days or your money back. Learn more about our different plans and order yours today. 
About Bark
Bark is a comprehensive online safety solution that empowers families to monitor content, manage screen time, and filter websites to help protect their kids online. Our mission is to give parents and guardians the tools they need to raise kids in the digital age.