Teen Dating Apps: Here's What Parents Need to Know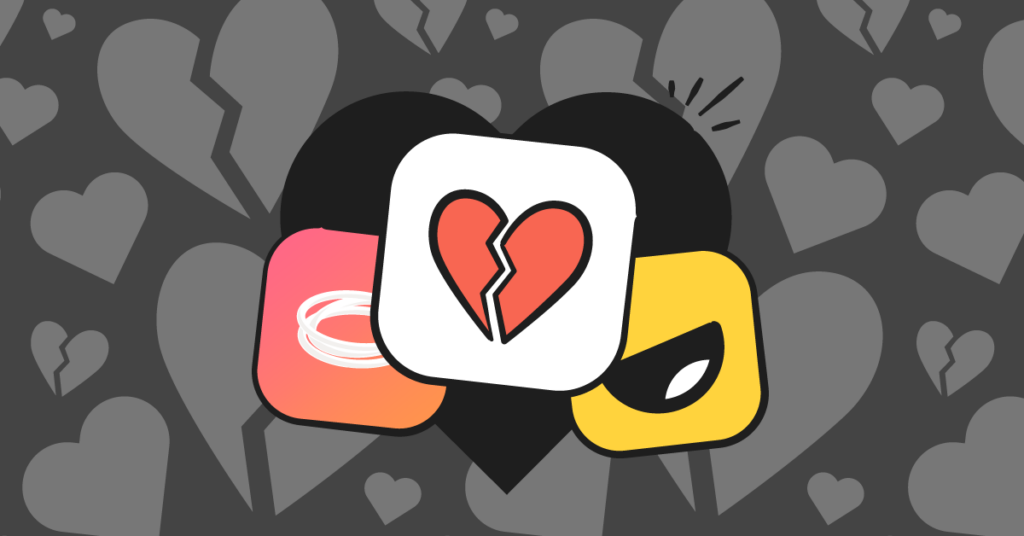 These days, there's an app for nearly everything, and not even kids are safe from the digitalization of what once were only in-person activities. Gone are the days of shy phone calls to your crush's house and awkward trips to the mall. Instead, teen dating apps have popped up in their place, their popularity fueled in part by two years of social distancing and virtual learning. However, just because these dating apps for kids exist doesn't necessarily mean they're safe. In fact (spoiler alert), they're by and large not.
Dating apps, by their very nature, aim to connect strangers in the hopes of establishing a romantic relationship. But when kids are involved, the stakes are a lot higher than with grown-ups. In this post, we'll explain some of the common apps kids use to meet each other, that can also be known as teen dating apps,  as well as the dangers parents need to know about.
Teen Dating Apps to Know
A quick search in the App Store for "teen dating apps" reveals a ton of results — some reputable, some not. New apps pop up seemingly overnight, so it's important to remember that what's popular can change pretty quickly. These two apps, however, have been around for a bit — but they're far from safe.
Hoop
Essentially "Tinder meets Snapchat," Hoop is where children as young as 12 can form connections with total strangers. While adults can also use the app, Hoop claims that users over 18 won't be shown kids' profiles (and vice versa). Users swipe through profiles — which include a person's age, gender, and photos — to pick who they want to begin a conversation with. They can then request that person's Snapchat handle with the tap of a button to continue the conversation there.
Even though the app claims to keep adult and child profiles separate, there's no age verification required when joining the platform. Kids could just input an older birthday when signing up, and adults could just say they're younger.
Yubo
Yubo is a live-streaming video app that connects young people with chatting, games, and more. Users can add friends and then join live video chat rooms with others from around the world (Yubo is based in France). Real-time video chatting can expose kids to dangers like sexual content and discussion of inappropriate topics. Like Hoop, it claims to be a platform for kids only, but there's nothing stopping adults from signing up as someone younger.
How Traditional Social Media Apps Can Be Used Like Dating Apps
Because social media is such an important part of a teen's social life, apps like Snapchat, Instagram, and TikTok can become de facto dating apps for kids. An Instagram profile, for instance, will have a person's name, a brief bio, and photos of them and things they enjoy doing. Instead of "swiping," the way you show interest is to be bold and "slide into their DMs." To translate, that just means to make the first move and send a private message.
From there, if two teens like each other, they'll continue chatting, eventually moving on to text messages. On Snapchat, they'll send selfies back and forth or try to keep their Snap Streak going, which is an unbroken chain of messages sent every day.
When Teens Use Adult Dating Apps
Technically, it's against the terms of service of popular online dating apps like Tinder and Bumble for users to be under 18 years old. Despite this, kids may still sign up for them and fudge their birthday so they appear to be of legal age.
As you can probably guess, this can be very dangerous because many users are there only to meet other people and have sex. There's also a wide range of ages of people who use these platforms. Kids may want to look around and end up matching with someone twice their age.
The Dangers of Online Dating Apps for Kids
Inappropriate content
Dating in the digital age can present dangers our generation didn't have to face when we started going out. It's often said that "sexting is the new first base" and that's definitely true. The pressure to send nudes and sext can be intense — regardless of whether a teen chooses to do it or not.
On top of the emotional effects sexting may have on a kid, there's another danger of sharing nude pictures of minors. It can be against the law in your state, even if both parties are the same age and consent.
Catfishing
Online dating means that relationships may start online, which opens the door to catfishing. Catfishing is when someone creates a fake identity and then interacts with someone to "lure" them into a relationship. People may do this for a variety of reasons, but common reasons kids may catfish peers include making a mean joke, getting revenge, and cyberbullying someone. Kids tend to be trusting when it comes to people they meet online, which is why they can be especially vulnerable.
Predators
Predators may want to initiate the grooming process online because they can target kids and ease them into an abusive relationship. Adults may pretend to be another child and then reveal their real age, or they may be upfront about their age from the beginning. Even on specifically teen dating apps, there's always the chance that someone is pretending to be someone they're not.
How Bark Can Help
If you're worried about your child, Bark can help you keep them safe online and in real life. First, we can monitor their texts, emails, and social media platforms for sexual content. Things like explicit messages and nude photos may end up on their phone after spending time on teen dating apps.
Next, you have the ability to block any potentially dangerous teen dating apps your child downloads so they can't access them. You can also see at a glance what apps your child has downloaded.
Finally, Bark can alert you if your child signs up for a new account with their personal email address. We recommend googling any new apps your child asks to download so you can figure out if they're safe or not. If you need help, Bark has a handy app review page with some of the most popular — and potentially dangerous! — apps out there.
About Bark
Bark is a comprehensive online safety solution that empowers families to monitor content, manage screen time, and filter websites to help protect their kids online. Our mission is to give parents and guardians the tools they need to raise kids in the digital age.