Bark vs Kidslox
Learn how the Bark Premium app stacks up against Kidslox, a spyware app.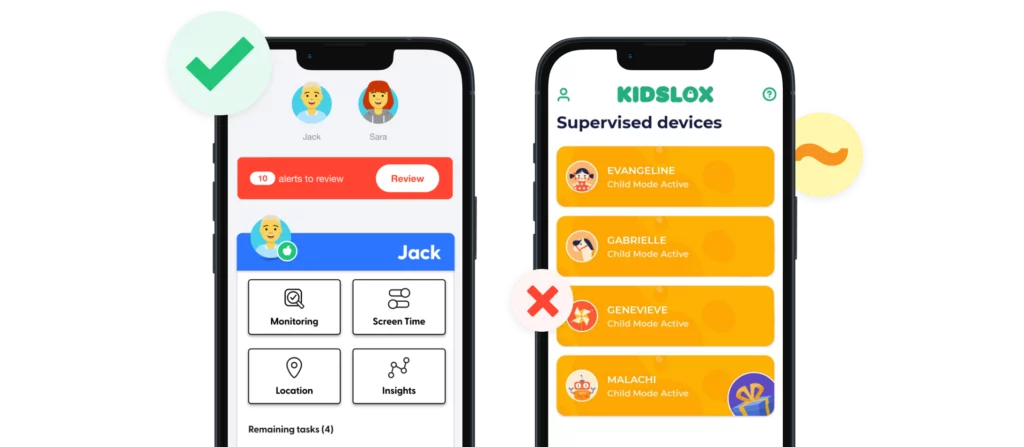 Compare the Features
Bark
Set custom rules for school time, bedtime, and free time
Kidslox
Block apps and websites on a schedule or time
Bark
Block specific sites and apps or choose from 19 categories, including adult content, gaming, and streaming sites — all on any browser
Kidslox
Block inappropriate apps, games and websites permanently
Bark
Disable the internet whenever needed — no matter where your kids are
Kidslox
Lock your child's device completely from your phone
Bark
Scans online activities like texts, emails, and social media platforms for concerning content
Kidslox
Kidslox doesn't scan your child's activities with advanced technology, it just gives you access to reports on activities like websites visited and videos watched
Alerts for potential dangers
Bark
Get email/text notifications for issues like cyberbullying and sexual content
Bark
Keep restrictions in place no matter how YouTube is accessed while connected to Bark
Bark
Check your child's location in real time on a map

Receive location alerts when child arrives or leaves pre-set locations

Get your child's exact location with check-ins
Kidslox
Real-time location tracking and history are available
Bark
Try Bark risk free for a full week to see if it's right for your family
Bark
Add as many kids, devices, and accounts as your family needs
Kidslox
Add up to 10 devices
Bark
Bark only alerts you to potential issues so you can save time and help protect your child while also building trust
Kidslox
On Androids, Kidslox will take a screenshot of your child's phone and send it to you anytime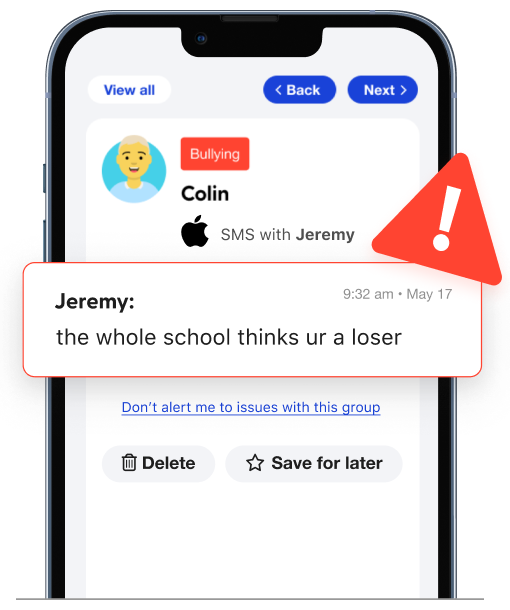 Monitor content
Get alerts for issues like bullying, predators, sexual content, and more.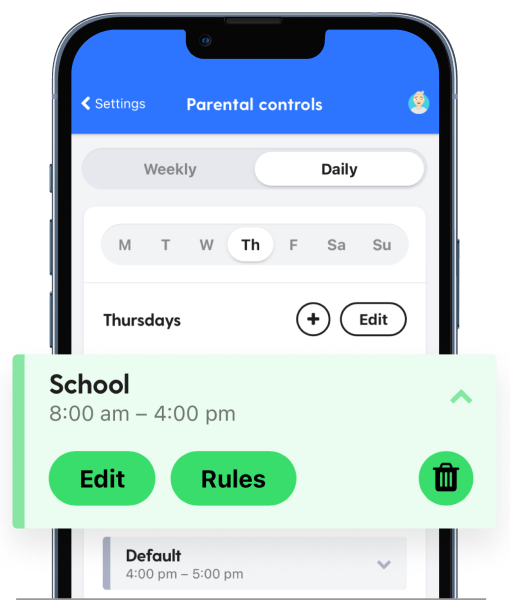 Manage screen time
Create custom daily screen time schedules for your child's device.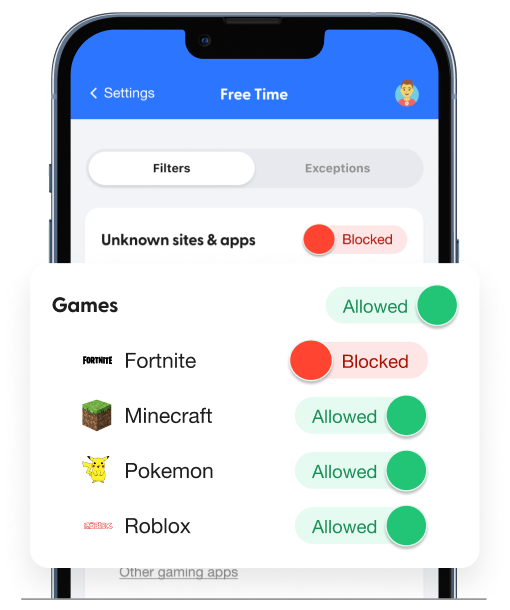 Block websites
Block access to specific websites or even whole categories.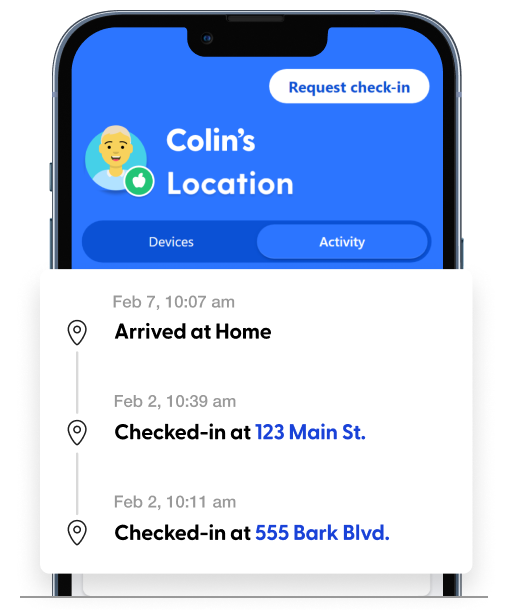 Track location
Stay on top of your child's location with our real-time map, location alerts, and check-ins.
Bark Premium
Our comprehensive parental intelligence solution.
$
99 USD
/year with annual plan
Manage screen time

Filter which websites your kids can visit

Keep up with kids with location alerts and check-ins

Monitor texts, email, YouTube, and 30+ apps and platforms

Get alerts for issues like cyberbullying, online predators, suicidal ideation, and more
Bark Jr
Our entry-level product is perfect for younger kids.
$
49 USD
/year with annual plan
Manage screen time

Filter which websites your kids can visit

Keep up with kids with location alerts and check-ins

Monitor texts, email, YouTube, and 30+ apps and platforms

Get alerts for issues like cyberbullying, online predators, suicidal ideation, and more
FAQs
How does Bark work?
Content Monitoring
Bark uses advanced machine learning and statistical analysis techniques to recognize potential problems. Simple keyword searches are not enough to detect the majority of issues, which is why our parental control app uses contextual analysis and natural language processing to determine when something serious might be happening.
For example, Bark knows the difference between a kid saying "This homework makes me wanna kill myself," versus "Nobody cares about me!! I wanna kill myself." Our algorithm also keeps up with the latest in teen slang.
Screen Time Management and Website Blocking
Families can manage not only when their kids can access the internet on their devices, but also which sites and apps they can visit.
You can create custom profiles for each child in your house, create screen time schedules, and manage access to a wide variety of websites — including video streaming, gaming, adult content, and more.
How do I get started with Bark?
To get started, simply visit our sign-up page or download our app for parents (iOS, Android). From there, you'll be able to select the product (Bark Premium or Bark Jr) that's right for your family and get step-by-step instructions.
If you're interested in the Bark Phone, learn more about it and choose the plan that's right for your family and place your order. 
As for the Bark Home, you can order one here.
What is phone spyware?
Phone spyware are programs that are installed on devices that records information with or without the user's knowledge. This can look like complete access to messages and call logs, photos, and more. Some spyware programs will take screenshots periodically of the phone and send them to the spyware owner. Other programs can allow you to tune into the phone and hear what's going on in the background.
How is Bark different from spyware?
Bark strikes the perfect balance between monitoring your child's phone and giving them privacy to learn about growing up with a digital device. You don't get unfettered access to everything on their phone, but you will get alerts about potential dangers like online predators, sexting, depression, and more. This way, you can see the concerning message, but you won't have to wade through hundreds of Fortnite memes or texts about baseball practice.
Does spyware destroy trust?
If your parents ever looked through your pen-and-paper journal growing up or secretly listened to one of your phone calls, you know how spying can breed resentment. And while parents are responsible for their child's safety — and phones can be extremely dangerous — there's a happy medium between outright spying and making sure everything's okay. Spyware programs simply encourage kids to find alternate ways to talk to their friends, which can cause problems in another way. 
Bark helps you build trust by allowing your child to learn how to safely use their phone while also giving them a digital safety net that centers you as the go-to person for help.

Ready to get started?
Bark was created by parents, for parents, to offer a better, easier, and more effective way to help families create healthy digital habits.