The Best Parental Control Software for Families
Looking for the best parental control software for your family? Here's all the info you need to help protect your kid.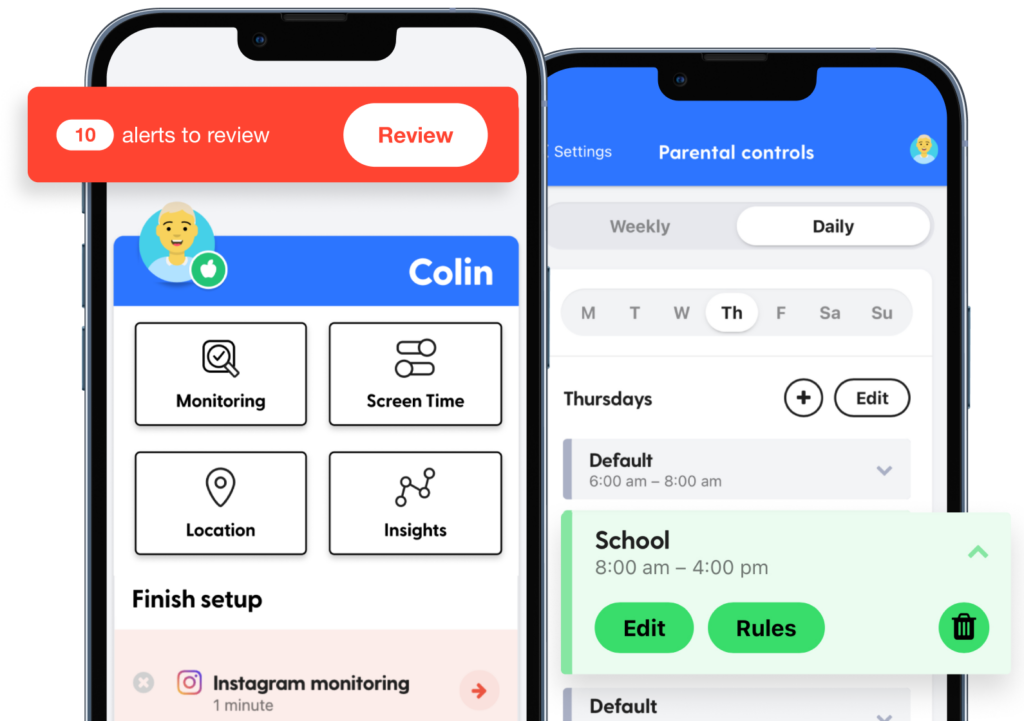 Comprehensive Parental Control Software
Whatever devices, apps, and accounts your kids have, Bark is the best parental control software because of what we can cover! Content monitoring? Check. Screen time controls? Check. Web blocking? Check. 🙌
Compare the Features
Bark vs. Apple Screen Time
Bark
Set custom rules for school time, bedtime, and free time
Apple Screen Time
Only allows Downtime

Create one set of app and/or website limits to be applied

Can also set weekly or daily downtime schedule.
Bark
Block specific sites and 19 categories, including adult content, gaming, and streaming sites
Apple Screen Time
Block specific sites and can block adult content as a category
Bark
Disable the internet whenever needed — no matter where your kids are
Apple Screen Time
Does not have an instant internet pause toggle, however you can manually adjust Screen Time/Downtime settings as needed to restrict internet access
Bark
Scans online activities for concerning content
Apple Screen Time
Messages includes tools that warn children and provide helpful resources if they receive or attempt to send photos that may contain nudity. Parents are not notified; children have the option to message an adult that they trust about the photo if they choose to.
Alerts for potential dangers
Bark
Get email/text notifications for issues like cyberbullying and sexual content
Apple Screen Time
Pop-up warning for messages that include nudity
Bark
Keep restrictions in place no matter how YouTube is accessed while connected to Bark
Apple Screen Time
Must be manually turned on within the YouTube app and children may make changes to this setting
Bark
Prevent children under 18 from opting out of Bark
Apple Screen Time
Any family member age 13 or older can remove themselves from a family group. If you have Screen Time turned on for your account, the family organizer must remove you.
Works with Androids and iPhones
Bark
Manage all your family's devices easily with one app
Apple Screen Time
Only works with iOS devices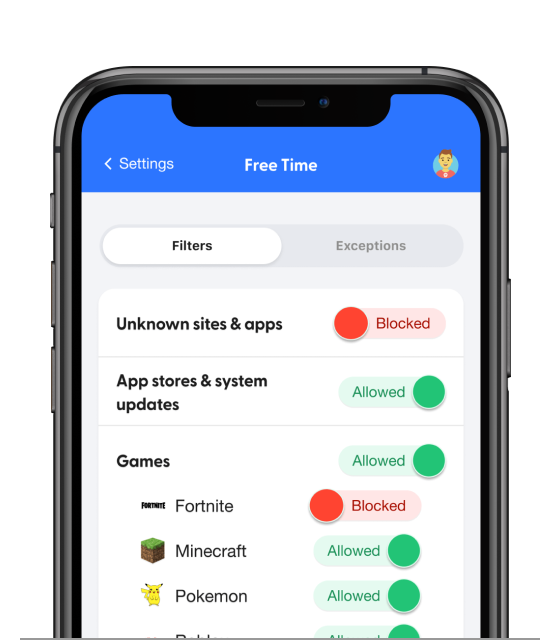 The Best Parental Control Software You Can Find
Ready to restrict access to sexual websites? Really want to learn how to block YouTube? Want to receive alerts if your child is being cyberbullied? 
Bark can help with all of that (and so much more), and is the most comprehensive parental control software out there.
What Parents Are Saying
Thank you for looking out for us, Bark!!

My 14-year-old asked to get a Twitter account a few weeks ago and I thought that was as boring and harmless as it gets. But BOY was I wrong!!! It turns out he was watching porn on there (and tons of his friends do), and I got an alert right away. Thank you for looking out for us, Bark!! So grateful for your iPhone parental controls!!!

Bark really does it all.

I thought the iPhone parental controls that were built into my daughter's phone would be all I needed to keep her safe, but that was not true at all. I'm really thankful Bark is here to show me anything that might be harmful. Bark really does it all.

My kid has the best iOS coverage out there!

I've researched a bunch of parental control options for iPhones and was really confused by all of Apple's restrictions. Then, I sent an email to the team at Bark and they walked me through all of my options! It made it much easier, and I can relax knowing my kid has the best iOS coverage out there!

Bark has transformed our family for the better.

I never write reviews (haha) but I broke that rule for this! Thank you, Bark. I actually know what's going on with my kid! My neighbor told me about their parental controls for Androids because that's what my family has (we do not like Apple around here). It's safe to say I am both stunned and overjoyed. Stunned because of what my 9-year-old has already been exposed to and overjoyed because Bark has transformed our family for the better. Now, I not only know what he's doing and seeing, but use their talking point suggestions to bond with him! Bless you guys.

I am really glad I found this

I was searching online for the best parental control app for Android devices and I am really glad I found this! For context, I have two daughters who both do have phones (they're 11 and 13) and I was trying to do the whole spot-checking thing before. Teenagers send one million texts per day so that was just not doable. Plus they can delete them. I'm just so grateful for Bark.
The Best Parental Control Software for Insights
Do you know what "bussin" means? Are you familiar with the surprising way kids use the 🍝 emoji? Can you tell what's going on with your child all the time? 
It can be really tough to know when your kid is struggling, or to even know the surprising meanings of the emoji slang they send their friends. 
Bark can show you patterns in your kid's online activities and alert you if something may be wrong — even if they use Gen Z slang to express it!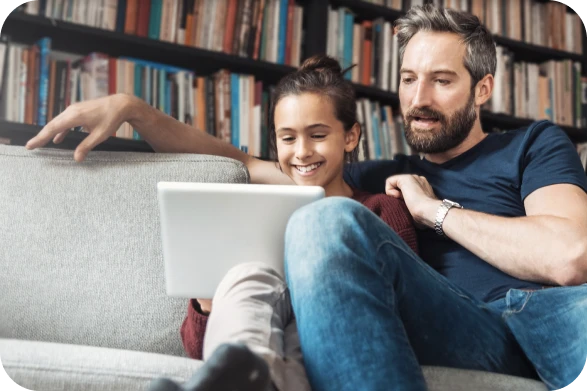 FAQs
How does Bark work?
Content Monitoring
Bark uses advanced machine learning and statistical analysis techniques to recognize potential problems. Simple keyword searches are not enough to detect the majority of issues, which is why our parental control app uses contextual analysis and natural language processing to determine when something serious might be happening.
For example, Bark knows the difference between a kid saying "This homework makes me wanna kill myself," versus "Nobody cares about me!! I wanna kill myself." Our algorithm also keeps up with the latest in teen slang.
Screen Time Management and Website Blocking
Families can manage not only when their kids can access the internet on their devices, but also which sites and apps they can visit.
You can create custom profiles for each child in your house, create screen time schedules, and manage access to a wide variety of websites — including video streaming, gaming, adult content, and more.
Does Bark work with co-parents and/or dual households?
Absolutely! Whether your child has an Android or an iOS device, it's possible for co-parents to share alerts and notifications. Read more about it here or contact us to learn more.
What can I do with Bark's parental controls for iOS?
Bark's parental controls for iOS devices give you the power to monitor your child's online activities in a groundbreaking way.
Our content monitoring uses advanced AI to scan messages, posts, comments, replies, web searches, and so much more to find potential dangers. If something concerning is found, you'll get a timely alert so you can check in and make sure everything is okay. Learn more about what Bark monitors on iOS devices here.
In addition to monitoring, Bark also lets you manage screen time, block websites & apps, and track location 24/7.
These key features work together to build a powerful digital safety net to help you protect your child online and in real life.
How does Bark's parental control app for Android compare to others?
We believe Bark provides the most Android coverage of any parental control tool! It's also a great alternative to Google Family Link because it lets parents get more granular with screen time limits and blocking.
If your kid has an Android, Bark lets you:
Monitor texts and saved photos & videos
Monitor 30+ social media platforms and apps
Manage screen time
Block websites and apps
Track location in real time
How do I get started with Bark?
To get started, simply visit our sign-up page or download our app for parents (iOS, Android). From there, you'll be able to select the product (Bark Premium or Bark Jr) that's right for your family and get step-by-step instructions.
If you're interested in the Bark Phone, learn more about it and choose the plan that's right for your family and place your order. 
As for the Bark Home, you can order one here.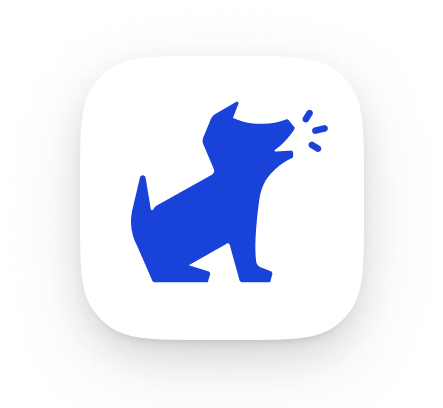 Ready to Get Started?
Now that you know how Bark's parental control software works, take the next step! Bark was created by parents, for parents, to offer a more effective way to help families create healthy digital habits.