Sextortion: Conversation Starters and Resources for Parents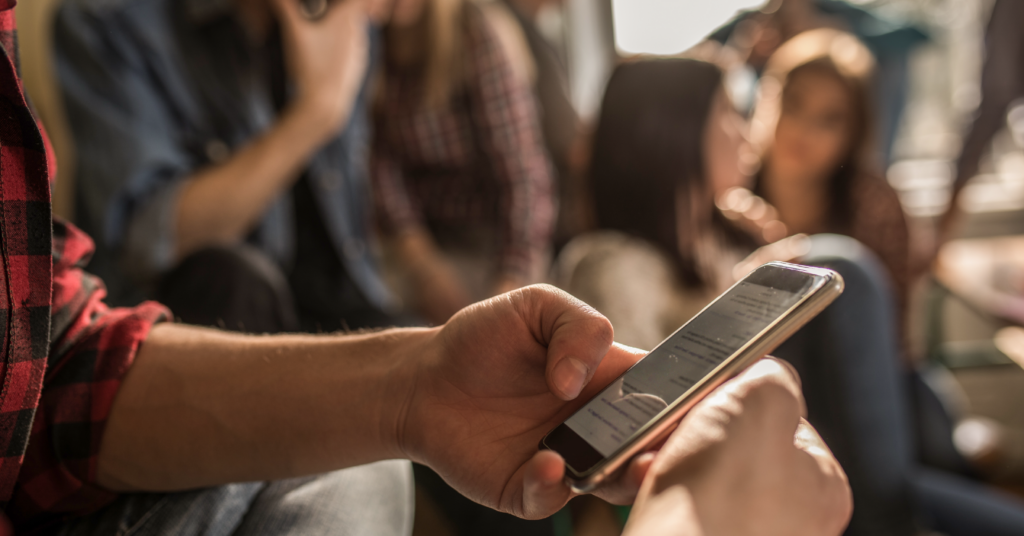 **This blog post was updated April 8, 2022.**
If you're worried about your teen sexting, you're definitely not alone. This issue is one of the most common concerns for families raising kids in the digital age — and with good reason! But talking about sexting can be super awkward, not to mention stressful and just plain… hard. It's so important to start and keep having these types of conversations with your kid, though.
That's why we created some sexting conversation starters to help your family start discussing the different aspects (and dangers) of sexting. For easy reference, we've also gathered many of our other blog posts on this topic, so you can learn as much as possible about the hows, whys, and wheres of sexting in the 21st century.
No matter what, be sure to approach this topic with empathy — recognizing the powerful pressures, anxieties, and influences kids today can experience.
Sextortion: The Prevalence of Sexting Today
The prevalence of sextortion is jarring today. Have you heard the saying "sexting is the new first base?" For parents, this can be a pretty scary thought. When we were younger, dating usually came before any sort of overtly sexual activity. But for today's kids, the order can be reversed — a couple may send nudes before ever meeting in real life! 
The numbers back this up, too. Bark's 2021 annual report on kids and technology found that 68.97% of tweens and 90.73% of teens encountered nudity or content of a sexual nature while online.
Sextortion and Teen Sexting: The Dangers and Issues Facing Kids
Emotional effects
One of the most obvious — and common — dangers of sexting for kids is that they may not be emotionally ready to handle the exchange of sensitive photos. Sexts are easy to dash off without thinking, but the repercussions can be long-lasting for kids. Emotions like regret, shame, and even anxiety and depression can be commonplace after sexts are sent.
Sextortion
What is sextortion exactly? Well, once someone has received nudes, they may threaten to send them to family members unless the other person agrees to certain demands. This is known as sextortion or sexual blackmail, and it can be incredibly dangerous. Shame and embarrassment may lead to teens doing anything to prevent photos from being leaked, including performing sexual acts, paying money, sending additional photos, and more. 
Revenge porn
Revenge porn occurs when someone posts online pornographic materials (video or photographs) of another person without their consent. These could be pictures taken without the person's knowledge or with the person's knowledge during a previous relationship. Later, these pictures are used as "revenge" for breaking off the relationship.
Potential legal issues
Depending on the state where your family lives, your child could face legal consequences for sending or receiving sexts. When sexting involves minors, it may violate child pornography laws — even if the messages are only exchanged between two kids. It's a complicated subject, but it's important to know what the laws are in your state.
Sexting Conversations: Where to Start
Talk about how technology is part of the driving force behind sexting
"When I was growing up, nudes weren't really a thing, unless someone had a Polaroid camera, because those developed instantly. Regular film had to be developed at stores like CVS or Walgreens. Why do you think nudes have become so common today with people your age?"
This question will help your child think critically about how technology has influenced the act of sending and receiving nudes. You can even add something like "My generation would 100% have sent them if we had had phones" to help them feel less like their entire generation is being judged.
Relate to the pressures kids may face to sext
"Back in the 1980/90's, the pressure to [insert a personal pressure you faced here] was super strong. I felt like if I gave in, I'd be judged by one crowd of people, and if I didn't get involved, I'd also get judged. Can you tell me about the pressure to sext at your school?"
Just because sexting wasn't common for our generation doesn't mean that we didn't face social pressures — they were just different. Connecting with your child over the hard parts of growing up can make them feel closer to you. The more details you can provide, the better!
Discuss some of the dangers without fear-mongering
"For people who send nudes and then break up, what do you think happens to the photos? What's the best possible outcome? What's the worst possible scenario?"
Even though all of the fears you have about your teen sexting are probably valid — after all, you have decades more life experience — kids can be apt to brush off these fears as "overreacting." To help avoid this, talk about the more practical ways that sexting could come back to bite them — not just the worst-case scenarios. It may get their attention in ways they haven't yet thought about. Which is natural! They're kids, not adults with tons of life experience.
Explain how digital images can last forever on the internet
"Remember the slap that took place during the Oscars with Chris Rock and Will Smith? It went viral, right? No matter what happens, from now on when you google Will Smith, that image and video will come up. He's been in dozens of movies, but that one night is going to be at the top of Google search results for a long time. The same can happen with any photos of you that are attached to your name. Can you think of a way that someone else could share a photo of you that would be beyond your control?"
This example uses a recent current event to showcase how images and videos live online beyond the control of the people in them — no matter who you are. This can apply to sexual content but also any sort of digital information about your child. It could also come back to negatively affect them in the future when schools or employers search for their name on the internet.
Helpful Resources
About Bark
Bark is a comprehensive online safety solution that empowers families to monitor content, manage screen time, and filter websites to help protect their kids online. Our mission is to give parents and guardians the tools they need to raise kids in the digital age.