The Bark Kid's Phone: How It's Different from the Bark App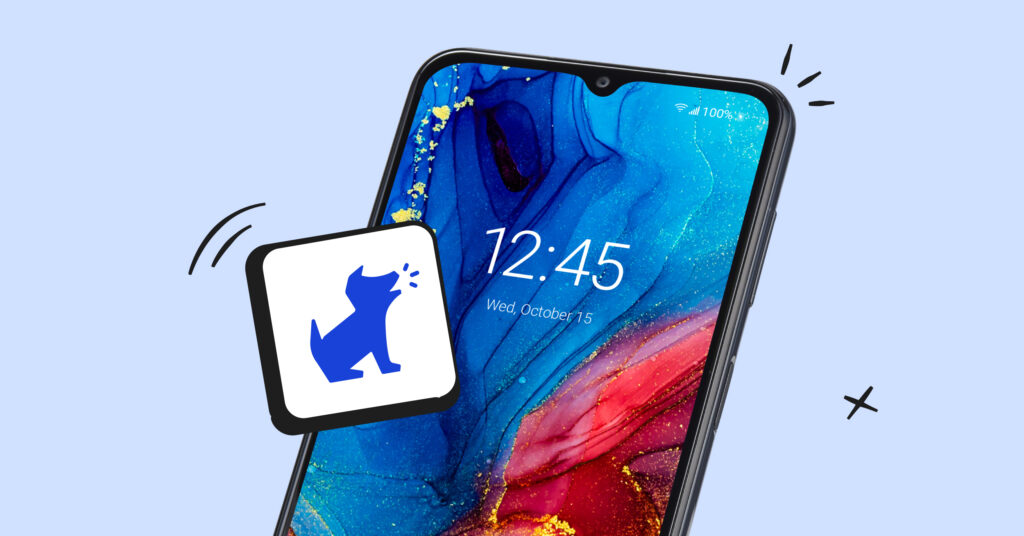 **This blog post was updated on September 7, 2023.**
Some phones are built for adults. Some phones are built for kids. But the Bark Phone was built by parents, for parents — and this is why it's a game-changer. The Bark Kid's Phone gives families unprecedented control over their child's online experience. If you're familiar with Bark, you may be wondering how the Bark Phone is different from just having the Bark app on any old phone.
The short answer is: way more functionality. The Bark Phone was built from the ground up with feedback from parents like you in mind. When we were just an app, we had to work around the functions and limits of the phone itself, which was something we couldn't control. Today, with our own phone, we can do so much more to help you protect your kids online. Read on to learn exactly how.
How the Bark Kid's Phone Differs from the Bark app
1. You can manage nearly every setting on the phone with Bark
You know your child best, which is why the Bark Phone gives you control over everything from who your kid can text to screen time settings. From the parent app, you can approve app downloads, check in on their location, and so much more. The best part? You can do it all from your phone, and from just one app. No more switching between multiple parental control apps to help keep your kid safe.
2. Your kid can't delete texts without your permission
This is a new feature for Bark, and it's important for a variety of reasons. With Bark's monitoring, you generally won't have to scroll through hundreds of texts to find potential issues — our timely alerts save you time and give kids a little privacy. But after years of talking with parents and families, we've heard how deleted texts can often conceal concerning content, and how crucial it is to be able to find them. When Bark was just an app, we couldn't control whether kids could delete texts — now we can. Here are just a few illustrations of why this feature can help families protect their kids.
When kids don't understand if they're being bullied
Cyberbullying is common these days, and sometimes kids may not even understand when it's happening. They also may be embarrassed or ashamed of the messages they receive. By not allowing texts to be deleted on the Bark Kid's Phone, you'll be able to figure out what's happening, as well as preserve a record should you need to get the school involved.
Someone sends them unwanted photos
Sexting is a huge concern for kids growing up in the digital age, and it can have long-lasting effects on a child's well-being, reputation, and mental health.
A potential predator asks them to delete a message
Just the thought of a strange adult manipulating and grooming your child online is terrifying, but it happens every day. Often, they'll convince kids to hide their conversations from family, whether that's by using a different app or deleting messages. Even though it's a worst-case scenario, you want to know if a stranger is contacting your child — and undeletable texts allow you to do that.
3. Location tracking is more robust
One of the best things about raising kids in the digital age is that you don't have to wonder where they are 24/7. With the Bark Phone, you can use our robust, GPS-powered location tracking to keep an eye on your kids wherever they roam. You'll also still be able to use Bark's location check-ins and alerts for a more hands-off approach.
4. One monthly price that includes everything for your kid's phone
With some phones, you have to jump through a lot of hoops to get everything ready to hand over to your kid — buying the phone, buying the insurance, figuring out how to get cell service, and adding on parental controls. With the Bark Phone, one simple, convenient monthly fee includes everything from start to finish.
5. Grows with your kid
The Bark Phone's customizability lets you decide how much function it has, which means that it's great for young kids — but it also is great for tweens and then teens. For children, you can set the Bark Phone up so that it's basically a "dumb phone" with only controlled calls and texts to approved contacts. As your kid matures, you can add in apps like email and podcasts. Then, eventually, you could add in even more functionality like social media and games. Plus, at any time, you can dial back freedoms or add in more leeway. It's all up to you!
6. Bark Premium for all your family's devices
A Bark Premium subscription is included in the Bark Phone's price — but we know kids may have more than one device. iPads, Kindles, and old hand-me-down phones that are just for games also need protection! The same goes for every child in your family, along with all their devices, too.
7. No workarounds
With Androids and iPhones, kids could find ways around the Bark app to disable it despite our best efforts. While frustrating, this is just part of having a phone that's not built for child safety. The Bark Phone is different, and kids won't be able to download workarounds or VPNs to get past the parental controls you set.
8. Manage app downloads and contacts
This is another example of how the Bark Kid's Phone gives you control over another important part of your child's digital world. You'll get an alert when your kid wants to download a new app or save a new phone number to their contact list. You can then decide whether or not to allow them, and, of course, maybe have a conversation about what or who it is they're wanting to do with them.
Is Your Child Ready For A Phone?
One of the most frequently asked questions we get here at Bark is, "How do I know my child is ready for a phone?" So we made a quick and handy quiz to help you find out where your family stands!
The Bark Phone for Kids: Pricing and Details
The Bark Kid's Phone starts at $49/month including unlimited talk and text. Try it free for 30 days or we'll refund you. We have several monthly data options to fit your family's needs:
$49/month for Wi-Fi only
$59/month for 4GB data
$69/month for 8GB data
$89/month for unlimited data
Each phone plan comes with a Bark Premium subscription and will cover any other kids, devices, and accounts a user's family has. You won't pay for an extra Bark subscription if you already have Bark Premium — we will adjust your plan and prorate the remaining amount left and apply it to the subscription.
Bark's kids' phone will come with built-in parental controls, allowing parents to set limits on usage and monitor activity. With our parental control phone, parents can block inappropriate content, set limits, and track their child's location. Our kids' phone is a great option for parents who want to keep their children connected while also maintaining control over their device usage.
How to Get a Bark Phone
Overall, our parental control phone can provide peace of mind for parents, knowing that their child is protected while using their device. Ready to get your very own Bark Phone? You're not alone! Order yours today and get peace of mind when your kid is online. But don't just take our word for it — parents are raving about the Bark Phone.
About Bark
Bark is a comprehensive online safety solution that empowers families to monitor content, manage screen time, and filter websites to help protect their kids online. Our mission is to give parents and guardians the tools they need to raise kids in the digital age.