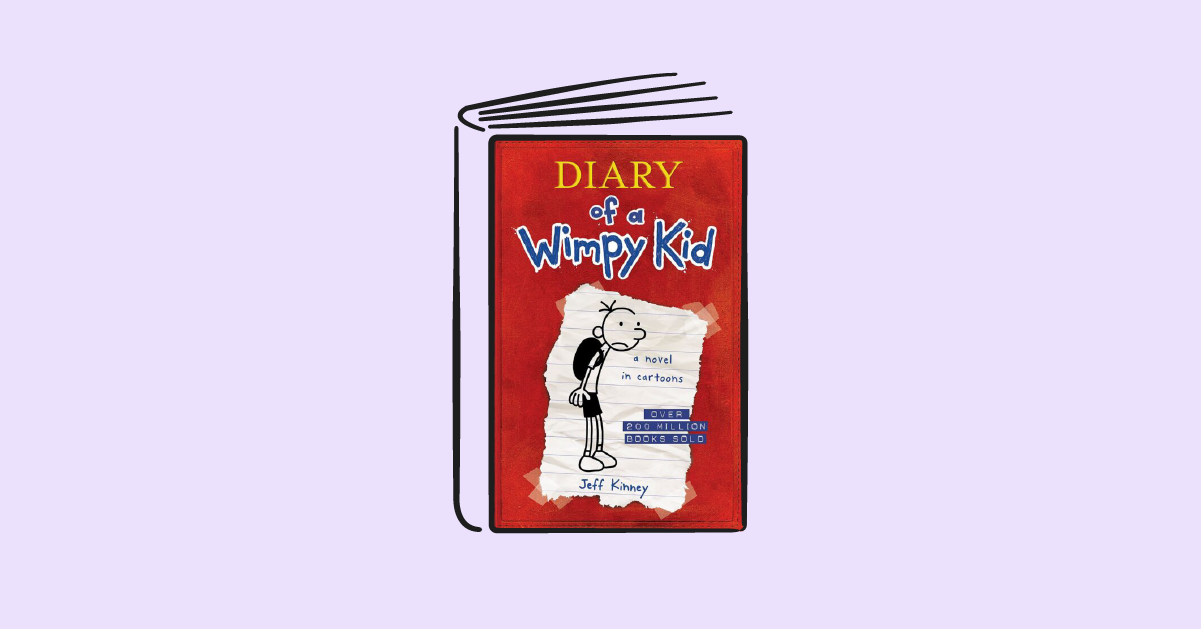 Diary of a Wimpy Kid: A Book Review For Parents
Updated August 30, 2023
---
Overview
**This review was updated on August 30, 2023.**
Middle school is hard for everyone, and for Greg Heffley, his sixth-grade year seemed full of disaster at every turn!
Greg Heffley is the main character in Diary of a Wimpy Kid, a half-book, half-comic where Greg details the crazy happenings of his first year in middle school. As he tells his stories, he includes little doodles along the way, always insisting that he's writing in his journal — not a diary. 
This book, along with the following 18 in the series, was written by Jeff Kinney in 2007. The series immediately took off, with 275 million copies sold and some of the books being adapted into films in the early 2010s. Kids all over the world have laughed at Greg's bizarre adventures and related to the feelings of awkwardness that are all too common in our early teen years. 
If your kid is about to start middle school or is already in the throws of it, it might be the perfect time to introduce this book to them. But before you do, keep reading this post to learn everything you need to know as a parent! 
Quick plot recap before we jump in! Greg Heffley details all the strange circumstances with his school, family, and best friend, Rowley. Greg is constantly figuring out how to become popular at school — until the cheese touch. Started with a moldy piece of cheese left out on the blacktop, the "cheese touch" is a legend at Greg's school and everyone wants to avoid the cheese touch at all costs. But at the end of the book, in a moment of true friendship, Greg lets the whole school believe he touched the cheese in order to save his friend Rowley. Along with many other unfortunate and hilarious stories, much of the book centers around Greg's survival of middle school life. 
Harmful Content ❗️
Diary of a Wimpy Kid is not a book with harmful or inappropriate messages. There might be parts that are gross or just plain weird to some parents — but that's sometimes true of middle-school boys in real life. Additionally, Greg might not always be the best role model for how to handle certain situations. In one part of the book, he chases some kindergartens with a worm on a stick. In another part, he sends the school play into chaos when he starts throwing apples at the lead because he gets too nervous to sing his lines. But a lot of these situations do not turn out well for Greg, and he also shows a stroke of loyalty to his friend at the end of the book with the cheese incident. Parents can rest assured the book does not encourage reckless or rude behavior, but perhaps the message is that kids don't always make the smartest decisions. 
Language
2/5
The book certainly does not have any severe swear words, but some parents may want to know that the dialogue frequently includes words like "moron", "tool", and "crap". There are also lots of references to things like farting and boogers. 
Sex 1/5
No explicit sexual language or images for parents to be worried about. There is one part where Greg's older brother Rodrick lets their baby brother Manny bring a picture from a magazine that shows a model in a bikini. 
Violence
2/5
There's a small amount of violence that mostly comes from the neighborhood bullies playing practical jokes on Greg and Rowley. Additionally, Rowley breaks his arm during a game that he and Greg invent where he rides down a hill on a Big Wheel while Greg throws a football at him. 
Positive Value 💫
Diary of a Wimpy Kid is a great book to get kids laughing and to look at their own school life with some amusement. Even though Greg really wants to be popular, by the end of it he realizes he'd rather keep his close friend and just doesn't care what other kids think of him. Lots of kids reading could certainly relate to the desire to be popular and well-liked, but if they read Greg's story, hopefully, they take away that it's better to not take middle school so seriously. The book is light-hearted, humorous, and relatable, and many parents have found it to be an awesome read for their kids.
So, should my kid read it?
Yes! If your kid is in middle school or close to it, they'd probably really enjoy reading about Greg's stories. Super young kids are probably not the best audience, as they may not realize that Greg is not a character to imitate. But as long as parents are aware of (and are okay with) the slightly crude humor, their tween/teen children should definitely pick up a copy!