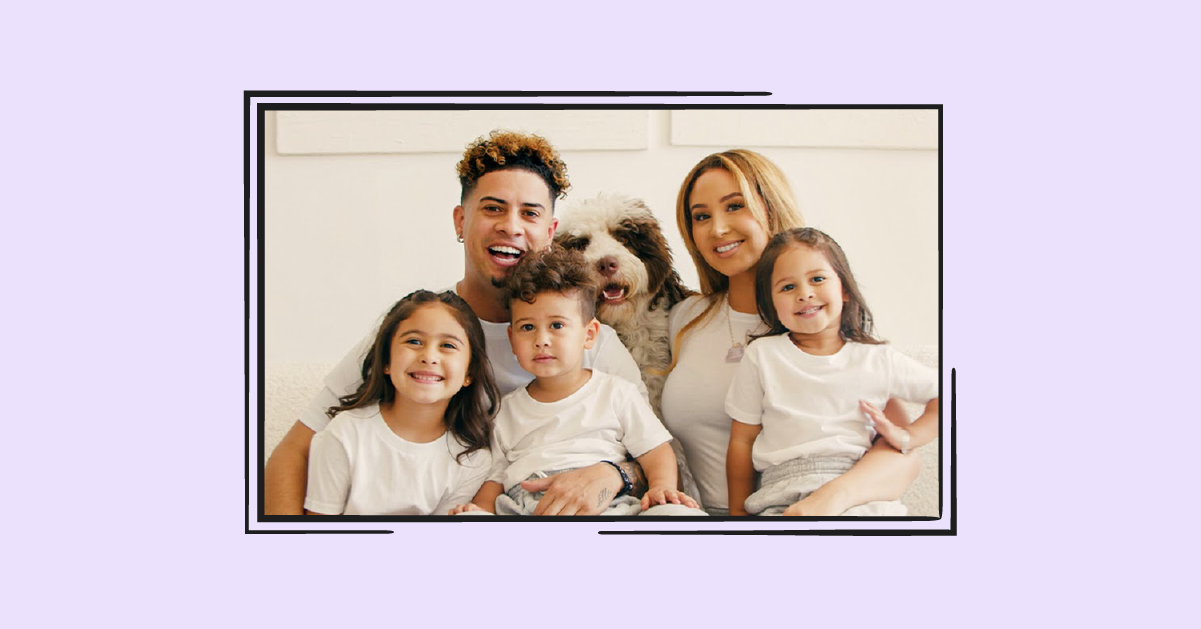 The ACE Family: A YouTube Review For Parents
Updated August 31, 2023
---
Overview
**This review was updated on August 30, 2023.**
YouTube is full of family vloggers — parents who film the day-to-day life of their kids and spouses, giving the world a glimpse into their homes and relationships. But few have garnered the level of attention and success of the ACE Family, one of YouTube's most popular family vlog channels. 
The family consists of mom and dad Austin and Catherine McBroom, along with their three kids Elle (age 6), Alaia (age 4), and Steel (age  2). Their videos include everything from daily vlogs, pranks, internet challenges, and even music videos — complete with clickbait titles and over-the-top thumbnails. On the surface, their content doesn't seem that unique from a lot of other family channels you find on YouTube. But the numbers tell a different story, with 18.7 million subscribers and consistent views of 500k or more. So what is so special about the ACE Family?
Well, for one thing, they're not exactly your run-of-the-mill, "middle America" family. YouTube fame often comes with financial benefits that most can only dream about, which means million-dollar homes, crazy sports cars, and closets full of expensive clothes. Not to mention, the whole family is quite good-looking. Before YouTube, Austin was an NCAA basketball player and Catherine was a Victoria's Secret Model. Once they started dating and posting content together — before they even had any kids — they were already well-established internet influencers. And every video shows all five family members getting along, laughing, and living a seemingly perfect life. 
So if your kids have ever mentioned the ACE Family, be sure to read this post to learn everything you need to know! That way you can confidently decide whether or not it's safe for your kid to watch.
Harmful Content ❗️
For the most part, the content of the ACE Family channel is wholesome and family-friendly. They have lots of videos about elaborate birthday parties for the kids and surprising the family with things like a puppy or a trip to Disneyland. While these are all fun to watch, parents may want to be aware of the materialistic and "perfect" nature of the ACE Family lifestyle. Additionally, the ACE Family is not exactly a great role model for healthy social media habits. They share a ton of personal information online and their oldest, six-year-old Elle, is shown to be on Instagram and posting dancing videos on TikTok. 
So if you let your kids watch this channel, it's important to be aware of how the ACE Family approaches this topic, especially if your family has different expectations. 
Language
Austin and Catherine do not fully shy away from certain curse words, especially if kids aren't in the room. It's minimal, but parents should still be aware that their language is not always clean. 
Sex 
As mentioned before, most of their videos are kid-friendly. But there are some videos that have more sexual themes that kids probably shouldn't be watching. A few examples include a video titled "THESE ARE MY SEXIEST OUTFITS!!!" where Catherine tries on some scandalous clothing. Also another video, "MAKING AN ONLY FANS TO SEE HOW MY HUSBAND REACTS…"  where Catherine (again) wears a scandalous outfit and takes pictures of herself while trying to convince Austin that it's for an OnlyFans account. 
Parents should also know that the ACE family, Austin in particular, has gotten into some controversies that are sexual in nature. There's been a lot of allegations over the years but most notably, in 2019, Austin posted a video on Instagram of him taking a toddler (not his own) to an adult shop and buying her a phallic-shaped lollipop. He received immediate backlash, accusing him of sexualizing the child. The video was taken down shortly after. 
Another instance in 2019 involved a YouTuber who accused Austin of raping his friend, further suggesting that Austin frequently cheats on his wife. The allegations were denied by Austin, and he even claimed that he was going to take legal action for extortion. None of this is discussed on their channel, but parents may want to know the controversies surrounding the family. 
Violence
Luckily, there's really no violence in the ACE Family videos for parents to be aware of.
Positive Value 💫
The ACE Family clearly values strong family ties and promotes a healthy relationship between spouses and kids. Their content is light-hearted and often heart-warming, which is a nice change of pace from other things on the internet that can be dark and heavy. They are always laughing and doing silly things, never taking life too seriously which can be a great thing for kids to see.
So, should my kid watch it?
If your kid is old enough to understand that not everyone on the internet is as perfect as they make themselves to be, then they're probably old enough to enjoy the ACE Family Youtube channel without any negative impacts. Younger kids who haven't matured as much can take the wrong messages from these videos, but older or more mature kids might find the ACE Family an entertaining place to be on YouTube.