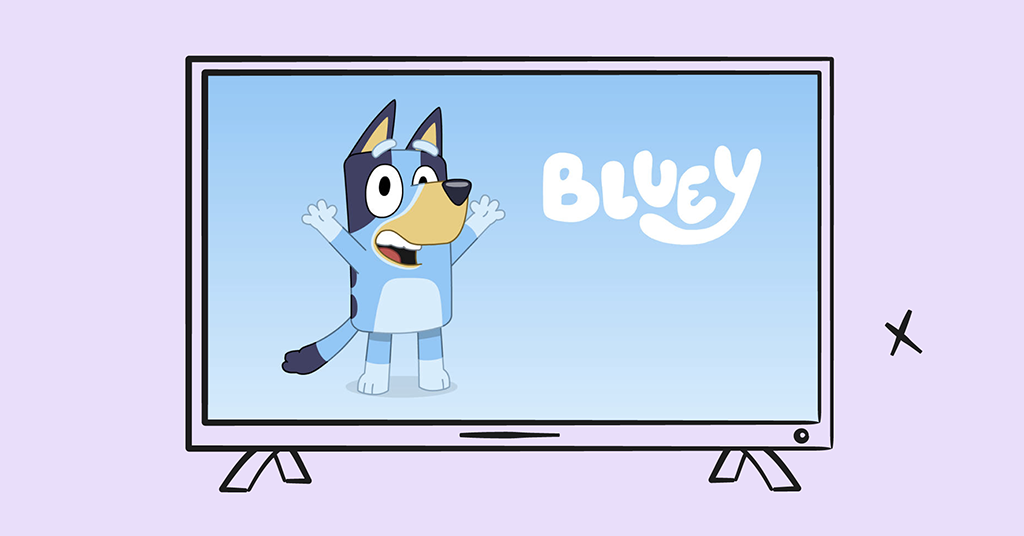 Bluey: A TV Review For Parents
Updated September 14, 2023
---
Overview
The Australian children's show, Bluey, has gained massive popularity in recent years. Though intended for an audience of about ages 5-7, many older kids and adults have fallen in love with the Blue Heeler puppy named Bluey. Bluey goes on daily adventures with her mom, dad, and sister Bingo. She's energetic, bubbly, and curious about the world around her. 
For parents looking for an educational and formative show for their youngsters, Bluey is a great one to try out — and our review can tell you why!
Harmful Content ❗️
The show is renowned for its family-friendly and wholesome content. It promotes life lessons to teach kids how to be kind and capable people (or dogs). 
Some episodes can be emotional, as Bluey learns to handle some difficult situations. In one episode, she goes on a camping trip with her family and meets a friend named Jean-Luc. Though they don't speak the same language, they become fast friends and have tons of fun together. But the episode ends with Jean-Luc going back home, and Bluey is understandably torn up about it. Ultimately, kids learn that sometimes life is hard, and it's okay to feel all the hard emotions that come with it. 
Language 
There is no adult language in this show, as its intended audience is around ages 5–7. 
Sex
There is no sexual content in Bluey, nor hardly any romantic themes. The show focuses primarily on family dynamics between Bluey and her mom, dad, and sister. 
Violence
The show has no violent or intense scenes. If ever there is a conflict between characters, it is handled with kindness, empathy, and healthy problem-solving. 
Positive Value 💫
The show consistently promotes concepts such as teamwork, creativity, imagination, and the importance of family bonds. Bluey is even recommended by the experts for demonstrating healthy communication — not just for kids, but even for parents. Bluey's parents, Chilli and Bandit, interact with their kids in a way that fosters positive values in all situations. 
So, should my kid watch it?
Absolutely! Tons of families have loved the seven-minute fun and educational episodes of Bluey.