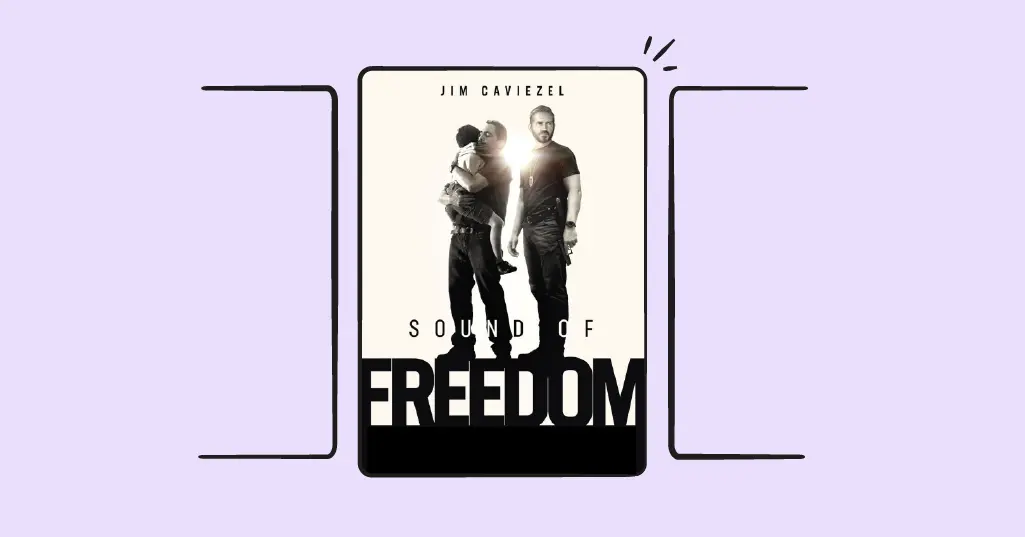 Sound of Freedom: A Movie Review For Parents
Updated July 26, 2023
---
Overview
Sound of Freedom is a recent movie to hit theaters and it has sent a shock wave through its audience. It's a deeply moving story based on the real-life experiences of Tim Ballard, a federal agent who risks his life to save a brother and sister from the dark world of child trafficking. 
To start, let's set the stage (spoiler alert!): Tim Ballard is working as a homeland security agent and has spent his career finding online predators and locking them away. But he knows there are so many kids lost to their families and trapped in the perils of trafficking. One specific case leads him to Miguel, a young boy taken from his home in Honduras with his sister. When Ballard finds him, months had gone by since he was initially taken, and along the way, he was separated from his sister, Rocío.
Ballard returns Miguel home but becomes committed to finding Rocío. He finds himself in Colombia and connects with the local traffickers in the area. He perseveres through losing his job, being separated from his family, and life-threatening situations until he finds Rocío in the depths of the Colombian jungle deep in rebel territory.  
The story also includes references to the Christian faith and promotes overall Christian values. Tim Ballard's character quotes the Bible and says his reason for finding Rocío is because "God's children are not for sale."
If you are considering watching this movie with your family, we strongly recommend understanding its content before you show it to your kids — especially younger kids. But if you decide it's safe to watch, it can certainly be an eye-opening and formative experience.
Harmful Content ❗️
Parents need to know that this movie does not sugarcoat the reality of trafficking. This is a story intended for a mature audience that can grasp the weight of the issue. At the start, there is a montage of security clips of real kids being taken off the street. The movie shows explicitly how predators target kids and treat them as objects for sale. While there are no explicit scenes of abuse towards children, it's heavily implied and the kids reflect that they have been severely mistreated. 
Language 
There is some intense language such as "s**t" and "a**hole". Also, you may want to brace yourself for the language predators use when speaking about or to the children. It can be jarring to hear how an adult can view kids in such a way.
Sex
Sex is talked about throughout the whole movie. Predators are seen "flirting" with kids or affectionately touching their arms to manipulate them. The movie does not show any explicit scenes of sex, though there are multiple moments in which it is implied that a predator is about to abuse a child (i.e., the adult puts the child on the bed, unbuckles his belt, then closes the curtains and the scene ends). 
Violence
There is a significant amount of violence in Sound of Freedom. Especially towards the end of the movie when Ballard is in the jungle looking for Rocío. This is "rebel" territory and once he crosses over, he encounters very aggressive rebel soldiers, carrying guns and threatening him at every turn. The most violent scene is when Ballard gets into a hand-to-hand fight with Rocío's captor. Ballard ultimately stabs him and implies that the captor died as a result. 
Besides this, children are rough-handled throughout the movie. They are harshly pushed around, shoved into vans, and neglected for periods of time. In some scenes, the children scream or struggle in response, but often are too scared to react.
Positive Value 💫
While the heaviness and sadness of the movie cannot be avoided, neither can its heart and powerful impact. This movie effectively communicates its message in an artful and emotional way. Tim Ballard exemplifies heroic traits of bravery and integrity, never giving up on Rocío even when it seemed most hopeless. 
The relationship between siblings Miguel and Rocío is one of the most heartfelt parts of the movie. Before they get separated, Rocío as the older sister immediately thinks to protect her younger brother and gives him her necklace to take with him. When Ballard finds Miguel, his first question is to ask him to find his sister. 
This movie strives to bring awareness to its audience about the crisis of child sex trafficking that persists every day. It's filled with thought-provoking, heart-tugging scenes of innocent kids ending up in unthinkable circumstances. Many parents may find it valuable to watch this movie with their kids to start important conversations about human rights, as well as their personal safety in real life and online. 
So, should my kids watch it?
For kids who are emotionally mature enough to understand the movie (we'd say around age 13, but you know your child best), Sound of Freedom could be a great movie for parents to introduce to their kids. 
What else should I keep in mind?
Since its release, Sound of Freedom has made a lot of noise in the media for some political/controversial reasons. There has been speculation about the accurate representation of events in the film as well as discussion about possible links to groups like QAnon. It's important to note, however, that there are no explicit conspiracy theories expressed in the movie. The connection stems from past QAnon supporters supporting the promotion of the film. Despite the existing debate, the movie still sheds light on a significant and real human rights issue that every family should be aware of.
For parents who wish to do a deep dive into this, these are some good places to start relating to Tim Ballard's story and the state of human trafficking today: