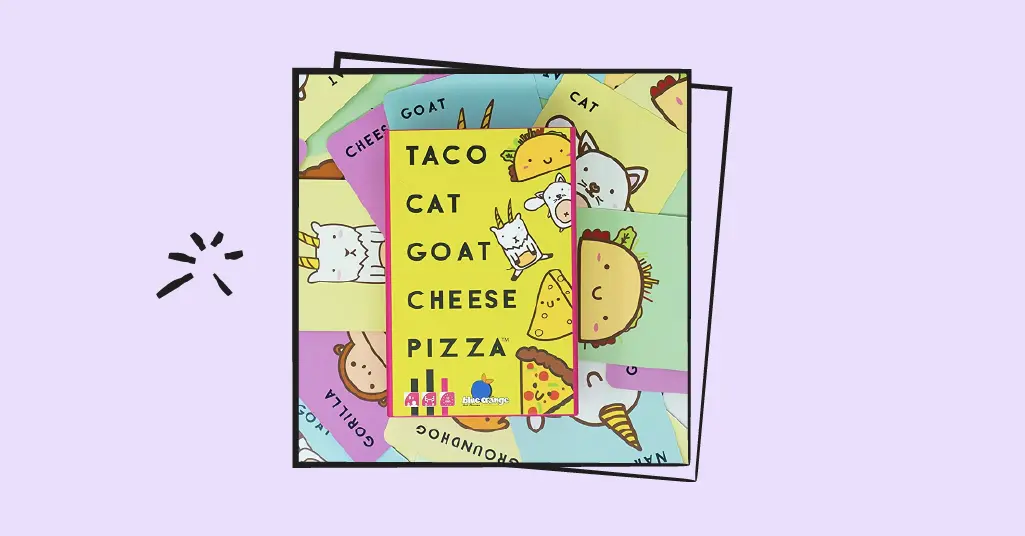 Taco Cat Goat Cheese Pizza: A Card Game Review For Parents
Updated June 28, 2023
---
Overview
Taco Cat Goat Cheese Pizza is a game full of silly rules and table slapping that brings the right kind of chaos to any family game night! Every round of this game is guaranteed to have the whole group in a pile of giggles on the floor. 
We won't go over all the rules of the game here, but here's what you need to know: The game is meant to be played at a fast pace — with less thinking and more knee-jerk reactions. It'll probably get pretty loud, especially with a lot of players (you can play with up to eight). And fair warning — you might find yourself acting like a gorilla or groundhog in order to win the game! 
Harmful Content ❗️
Parents don't have to worry about any harmful content with this game. Parents with sensitive kids may want to be warned that this game can get a little hectic. There is a lot of shouting, slapping, and quick transitions between rounds. Depending on the group your child plays with, there may not be a lot of space for explanations. Not every kid loves that kind of wild energy, and that's okay! You know your child best and you'll know if this game is a good fit for them. 
Language 
There's no language or profanity in the game (literally the only words on the cards are taco, cat, goat, cheese, pizza, narwhal, groundhog, and gorilla). The only bad word might come from an accidental swear by a player — it can get intense! 
Violence
Definitely no violence here, unless you count the constant table slapping!
Positive Value 💫
Games like this are amazing for how they can get everyone into a silly, nonsensical mood. Sometimes, both parents and kids can get stuck in a monotonous routine of work, school, sports, grocery shopping, homework, social media, and all the other daily responsibilities. But this game will make you forget about all that for a while and enjoy a night full of laughter and memory-making!
So, should my kid play it?
Definitely! Every family should add this to their list for the next family game night!