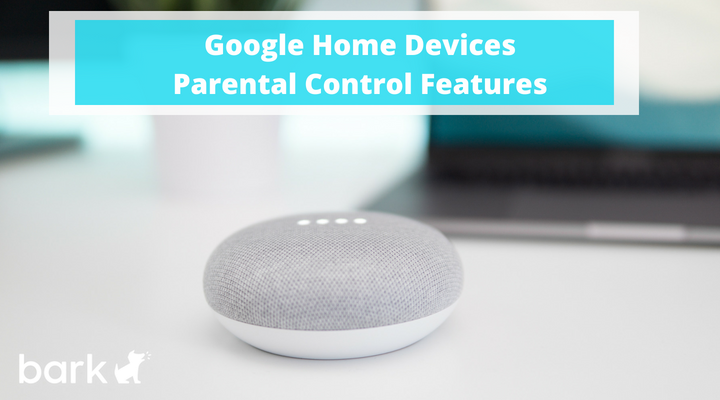 Google Home devices' parental control features allow parents to tailor controls for each connected device and set up permissions for each user.
Google Home parental control is powered by Family Link, which is free. Parents can use Family Link to manage controls and monitoring on other apps and devices linked to your Google account. The following features are specific for Google Home.
Google Home Devices Parental Control Features
You will need an Android device for the setup, as well as your Google account password. Also, you should plan to have your child(ren) present during the setup. Each child will need to give voice samples to enable voice recognition of commands. The process to set up individual permissions profiles should take about five to ten minutes per child.
Video and Music Settings
By default, children cannot use YouTube or play music through Google Assistant. The latter may be enabled by signing up for a Google Play Music family plan. Parents who wish to allow access to other music providers such as Pandora or Spotify will need to consult those services' help centers for instructions on restricting content for younger family members.
Online Purchasing and External Apps
Family Link blocks children from online purchasing by default. Whew, what a relief right? How many ponies would fit in one garage? It also blocks external apps, unless they are vetted and designated as "Apps for Families on Google Assistant." You can block all 3rd-party apps via Family Link as well.
Monitoring Features
Home has a personal results setting. There, you can access the child's calendar, contacts list and photos. This is an all-or-none feature. For example, you can't see contacts but leave calendar entries private.
Google has well considered parental concerns and designed protection resources to enable safe and enjoyable use of the Google Home device. For comprehensive specialty protection for your tween or teen from the latest risk on cyberbullying, sexual content, and online sexual predators, sign up for Bark monitoring.
With the rising popularity of "smart home" devices like Google Home and Amazon Echo, many parents question how to protect kids from available content. Though initially there were not many options for parental controls, improved controls may be on the way. Soon you will be able to enable Echo devices parental controls with Amazon FreeTime.
Limited Parental Controls on Original Devices
Originally Amazon Echo devices parental controls were limited and accessed through Amazon Household on the primary Amazon.com account. These settings allowed parents to set up children as members of the household. However, they could only opt to completely restrict child members' access to purchased content, specific devices, and voice-purchases.
Enable Echo Devices Parental Controls
Amazon announced plans to roll out new parental controls on May 9th, 2018. These parental controls options are available for owners of Echo, Echo Dot, and Echo Plus. These will be an expansion of the existing FreeTime for Kindle Fire controls. The settings will allow Echo users to block explicit music and content, set up time limits, and pause the device completely. The new FreeTime for Alexa will also enable a "kid-friendly" version of Alexa. The "kid-friendly" version will allow kids to ask Alexa questions and receive responses that are suited for children.
If they ask questions that are inappropriate or sensitive Alexa will encourage them to ask an adult. Additionally, with "Magic Word" enabled Alexa will even thank kids for saying, "please." One downside, however, is that Echo devices are unable to recognize whether a speaker is a child or an adult. Parents will need to manually turn controls on and off for any communally used device. As well, the Echo Spot and Echo Show will not support the new FreeTime settings at this time.
Is FreeTime Really Free?
The basic FreeTime controls will be available free of charge. However, parents who desire gated access to filtered and kid-friendly content will need a monthly subscription to FreeTime Unlimited. With this premium subscription, kids can play downloaded music and access filtered books and radio stations. Partnerships with Disney, National Geographic, and Nickelodeon are in the works to offer more child-friendly content.
Amazon also announced the forthcoming release of the Echo Dot Kids Edition, a version of Echo tailored for children that will come paired with a trial subscription to FreeTime Unlimited. It unveiled the Kids Edition alongside the new FreeTime for Alexa controls on May 9th, 2019.
As internet-enabled devices become more and more a part of our daily lives, companies are beginning to realize the importance of providing parent controls. Amazon's new FreeTime options for Echo devices are a great way to help parents make sure their "smart home" is also a safe one for kids. Used along with Bark, kids can enjoy being connected and parents can enjoy more peace of mind.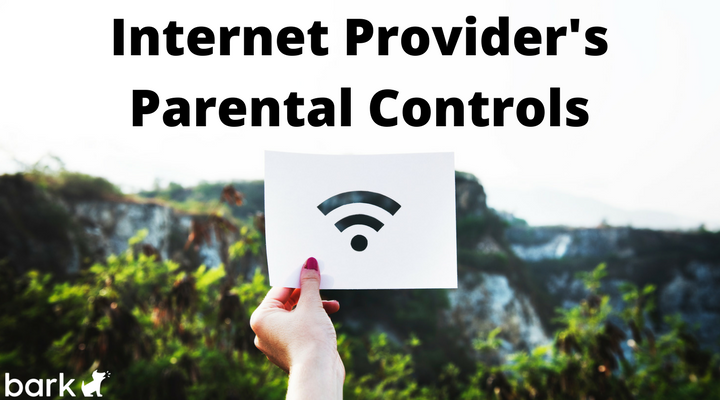 Concerned parents should consider Internet Provider's Parental Controls when selecting a service and when setting up the devices they provide their kids.
The five largest ISPs in the U.S. offer varied packages for parental monitoring and control. Here is the scoop on them. Using these controls in addition to Bark's monitoring of the *content* on your kid's device and social media sites serves as layer upon layer of protection.
AT&T
The AT&T parental control settings are accessed via their website so you can access them at home or remotely. Once logged in, you can restrict up to ten connected devices, maintain a "white list" of permitted internet sites for children, and set restricted times for internet access. You can also monitor web use. The child profile settings allow blocking of a comprehensive list of content categories, as well as, potentially risky content.
Comcast/XFinity
Comcast parental controls are provided through Norton Family. Default filtering is done for blacklisted content types. Parents can also block websites by adding them to a user-maintained blacklist if they find questionable content during their monitoring. Browsing activity reports are also available.
Verizon
Verizon's internet controls allow parents to block content through the FiOS router by limiting access to particular sites or to specific content categories by user name on the home network. Advanced filtering and restrictions are available through McAfee Safe Family for subscribers with plus and premium plans.
Charter/Spectrum
Charter/Spectrum users use their Security Suite to block many categories of content. Router restrictions are also available. Web tracking is maintained for users other than Administrators, so you'll want to guard that password extra well.
Judging from a quick look at the big ISP providers, you can get basic parental controls though any of them. To further protect your child or adolescent from ever-evolving threats coming through the internet, email, social media, text messaging and more, add Bark to your home and mobile defenses.