5 Ways Parents Use Bark to Set Healthy Screen Time Boundaries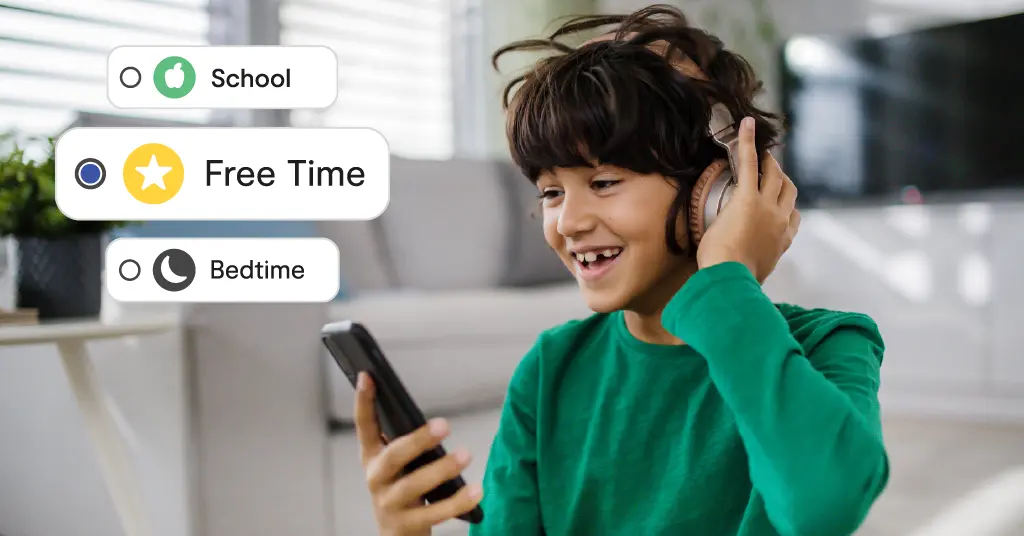 As a parent, you're probably familiar with the concept of screen time — generally, that kids get too much of it. You've also probably heard of (or used!) Apple Screen Time or Google Family Link, which are free tools that can help you manage your kid's device use. But these apps aren't perfect, and kids are ingenious when it comes to finding workarounds. 
Here at Bark, we pride ourselves on our powerful screen time management tool that comes included when you download our app or buy a Bark Phone. In this post, we've laid out 5 ways Bark parents actually make measurable differences in their child's screen time — for the better! 
5 Ways Parents Use Bark's Screen Time to Set Healthy Boundaries
1. Keeping the school day sacred
Regardless of whether your kid's allowed to have their phone at school, the chances that they're being distracted by it are pretty high. It's even common for teachers to wish parents were proactive and blocked access to games and social media during the school day. The good news is that Bark lets you do just this.
You can create a custom school day screen time schedule that begins the minute they walk into the building to the second they step on the school bus. An example schedule would look like a complete block on all non-educational sites during the school day. This way, your child can log into Gmail or PBS.org, but won't be able to visit YouTube, Fortnite, or Instagram. When they know they don't have access until say, 3 p.m., they can focus on what really matters — learning.
2. Encouraging rest at lights out
We recommend that all kid's devices be charged in the kitchen overnight, but if that's not an option for your family, there's a way to help keep your child from watching videos or scrolling on TikTok all night. Rest for growing kids is super important! 
When you create a bedtime schedule, you can block nearly everything but keep apps that you know won't cause them to stay up all night. For example, you could keep podcasts or meditation apps so they can wind down comfortably without the addictive nature of social media or games. 
3. Making time for play
In between resting and learning, it's important for kids to be able to kick back and relax with their devices occasionally. Our free time setting lets you carve out dedicated time for the things your child enjoys most when they're online. You decide exactly how long the break is, as well as what apps and websites they can visit. It's not completely hands-off — if you've noticed that your kid is generally good with games but gets a little too into Minecraft, you can create exceptions in the allowed or blocked category.
4. Creating different daily schedules that repeat — or not
You can choose the screen time schedule that works best for your kid because only you know the daily ins and outs of their activities. You could set it up so Monday, Tuesday, Wednesday, Thursday, and Friday have one set of rules, and leave Saturday and Sunday more open. Or, if your child has drastically different Tuesdays and Thursdays because of practice, you could set those up differently. You could even have different schedules every single day!
5. Pausing the internet anytime
Sometimes, you just need to pull the internet plug for a few minutes and give your kid a hard reset. Think of this feature as a Wi-Fi timeout. The best part is you can do this right from your Bark parent app — and you don't even need to be in the same house as your kid! When things have cooled off a bit, you can toggle it back on and resume your normal screen time schedule.
Learn More About Bark
Bark's screen time scheduling is an important part of our product, but there's so much more that comes with it. You can also track location and block websites and apps, but it's Bark's content monitoring that makes it an absolute game-changer when it comes to online safety.
Bark scans your kid's social media accounts, texts, emails, and files for potential issues. If something concerning is found — like sexting, online predators, bullying, and depression — you'll get an alert so you can check in and make sure everything's okay. Start your free, 7-day trial today, or learn more about the Bark Phone, which is our phone designed specifically with parents in mind that comes with Bark built in, along with a host of cool features like contact approvals, daily time limits, and much more. 
About Bark
Bark is a comprehensive online safety solution that empowers families to monitor content, manage screen time, and filter websites to help protect their kids online. Our mission is to give parents and guardians the tools they need to raise kids in the digital age.