Helpful Anti-Bullying Videos For School-Aged Children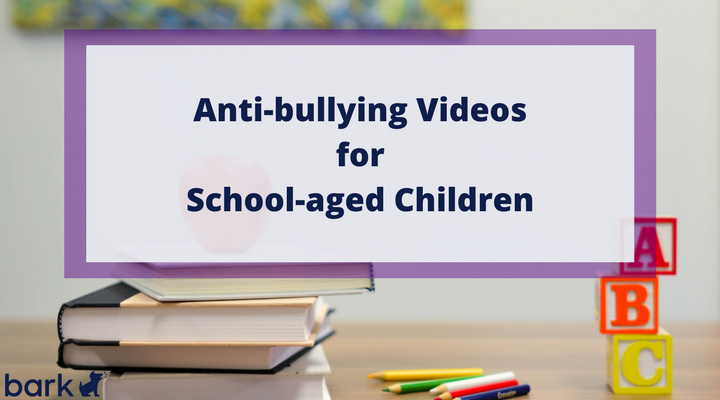 As a parent, you never want to hear either of these phrases: "Your child is being bullied," or "Your child is a bully."  We all want our children to feel safe when we send them off to school. It is our duty as parents to educate them on the bullying and how to deal with it. Below are some helpful anti-bullying videos for school-aged children to watch with your kids. These can be great stepping stones for conversations about bullying behavior.
Whether your child is in elementary school or middle school, there is a video for you. So sit down, watch the educational video together, and then hold an open discussion. Encourage your child to ask questions, listen and respond to their concerns.
To prevent bullying in your child's life, it is important to have open discussions about bullying early on. Start explaining the best ways to deflect bullying at a young age. Then continue coming back to the issue as they get older.
Elementary School Videos
For your youngest child, this McGruff cartoon is a great way to start a basic understanding of what bullying is.  The video is short so as not to lose their attention. The advice is sound, and remind your kids to tell a trusted adult if they are being bullied.
Another cartoon video about anti-bullying is this McKay Foundation creation, The Meanest Girl In Second Grade. This cartoon is a little more serious and direct as it follows the lead bully to teach your children the consequences and solutions of bullying.
And for your slightly older elementary students, you may want to show them this video on "Five Ways To Stop Bullying." This video defines the different types of bullying, and then provides strategies to stop bullying.  It also emphasizes that bullying should not be ignored, even when you witness it happening to someone else. Let your kids know these tips apply to bullying that happens on phones or computers as well.
Middle School/Junior High Videos
This educational video about The Cyber Bullying Virus is helpful for older children who have social media accounts and cell phones. As your children get older, the forms of bullying can change. Switching from the playground to online bullying, parents will want to help their children navigate these new challenges.
There is also a channel on YouTube called NoBullying.com, where you can find several educational videos about bullying statistics and prevention tools. One of their helpful videos for older children is How To Prevent Cyber Bullying. This short video lists steps to stop and prevent future bullying through technology. This channel has several informational videos that you can watch all together or at different times when they become more relevant.
Helping Protect Your Children
These are invaluable lessons that your children will carry with them throughout school life. Discussing these strategies to prevent bullying can truly help your child to enjoy school more. After all, children should be focused on learning in the classroom, rather than being distracted by a mean classmate.
Allan L Beane, PhD, and the author of the book The Bully Free Classroom, mentions that bullying can start as early as the age of 3. Beane explains, "Research also shows that children who are exposed to aggression on a consistent basis may imitate the behavior they observe. Such children, for instance, may live in an abusive household, witness their parents' uncontrolled anger, or feel neglected and unloved." You can teach your children to be kind, but you cannot control what their classmates have experienced. This is why discussions about bullying are so important.
Bark is an additional tool that is used to monitor potential bullying situations. Parents cannot prevent every bad thing that happens to their children, and parents cannot be present in every aspect of their children's lives.  Children go to school without us, and communicate on social media without us. Bark is a useful service that monitors texts, emails, and social media accounts to notify you of any potential dangers. Save time and rest easy with Bark.
About Bark
Bark is a comprehensive online safety solution that empowers families to monitor content, manage screen time, and filter websites to help protect their kids online. Our mission is to give parents and guardians the tools they need to raise kids in the digital age.