Teaching Money Management: Best Money Apps for Kids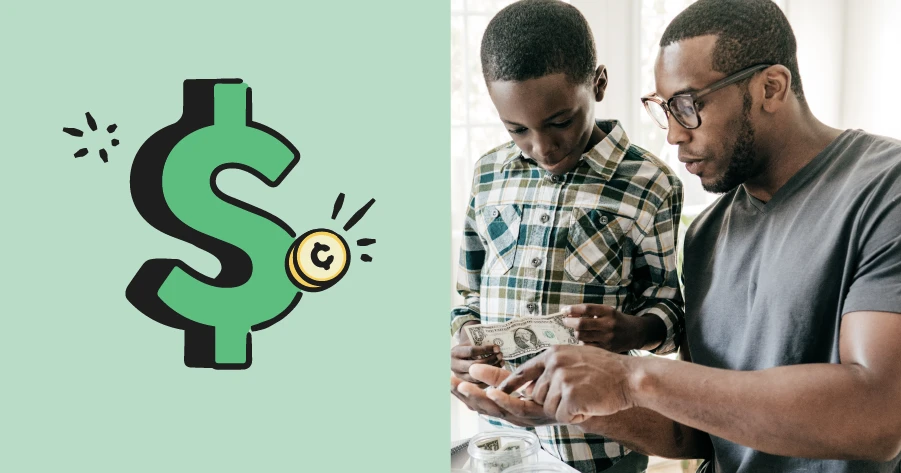 One of the most important things to learn growing up is money management. Unfortunately, most schools don't dedicate nearly enough time to teaching kids about budgeting, saving, investing, etc. This means that the brunt of money education falls on the parents, but it's not always an easy task.
Luckily, there are loads of money apps for kids that teach awesome habits which will carry with them into adulthood. And the younger they start, the stronger those habits will be! So we researched the best money management apps for kids, that way you can pick the one that works best for your family.
Money apps for kids under 10  
Bankaroo
Bankaroo works like a virtual bank for kids ages 6-8, but all your kid needs are basic reading skills to use it. Active users are aged about 5-14. Additionally, it's available as both an app and a website, so your kid doesn't need a mobile phone in order to use it.
The free version allows you to set up an allowance and add funds to your child's account while they manage their money from their bank and set goals for purchases they want to make. Kids can save money, and parents have the option of matching those savings to encourage healthy savings. There is a paid version that allows children to split their money between checking, savings, and charity accounts for a more detailed banking experience.
Cost: Free
Savings Spree
Savings Spree is a fun, interactive game that teaches children the financial impact of decisions they make in daily life. Each choice they make in the game will either lead them to savings or financial setbacks. It's recommended for kids about 7 and up, but younger children can play if they have a bit of help from a parent. Additionally, it's only available through the Apple store.
Kids will learn super important concepts like saving, budgeting, donating, and investing in this game. It's a great option if you aren't quite ready to let your kid handle real money yet.
Cost: $5.99 one-time fee
Money management apps for kids 10-12 years old
GoHenry
GoHenry is one of the best money management and learning apps for older kids who want the experience of swiping their own debit cards to make real-time purchases. First, parents will open an account for their kids and allow them to select a colorful design for their debit card. The card is FDIC-insured, chip and PIN protected, and comes with zero liability protection through Mastercard.
The app allows you to assign chores for your kid and pay them upon completion, and there's an option to send automatic weekly allowance transfers to your child's card. Then, kids can save or spend that money as they wish, while also going through in-app educational lessons about investing, credit cards, entrepreneurship, and more.
The best part of the GoHenry app is the learning missions. These missions allow kids to learn valuable financial concepts and apply them in real life. Some missions are recommended for kids over 12, so there's lots of growth potential with this kid's money management app.
Cost: $3.99/month after a 30-day free trial
Kiddie Kredit
Recommended for ages 9-11, Kiddie Kredit is a simple app that allows parents to teach their children about credit scores and financial responsibility. How it works is parents will assign tasks to their kids in the app and set a deadline for each task. If the kids don't complete it in time, it could impact their "Kredit" score. Parents can also make a game out of it by setting rewards when kids reach different levels and master lessons.
While this isn't the most comprehensive money management app for kids, it's a great pick if you want to teach your children how to use credit responsibly. It works well with some of the more advanced apps recommended here.
Cost: Free
Money apps for tweens & teens
Greenlight Debit Card & App
Many tweens and teens are ready to learn more than the basics of savings and budgeting — they want to manage their own money through a legitimate debit card. Maybe they're even interested in more specific money management skills, like learning how to make sound investments or earning cashback on purchases. Your tweens and teens can do all of that and more through the Greenlight for Kids debit card and app!
Using a secured debit card, teens and tweens can earn money for doing chores or collecting allowances from parents. That money is used in the following ways:
Spend with the debit card – 1% cash back for some purchases
Save money – up to 5% interest
Research and invest in stocks and ETFs
The educational materials built into the app are insightful for kids — and for many parents as well! You may find yourself brushing up on your own financial knowledge as your child learns it for the first time.
Cost: $4.99 - $14.98/month, depending on the plan
FamZoo
FamZoo offers some advanced features that work well for teenagers who have a bit more financial knowledge and perhaps a part-time job beyond completing chores at home. It's certainly a winner for parents who are looking for a more in-depth education on money management and wealth growth.
Teens can receive direct deposits to their FamZoo debit card. You can pay compound interest to your child for the money they save or offer a private loan and allow them to repay through the app. Tweens and teens can create a budget with subaccounts and money management goals which will help them make smart spending decisions long term.
Cost: $5.99 per month after a 1-month free trial
The best way to monitor your child's progress
These money apps for kids are a great way to introduce your family to healthy money habits. And if you want to keep tabs on how your child is using these apps, Bark can help you there! With Bark, you can set screen time limits as well as block any app on your child's device. Start your free trial today to see how it works!
About Bark
Bark is a comprehensive online safety solution that empowers families to monitor content, manage screen time, and filter websites to help protect their kids online. Our mission is to give parents and guardians the tools they need to raise kids in the digital age.