Bark Debuts New Sentiment Insights Feature in Parent Dashboard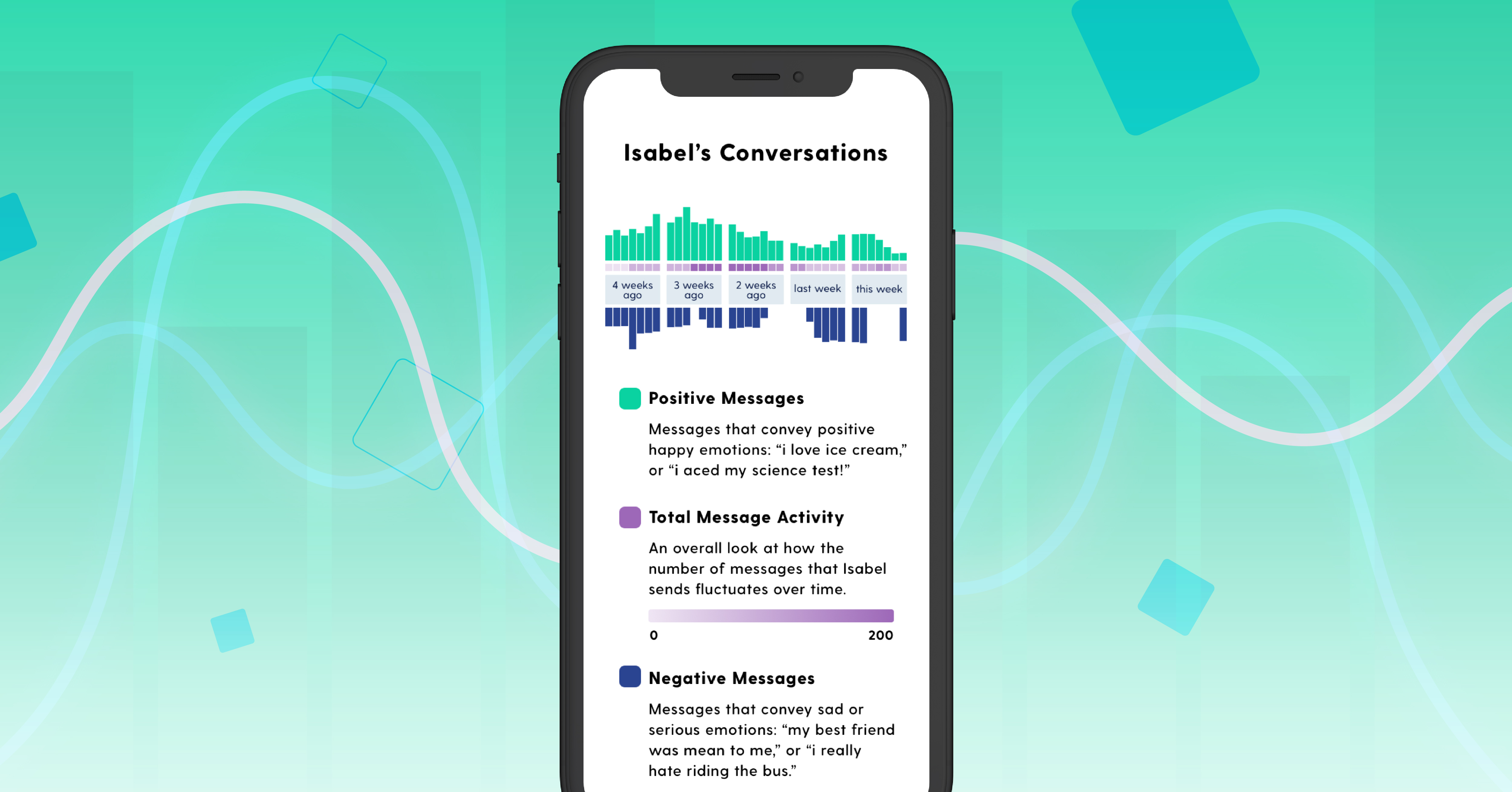 We're proud to announce a game-changing new feature for all Bark families that is now available on the Parent Dashboard. Your kids spend a lot of time on their devices communicating with the outside world through texts, social media posts, and more. But outside of alerts to potential issues, you may not know what their online world really looks like — and how it may be affecting them. This new feature will help you recognize trends and learn how your child is expressing themselves in a more nuanced way than asking the usual, "How was your day?"
Understanding the New Feature
Starting today, when you log into your Parent Dashboard and scroll down, you'll see a section with a chart called Conversations. (Note: You won't see this feature if your child doesn't have enough data to analyze yet). Broken down into weekly segments, this chart will present the total number of messages sent, the number of "positive" messages, and the number of "negative" messages. Parents will not have access to the content of any of these messages unless they also triggered a Bark alert for a potential issue. The aim of this new feature is to give parents high-level insight into the general wellbeing of their child based on how they use language — as well as how it might change over time and what that may mean for them.
How Families Can Benefit
On average, 87% of a child's messages are neutral, and positive interactions outnumber negative conversations 10 to 1. So, how can parents make sense of the data they receive in the chart? You may be able to see patterns emerge. For example, if your normally peppy kid always seems to engage in negative conversations on Tuesdays, you could consider talking about the classes they have that day to find out if anything's wrong. You may also be able to see changes over time — if positive interactions increase as the school year goes on, for instance, it may be an indication that they're adjusting well.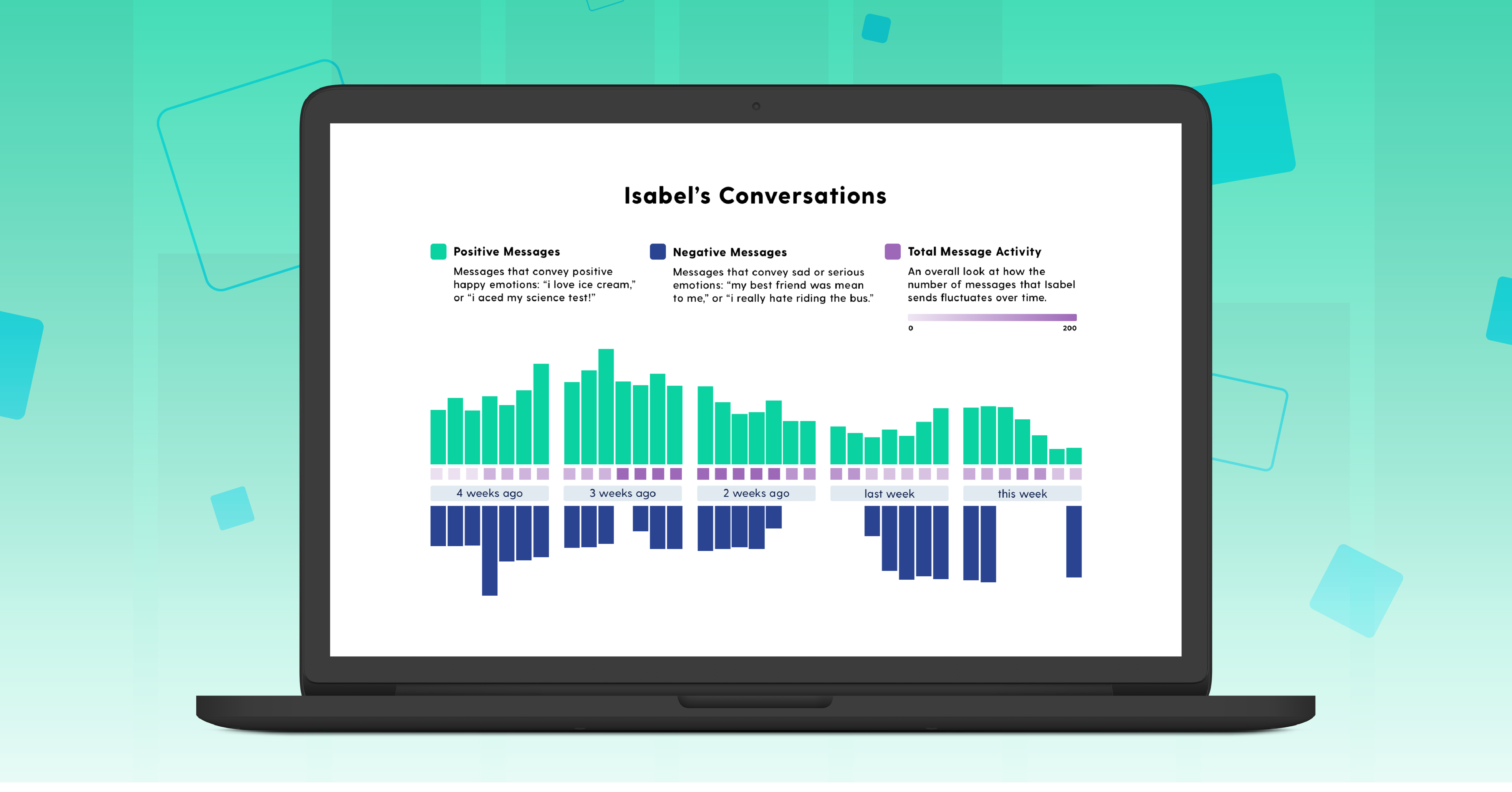 A Few Things to Remember
This new feature tracks sentiment in your child's language, and it may not directly correlate to their individual moods or emotions. Negative expression is not always bad, and positive expression doesn't always mean things are great. Also, some kids may communicate in a more sarcastic manner using language that seems negative, but is actually just an expression of their sense of humor. It's also important to keep things in perspective: most of your child's online activities will be neutral in tone.
Of course, having a better understanding of your child's sentiments is no replacement for having ongoing and supportive conversations — in fact, this feature is meant to help provide your family with clearer avenues to these sorts of discussions that can help make growing up a little easier.
If you are already a Bark customer, this feature is free and available now. If you're not, now is a great time to try us out! Bark monitors texts, chats, email, YouTube, and 24+ social media platforms for signs of issues like cyberbullying, adult content, self-harm, suicidal ideation, and more. Sign up today for a free, one-week trial.
About Bark
Bark is a comprehensive online safety solution that empowers families to monitor content, manage screen time, and filter websites to help protect their kids online. Our mission is to give parents and guardians the tools they need to raise kids in the digital age.