Spotify Has a Porn Problem — Here's What Parents Need to Know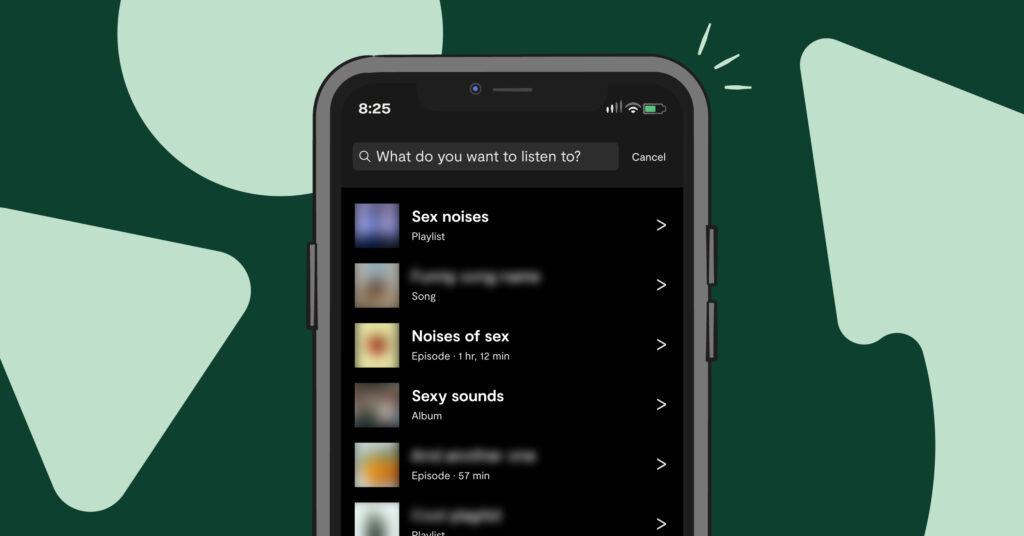 Recently, we discovered that Spotify — arguably the most popular music streaming app today — has a large selection of pornographic content. Looking closer, our team found that nearly every music platform out there has this type of content as well. This includes platforms like YouTube Music, Amazon Music, and Pandora. Considering the amount of time the average kid spends listening to music on any one of these platforms, we figured parents needed to know about this.
This post will go over exactly what kind of harmful content is available on these platforms and how kids can find them. Additionally, we'll take a closer look at Spotify and the newfound dangers that exist there.
First, How Can a Music App Have Porn?
Good question. There's a wide range of ways "audio porn," as it's been called, can appear on music platforms. But essentially it boils down to:
Album cover art with explicit sexual imagery
Sex noises and sounds
Podcasts featuring erotic storytelling and frank discussions of sex
All it takes is a quick search and you'll get tons of content like this. And specifically on Spotify, there were instances when this pornographic content would come up just by searching for a single period or comma. This means kids don't even have to go searching for it to stumble across it.
So, Which Apps Are We Talking About?
You can find this stuff on basically every music streaming app. But here are some of the familiar ones that the Bark team was able to verify the existence of pornographic content:
Spotify
Apple Music
Amazon Unlimited
YouTube Music
iHeart Radio
Pandora
TIDAL
Freegal Music
Is There a Way To Block This Content?
There is, but it's not exactly perfect. All of these platforms do have explicit content filters, but there are a few issues parents need to be aware of.
Block playback, but not search results
You can block your child from playing these tracks, but there's no way to block the results from showing up when searched. In other words, all of the pornographic content is still available to see in search results, it just won't play anything when you tap it. Most parents would probably prefer this was not the case, especially considering that the album covers are likely to be pornographic as well.
Passcode protection
Spotify, Amazon Unlimited, YouTube Music, and iHeart Radio do have an explicit content filter but they don't have a passcode to keep that setting locked. So there's no way to prevent kids from turning the filter off after the fact.
Inaccurate and inconsistent labeling
However, some apps do have a passcode, such as Apple Music, Pandora, and TIDAL. But here the problem is that you can't trust these filters to accurately block all content. We found that on all platforms, there were a number of songs and podcast episodes that were not labeled "E" for explicit and therefore not blocked by the filter — despite its clear sexual and inappropriate nature.
There's More Than Just Porn — There Are Also Predators
As mentioned above, Spotify's porn problem is enough to raise serious concerns simply due to its high popularity. But unfortunately, it doesn't stop there. Reports coming from the UK claim that an 11-year-old girl was groomed into posting sexually explicit photos of herself — all of this taking place through the interactive features of Spotify playlists.
Essentially, predators can begin communication with a child through the description of a playlist and ask kids to respond by adding songs to the playlist that convey a message. In the case of the 11-year-old girl in the UK, she was asked to upload a sexually explicit photo of herself as the custom photo of the playlist. In addition, he asked for her email address, where he continued to ask her for inappropriate images.
What Can Parents Do?
As a parent, it's normal to feel overwhelmed and frustrated that even music apps can pose a danger to your child. Our main advice would be to start a conversation with your kid about these things if you haven't already. Cutting them off from all music apps is probably not the best solution, but parents who maintain active involvement in their child's online life will be more likely to catch these situations before they spiral out of control. Of course, not every child will seek this type of content out. The risk is there, but that's why it's important to consistently remind your kids of your family values.
And Bark is always here to help! With Bark, you can monitor for concerning content in texts, emails, and 30+ apps, as well as block harmful apps and manage their screen time. Bark can also monitor the lyrics of the songs your child streams on Spotify and sends you an alert for worrisome content. Start your free, 7-day trial now!
About Bark
Bark is a comprehensive online safety solution that empowers families to monitor content, manage screen time, and filter websites to help protect their kids online. Our mission is to give parents and guardians the tools they need to raise kids in the digital age.