What Is Coding For Kids and How Do I Get My Child Started?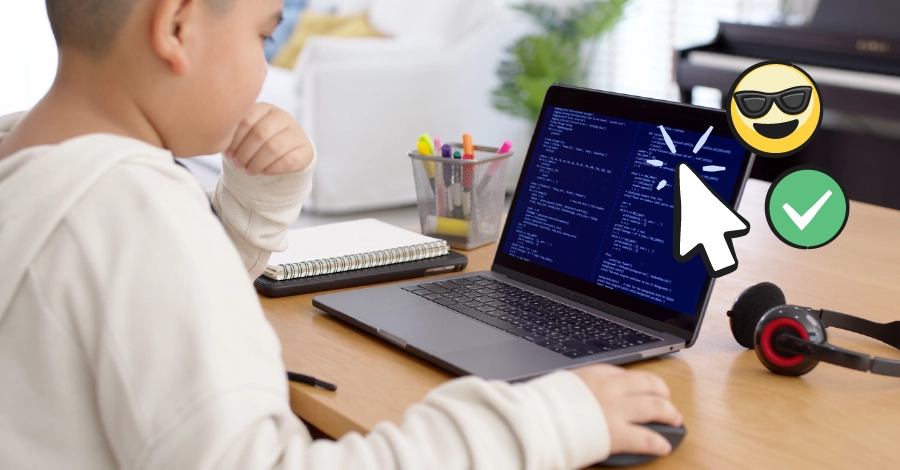 Gone are the days of computer nerds! Nowadays, most kids are far more tech-savvy than we ever thought possible. Not to mention, the profession of coding or web development is one of the most in-demand professions out there.
If you're not familiar with the world of coding, it can seem intimidating. The good news is that coding is something that kids of all ages can learn!
So whether you're kid is looking for a new after-school activity, like coding classes for kids, or you just want to add a valuable skill to their toolbelt, coding should be at the top of your list.
Keep reading as we take a deep dive into the world of coding and how you can get your child started.
Starting with the basics: how does coding work?
As you're reading this, you're likely on a computer or mobile device. Behind everything you do on that device, from scrolling on Instagram to navigating a website, is a set of code that runs in the background. That code tells your software what to do and how to do it.
Lines of code are almost like a recipe. You get a list of ingredients and instructions to get to your final dish. The code gives computer software all the step-by-step instructions for how it should perform a task – based on what you're doing.
But unlike a recipe for your favorite pasta sauce – code isn't written in a spoken language like English or Spanish. There is a whole other world of programming languages that are used to write code. Some common examples you might have heard of include Python and JavaScript. These languages have rules and syntax that come together to create lines of code that can be understood by a computer.
But coding is more than just stringing program languages together. It also includes finding creative ways to solve problems through code, writing that code, and then debugging it – all before it can be used.
Coding takes ideas and concepts and brings them to life – the result being what you typically see as the end user.
Where can I find code in my daily life?
The cool thing about code is that it can be used to create a whole host of different things. You can write code for simple things, like solving math problems. Or even create more complex projects, like apps, or even harness the power of AI.
In fact, if you look closely, you'll learn that coding is behind a large chunk of the activities that we do every day – particularly when it comes to electronics and technology.
Some examples of things that are powered by code (that you may not even realize) include
Websites and mobile apps: Any website or app you use on your phone is created through thousands (if not millions) of lines of code.
Video and computer games: Similar to websites or apps, digital games are created using code. But they take it a step further to provide instructions for interactions and much more – to help create a more immersive experience.
Shopping: Whether it's online or even in-store, code is often used to help manage inventory, process payments, and complete other parts of your shopping experience.
Cars and other motorized vehicles: While cars at the core aren't created using code. Modern vehicles include a wide range of functionality, that is. For example, things like your GPS navigation, your entertainment console, and any driver assistance functionality.
Robotics: Most of us probably don't have robots, but robotics might be behind some of the items you buy or the interactions you have. Drones and robots are used for automation in manufacturing settings or even delivering packages. These robots are powered by code that helps them perform their tasks.
​​What is coding for kids?
Unless you're familiar with programming languages, scripts and lines of code can look incredibly complicated. You might be wondering how children can make sense of it.
Well, coding for kids isn't quite the same as what you'd expect from a seasoned software developer. They might not learn advanced languages, but they can get a head start on learning the principles and concepts. They can learn things like sequencing, loops, conditionals, and even debugging (or solving) issues in their code.
For example, a popular way to introduce young kids to code is through block-based languages instead of text-based commands.
Understanding how to think like a software engineer and developing problem-solving skills early on can go a long way in helping them become rockstar coders in the future!
What makes coding for kids different from computer skills?
There was a time when simply being able to use a computer was a high-tech skill. But now, basic computer skills are common knowledge.
Computer skills require you to know how to use the user-facing software – where to click and what to input. In other words, the code has already been written. But coding requires you to know how to create that user-facing software. With a little bit of creativity and problem-solving, you can actually create your own custom applications or programs that can do… well, whatever you want them to!
Coding and its benefits for kids
Coding isn't just fun, it's also a great way for your child to develop problem-solving skills and get creative with technology. Here are some ways learning to code can set your kid up for success in today's digital world.
Coding for kids improves learning development
Learning to code introduces your child to a whole new way of thinking and learning. Coding classes for kids teach them problem-solving, critical thinking, and creativity skills that can open up endless possibilities for their future.
Writing code is almost like working on a large puzzle. In order to successfully navigate coding, children need to learn how to break challenges down into smaller bite-sized pieces. Then create unique solutions to the challenges at hand.
While coding seems highly technical, it also fosters creativity. Coding usually requires users to think outside the box to find unique ways to solve problems. Plus, they'll also need to think about things like user experience and design.
Build confidence
It takes time and incredible patience to learn the skills to successfully navigate the ins and outs of coding. But once your child gets the hang of it, they'll be able to start writing and running their own scripts!
This can give kids a huge sense of accomplishment. It also gives them something practical and tangible that they've built.
Coding classes for kids set them up for future career success
Because code powers so much of our everyday lives, there is a huge demand for workers with coding skills. Common jobs that require coding skills include software developers and engineers but also include other roles like web developers and data scientists.
These roles can often have high salaries and are incredibly versatile. You'll find many of these roles in fields across all industries, from healthcare to e-commerce. So it offers your child the opportunity to work in a variety of fields they might be interested in.
Even where coding skills aren't key requirements for a career, the additional skills associated with coding can set you apart from the crowd!
As technology grows, it's clear that coding skills will be in demand for years to come. So learning to code is a great way to help future-proof your child's skills.
Let's get your kid coding!
The first step is sparking your child's interest in coding! There are many ways to keep your child engaged, even if coding isn't their first choice of extra-curricular activity. Here are some of our top tips:
Lean on gamification: coding games for kids
One of the best ways to make learning coding more enjoyable includes learning experiences that gamify the experience.
By incorporating things like badges, levels, and rewards, there becomes a fun incentive for them to continue exploring their coding skills.
Foster creativity
Creativity is about more than arts and crafts. Coding gives children another outlet to explore their own ideas, create their own app designs, and try new things. Make sure to use this as an opportunity to encourage that creativity in your child. Who knows, you might be raising a future tech innovator!
Make it interactive
As a general rule, coding is very hands-on. It's difficult to learn without trial and error.
Fortunately, this makes it a great skill for kids to pick up on. Instead of asking your child to watch videos, for example, choose an approach that's interactive and gives them a chance to test their new skills.
Apply it to the real world
Many kids thrive when they see a purpose for what they're learning.
Especially when it comes to older kids, take the time to help your child understand how coding powers the world around them. Whether it's their favorite video game or how they chat with their friends online, understanding the background can inspire them to learn how to code. Many programming tools for kids also do a great job pulling in pop culture references to keep things relevant.
Tools and resources for learning to code for kids
If coding isn't something in your own repertoire, don't worry! There are plenty of amazing tools and resources out there to help your child get started. Many of which are designed specifically with kids in mind.
Ages 5-7
Young children likely aren't going to be able to navigate complex scripts or understand true programming language – nor should they! But this doesn't mean they can't start learning the foundational blocks of coding.
Many resources for this age lean on block-based programming languages (as opposed to actually writing code themselves). That way it's easy for children to understand without feeling totally overwhelmed.
Here are some of our favorite coding resources and games for kids aged 5-7:
Scratch. Jr
Scratch is one of the most well-known free programming apps for young children. Created by a group at the Massachusetts Institute of Technology (MIT).
Scratch's programming language leans on visual shapes and blocks. Instead of long lines of text, kids drag and drop colors and shapes together to create animations. Using the basic principles of coding, like sequencing, children can learn how to think like a developer.
Scratch. Jr, in particular, is the perfect stepping stone for young children before they progress to the standard Scratch software.
Code.org
Code.org is another highly educational yet engaging way for kids to dive into the world of programming. Code.org is a non-profit organization with the goal of making coding and computer science more accessible for kids.
From kindergarteners who are just diving in all the way up through Grade 12, Code.org has activities for everyone. Many of the resources and activities draw from popular games like Minecraft or the trends in pop culture. It makes learning coding fun while creating meaningful connections between tech skills and the real world.
Tynker
Tynker is a web-based program that provides a wide range of games and activities to help children learn to code. With learning paths for all ages, kids as young as 5 can learn to code with Tynker. They program with brands like Star Wars, Barbie, and Minecraft which makes the activities more fun and relatable.
Tynker also provides a unique hybrid approach that gives your kids access to live coaches to support their learning. This is a great solution for parents who are hoping for more customized learning for their children.
codeSpark Academy
codeSpark's online education platform teaches problem-solving skills and logical thinking through basic coding principles. You won't find text-based coding languages here. Your child will learn through puzzles and mini-games, all while accompanied by codeSpark's in-game characters.
While anyone can use codeSpark, the platform was designed with girls in mind. Girls are typically underrepresented in coding and technology, and codeSpark aims to lower gendered stereotypes.
Ages 8-10
As kids get older, they can start building on the basics. They're more likely to grasp complex concepts like loops and conditionals.
Here are some of our favorite coding resources and games for kids aged 8-10:
Scratch
The next step up from Scratch Jr. is Scratch. Users create their own projects like games or art using the online editor. While designed for children and beginners, kids and adults of all ages use Scratch to learn to program.
The great thing about Scratch is that it's easy to use. You can simply open the editor online, and it includes everything needed to get started. Older children can even interact with and learn from others using Scratch's online communities.
Hopscotch
Hopscotch is a fully-mobile app that kids can use to create and play games. There are 3 modes for kids to learn, create, and explore.
From creating games to stories, or even animations, children are encouraged to create their own projects through code. Hopscotch uses block-based programming languages to teach the basics while keeping it fun and entertaining.
Kids can also play games created by friends and other classmates!
Sprite Box
Sprite Box is a mobile adventure game that harnesses code to move through different puzzles. With two levels of block-based and text-based code, kids get to play through fun challenges and learn the fundamentals of programming.
It's not designed to be a long-term learning solution and doesn't go in-depth into programming, but Sprite Box's app is a great stepping stone.
Kodable
Kodable is a kid's learning platform that was originally designed to be used in elementary schools. So you know that your child is getting quality programming education in a safe environment.
The game introduces coding basics and logical thinking through over 80 levels. Kids can build their own games within the program and design their own characters.
Kodable is the perfect way for kids to have a blast while learning. They can learn at their own pace without any pressure.
CodeMonkey
CodeMonkey also uses games to help children learn how to code. Unlike some more basic games, CodeMonkey uses real programming languages like CoffeeScript and Python – which can be a great first step toward advanced coding skills.
While CodeMonkey uses programming languages, the games and lessons are designed to be used by all skill levels. Even kids with no prior coding experience.
Kids Ruby
Ruby is another real programming language that isn't as commonly covered.
Kids Ruby breaks down the concepts of coding in the context of the Ruby language. Using kid-friendly language and storytelling, kids can work through fun games and activities to unlock new coding skills.
As your child advances, they can graduate to Kids Ruby's more advanced program, Hackety Hack.
Older kids and teens
Teens and older kids will benefit from coding that relates to the real world – anything from building a website to replicating their favorite game. They're also more likely to be interested in self-directed learning and engage with others in the coding community online. Older teenagers might even dabble in advanced languages like Java or Python.
Whether your teenager is dabbling in coding for the first time or looking for additional resources, here are some of our favorites:
Khan Academy
Khan Academy is a free online learning resource. Khan Academy covers a wide range of subjects and topics, from English to Science. But they also offer resources on programming and learning to code.
Khan Academy has the most resources on Javascript. You'll find lessons for beginners all the way to more advanced programming resources.
Khan Academy is most suited to older kids and teens with a vested interest in learning code. While interactive and very helpful, it takes on more of a traditional learning path with less gamification.
Minecraft
Minecraft is a highly popular game among both kids and adults. The game's sandbox style means that players can actually write commands and implement modifications using code, to make the game more fun and unique. They can automate tasks or even design new features.
The great thing about Minecraft is older children may already be playing it! All that's left to do is make the connection between 'gaming' and 'coding.'
Roblox
Roblox is another extremely popular multiplayer game. Using Roblox, kids can create their own games and play them. You can also play games created by other users.
Learning to code with Roblox is a bit more advanced as it does require users to learn a programming language like Lua or Python. However, there are many resources and tools offered by Roblox to help users learn.
It's a great option for older kids who love to learn as they go!
Make the most out of your child's coding experience with Bark
Learning to code is an invaluable skill and has so many benefits for your kids. As they explore the world of coding, they may find their new passion – a major win!
However, like all digital-first activities, you should be aware of potential risks related to excessive screen time and internet access. Especially as they get older and engage with online communities.
Make the most out of your child's coding experience by using tools like Bark. From phone to home, Bark's suite of parental controls helps you manage screen time and filter websites. Schedule screen time for learning activities, like coding, and get detailed reports about the sites or apps your child is using. Get started with a free trial of Bark today.
About Bark
Bark is a comprehensive online safety solution that empowers families to monitor content, manage screen time, and filter websites to help protect their kids online. Our mission is to give parents and guardians the tools they need to raise kids in the digital age.