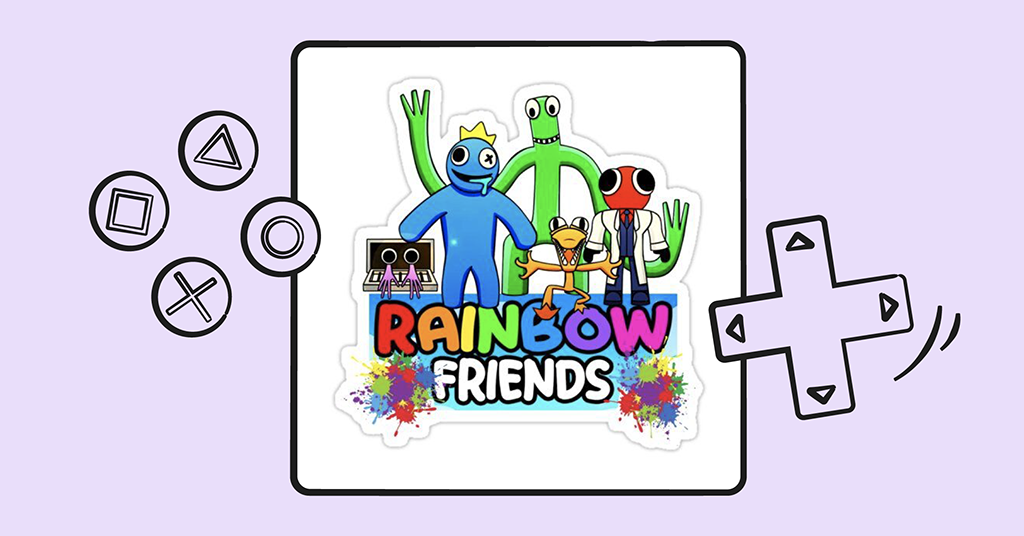 Rainbow Friends: A Video Game Review For Parents
Updated September 20, 2023
---
Overview
By now, we probably all know the massive gaming platform Roblox and the strong pull it has on kids. In case you don't know, Roblox is mostly comprised of user-generated games that anyone can create and share with others. While thousands of games get uploaded every day, there are a few that seem to take the limelight. One of these is Rainbow Friends, which we'll be reviewing in this post. 
With a deceptively sweet name, Rainbow Friends is a horror-themed, hide-and-seek game that takes players through an eerie and frightening storyline. If you've heard of Five Nights at Freddy's, this is essentially the Roblox version. So is Rainbow Friends safe? We've got the answer right here! 
Harmful Content ❗️
The premise of the game is this: a group of kids are taken on a field trip to an amusement park called Odd World. When the bus takes a wrong turn, the players are instead taken to a haunted facility with monsters lurking to attack them. The players are given tasks to complete while avoiding the monsters, which are colorful, unsettling-looking creatures with huge eyes and wide smiles. 
Rainbow Friends was created to be disturbing and unnerving. The thrill of the jump scares and being chased by the monsters is what draws users to the game. However, these elements may not be suitable for all ages, especially sensitive kids. Additionally, parents should know that it's a multiplayer game where players can chat with each other using Roblox's chat feature. Your child could potentially be exposed to inappropriate content through the other players they interact with. 
Language 
The game itself does not have any explicit language, but kids could encounter it from other players in the chat. You can find steps to blocking messages from other players with our Roblox tech guide.  
Sex
Rainbow Friends does not have any sexual content. 
Violence
The jump scares and eerie music certainly makes for a creepy experience while playing the game. However, the game is fairly mild in terms of gore and actual violence. When a player is "found" and taken out by one of the monsters, you simply see the monster quickly snatch the player away. 
Positive Value 💫
Multiplayer games are great and common ways that kids socialize with each other nowadays. And they're also great for a family to play together! Rainbow Friends can be a thrilling game to keep kids on their toes, as well as encourage problem-solving and teamwork skills along the way. However, it's important to consider your family values, as games like this may not be appropriate for all families. 
So, should my kid play it?
We'd say Rainbow Friends is safe for slightly older kids, around ages 12 and up. Due to the known risks of Roblox, we also strongly encourage parents to utilize Roblox's parental control options no matter what game their child is playing on the platform.