The Bark team is excited to announce that we have recently acquired Router Limits, an online parental control and internet management company. Together, we will be able to create the first comprehensive online safety solution for families in the digital age. In the coming months, Bark will debut screen time management and filtering in addition to our award-winning monitoring technology.
Over the past few years, many families have expressed the need for an all-in-one solution when it comes to protecting their children's online worlds. There are multiple screen time control options on the market, but giving parents the ability to monitor, control, and manage all with one service will provide unprecedented convenience and efficiency — and help keep kids even safer online and in real life.
Screen Time and Web Content Filtering to Benefit Families
"Together, Bark and Router Limits will be able to offer an unmatched suite of products and services," said Brian Bason, CEO of Bark. "This partnership paves the way for Bark to emerge as the natural leader in parental intelligence software solutions."
Router Limits helps families manage all of their connected devices — from screen time controls for kids and web content filtering to bandwidth monitoring and mobile protection. This is a perfect complement to Bark, which helps families monitor their children's texts, email, YouTube, and 30+ of the most popular apps and social media platforms for digital dangers.
"We're excited to be able to accelerate the growth of our product to serve not only our existing clients and service providers but Bark's customers, as well," said Skylar Walker, CEO of Router Limits. "By joining together, we're poised to help protect even more families across the U.S. as the premiere parental intelligence service in the digital age."

Stay tuned for upcoming developments and announcements — we'll be sure to update you every step of the way. Follow us on Facebook, Instagram, Twitter, and LinkedIn to be the first to know!
Would you let your 12-year-old download Tinder, swipe around for a bit, and then share their Snapchat information with a couple of random strangers on the platform? Probably not. But you might assume that a similar app just for kids their own age would be OK for them to use. Unfortunately, even apps that are built with kids in mind can have potential dangers, and the Hoop app has several that parents and guardians should consider.
You might not have heard of Hoop, but there's a good chance your child has. With over 3 million downloads, the free app hit #2 on the App Store in February. It's a good idea to have a conversation with your child about whether they've heard of the app — or even already downloaded it. But whether they have an account or not, it's important that parents and guardians know what risks can be found on the platform. In this post, we break down everything you need to know about Hoop.
What is the Hoop App?
Hoop allows kids as young as 12 to form connections with total strangers. While adults can also use the app, Hoop claims that users over 18 won't be shown kids' profiles (and vice versa). By swiping through profiles — which include the person's age, gender, and photos — users can identify who they want to begin a conversation with. They can then request that person's Snapchat handle with the tap of a button to continue the conversation there.
By design, Hoop encourages frequent use. While plenty of social media apps are hard to put down due to their nearly endless scrolls of content, Hoop compels you to log in and engage each day in order to continue chatting. Although on Tinder you can "swipe right" up to 100 times each day, on Hoop, you're required to use in-app "diamonds" to request chats — and you're only allowed to send 10 requests before needing to obtain more.
According to Protect Young Eyes, "Teens earn points for logging in daily, sharing their Snap name, getting Snapchat friends to join Hoop, and taking surveys. And, since you can't connect with people to learn their Snap username without 'paying' with points, there's a steady, addictive tug to keep performing certain in-app activities in order to earn more points." This "pay to play" system makes it easy for kids to feel invested in the platform, but it also makes it hard for them to disconnect without feeling like they're losing out on some part of their social lives.
Is Hoop Safe for Kids?
Here's the good news: Hoop doesn't allow users to sort who they see by location — at least not yet. While some people include that information in their bios, not having an official location feature reduces the risk that a stranger can find out where they are. But there's some bad news, too. Hoop has had a proximity filter to let people match with nearby users in the past, and according to responses they've left on App Store reviews, they plan to reintroduce it. There are data privacy concerns, too, due to the fact that children are encouraged to complete corporate surveys in order to earn more diamonds. These companies can then use your child's responses to serve them targeted ads.
As you might expect from an app with such a prominent Snapchat tie-in, users have reported seeing explicit images. "I've seen a large amount of girls using the Hoop app to sell explicit pictures, many of these girls under the age of 18," one person wrote in a review in the App Store. Even though the Hoop app claims to keep kids and adults separate, there's no age verification required when joining the platform, so kids could simply select an older birth year while signing up (and adults could pretend to be children).
How Bark Can Help With Monitoring the Hoop App
Because the app is newly popular, we're still working on monitoring the Hoop app. But Bark can send you an alert when your child downloads a new app. Plus, we monitor Snapchat direct messages on Android devices and cover plenty of other platforms where your kids spend time online. You can also take advantage of our screen time management feature to set healthy limits around how your child uses their devices.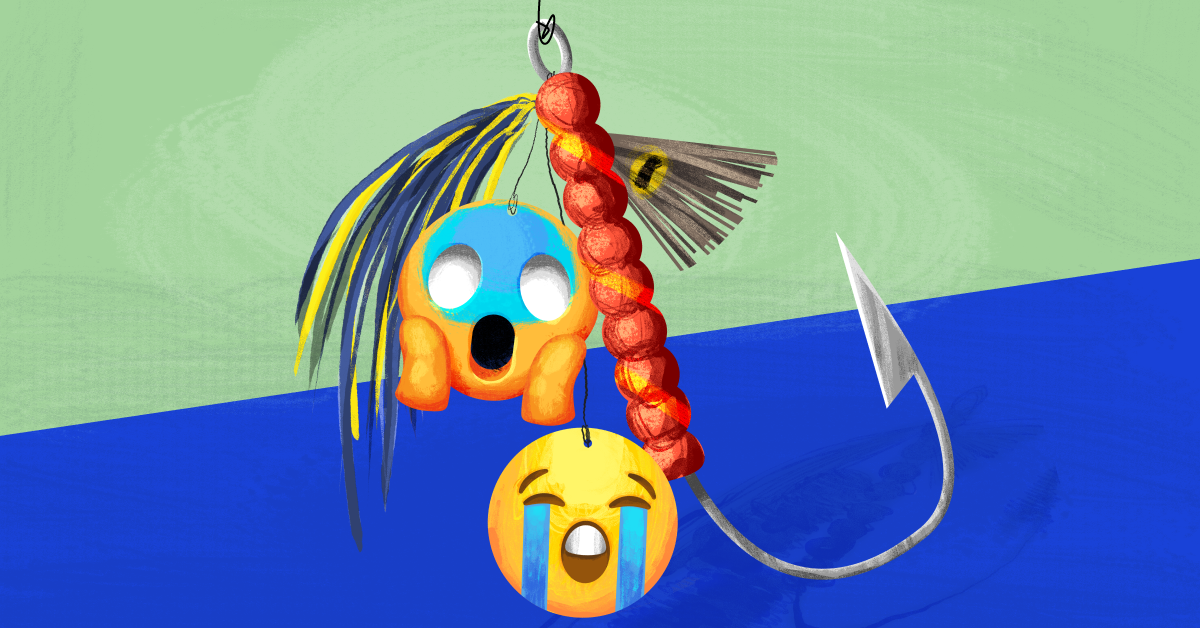 Note: Bark fully recognizes that children's mental health should always be taken seriously whenever signs indicate that they might be struggling. Within those struggles, "sadfishing" is a distinct phenomenon, and this blog post seeks to unpack how that fits into the holistic issue of child mental health. Offering an explanation of sadfishing is not intended to devalue the real and lived anxieties kids are facing, and we always recommend that parents and guardians open conversations around mental health whenever they feel that something might be wrong.
_________
A teen might fish for compliments by posting on social media about how ugly or dumb they think they are. Or maybe they'll fish for romantic relationships by posing online as someone they're not. In a similar way, they might seek out emotional support online by making exaggerated social media posts about their negative state of mind. So, what is "sadfishing"? It's is a trend you might not have heard of before, but it's becoming common across social media platforms. Here are some signs that your child might be sadfishing and how to respond if it seems like they are.
What is Sadfishing?
When a teen is sadfishing, they're posting content online that fabricates or exaggerates their emotional struggles with direct references to their anxiety, depression, or suicidal thoughts with a goal of getting attention — not genuine help. This might look like sharing song lyrics that are overly negative, selfies of themselves crying or engaging in self-harm, or even a status update about how the world would be better off without them.
According to psychologist Jo Hemmings, "Sadfishing posts are more likely to touch you, draw empathy from you or even resonate with you." But there's one key way to distinguish them from a post that's genuinely sad. Truly concerning posts — which might clearly state the author's intent to end their life or share the fact that they're really struggling and need help — aren't written simply to attract curiosity. Sadfishing, on the other hand, can be "purposefully lacking a full explanation, drawing out our need to know more, show support or just acknowledge" what the person is going through.
Tweens and teens aren't the only ones riding this trend. Celebrities like Kendall Jenner also intentionally post emotionally negative content in an attempt to attract an audience. But it's important to remember that no matter how self-serving a post is, there may be an element of truth to the message, which is why it's important to pay close attention to your child's mental health.
How Do You Know if Your Kid is Doing This?
If you're worried your kid might be sadfishing, be sure you're following them on any social media platforms they have (which also means keeping an eye out for any "finstas"). You might even make it a family rule that they must allow you to follow them on every account. Even so, your kids might not tell you about every account they open. Luckily, Bark can help you with this by alerting you whenever your child creates a new social media account.
Another way to tell if your kid is sadfishing is to take a look at the kinds of things they're talking about online. If, for example, they're writing posts about how they can't get out of bed but they're actually spending a lot of time outdoors, they might just be exaggerating the severity of what they're feeling. It's certainly possible for a child to pretend like nothing is wrong when they're not feeling their best, but if they're genuinely in extreme emotional distress, you'll likely notice signs of that — a decreased interest in the activities they usually love, lower energy levels than usual, or a consistently low mood.
How Should You Respond?
If you think your teen has been sadfishing, your first instinct might be to reprimand them for sharing personal emotions with such a public audience. But while there's certainly a time and place to discuss the importance of how their posts contribute to their public image, that probably shouldn't be your first response.
Instead of scolding your child, drive home the fact that you care deeply about their mental health and want to do everything you can to support them. Remind them that they can always come to you if they're having a hard time, but if they're uncomfortable speaking with you about something, they can go to another trusted adult such as their school counselor. This might also be a good time to ask your child whether they'd like to talk with a therapist.
It's important to note that there are external threats as well. Online predators often seek out vulnerable kids, so if a child is repeatedly looking to the internet for emotional support, a predator might decide to reach out to them. Of course, a kid is never responsible for an adult's inappropriate behavior. Children have no agency in this situation, and so they are never at fault for the actions of a predator. But it's worth reminding your kid that broadcasting their emotional vulnerability online can lead to responses they don't expect or want.
Raising digital natives isn't easy, but instilling in your kids the importance of digital citizenship will better prepare them for the future.
Today is Safer Internet Day, and Bark is proud to join people and organizations around the world in promoting the safe and positive use of digital technologies among children, tweens, and teens. In honor of this year's theme, "Together for a better internet," we've compiled some conversation starters around the subject of digital citizenship.
Along with the founders of Safer Internet Day, we believe that every child should be empowered to use technology responsibly, respectfully, critically, and creatively. It's our hope that the following lessons will inspire heartfelt discussions about how your family is using the technology in their life — and how they can use it even more wisely.
People Online Aren't Always Who They Say They Are
One of the first conversations you probably had with your child when they first got online was about the people on the internet who might try to trick them by lying about who they really are. There were people like this back when we were kids on AOL Instant Messenger, and it's still true today on TikTok, Instagram, and countless other apps and platforms. You may have had the talk about online predators with your kids, but there are also new ways that people are fooling kids online. Thanks to advances in technology, fictitious people and personas now exist alongside real teens and tweens.
Some, like CGI influencers, may simply confuse kids and promote unrealistic beauty standards. Others are more harmful, as in the case of deep fakes. These are computer-generated images that can incorporate real-life photos and videos. For example, a deep fake can be made by superimposing a random, real-life person's head over a porn star's naked body. Deep fakes have the ability to ruin reputations and make children victims of sextortion, so it's important to talk to your kids about this emerging technology.
The Things You Say Online Have Power
Sending a text, tweeting a quick reply, or leaving a comment on someone's Instagram post can take just a few seconds, but the ramifications of these messages may last for years. Digital communications leave an (electronic) paper trail that can be copied, screenshotted, and shared far and wide.
What your child puts out into the digital world becomes an extension of who they are and what they stand for, whether they mean for it to or not. And the things they say to other people have the power to hurt those people if they're not careful. Even if your child hasn't been cyberbullied, talk to them about what it looks like and what they can do if they see it happen to someone else.
In 2019, 76% of tweens and 78% of teens that use Bark experienced cyberbullying as a bully, victim, or witness. Even though the teasing and provocation happen online, victims of cyberbullying often experience low self-esteem, loneliness, and feelings of worthlessness, and these feelings can lead to serious issues in real life like depression and suicidal ideation.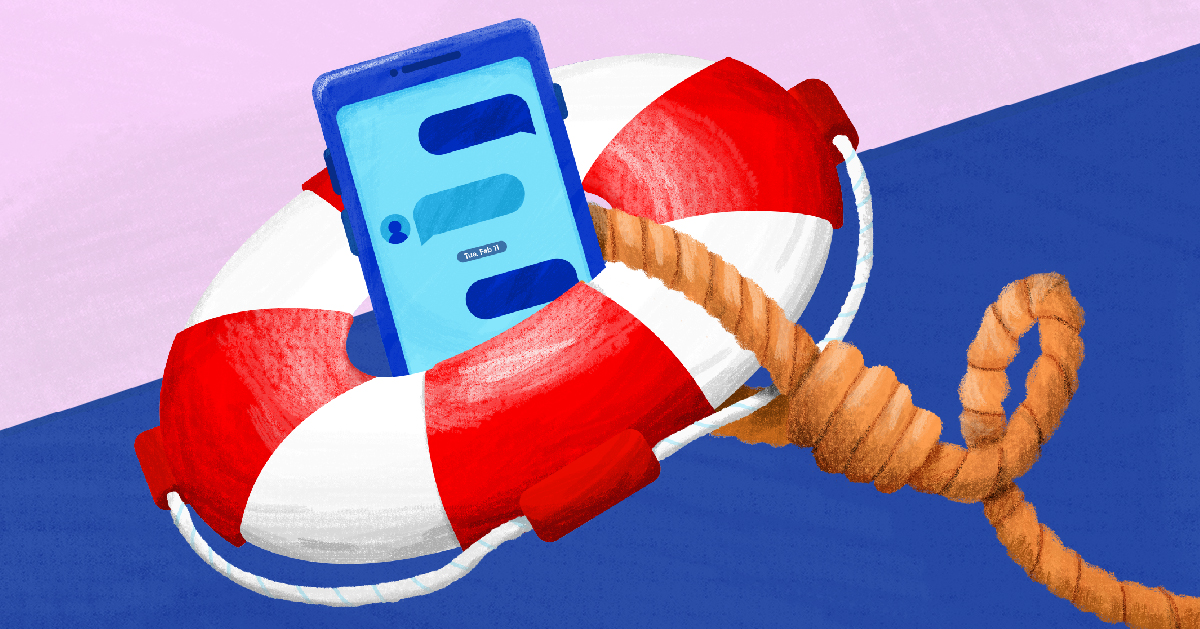 Technology Can Be a Useful Tool
Being a good digital citizen doesn't just mean never saying anything negative online. Technology is such a major part of our lives today that kids should also strive for positive and constructive online interactions and activities. There are, of course, potential dangers when it comes to technology, but your family's discussions shouldn't only focus on negative situations — there are many great things about technology, too.
Technology can help families stay in touch across long distances (grandparent FaceTime sessions, anyone?), assist your kids with their homework, and even make life easier with things like smart speakers and interactive calendars. Devices like smartphones are here to stay, so be sure your child knows how to live and thrive with them — it will serve them well as they grow up and enter adulthood.
It's Never Your Child's Fault If an Adult Makes Them Feel Uncomfortable Online
Despite all of the safety conversations and precautions your family may have, kids can still end up in uncomfortable situations online. The types of adults who target kids can be master manipulators and will often know exactly how to draw children into a conversation. But it's important to remind your child that even if they initiate a conversation with an adult, they're not at fault for where the conversation goes — that's on the predator.
Let your child know they shouldn't be ashamed about anything inappropriate an adult says to them online. It's not their fault — ever. Also, make sure they know they can always come to you if they feel uncomfortable. It's hard enough as it is for kids to build up the courage to tell you what's going on. Show them that you'll be there for them when they need you.
Remember the Human Element Behind Technology
For the first time in human history, kids can communicate instantly, share photos across the globe in milliseconds, choose from thousands of TV shows and movies to watch, and listen to basically any song that's ever been recorded. Fortunately, Generation Z is learning to balance the incredible digital privileges they have been given with the responsibility of using this tech responsibly.
Remind your children that underneath all of this technology, there's still a human element. A text message, while different from an in-person conversation, is still just two people talking. That funny TikTok video is just another way to share laughter with friends. If they remember what this technology is enabling — real-life human connection — they'll be more likely to act with kindness and empathy when they're online.
No matter how old your child is, discussions about digital citizenship can help keep them safe online. You can also help protect them with a digital safety net. Bark's award-winning service monitors texts, email, YouTube, and 30+ apps and social media platforms for signs of sexual predators, adult content, cyberbullying, depression, suicidal thoughts, drug use, threats of violence, and more. for a free, one-week trial.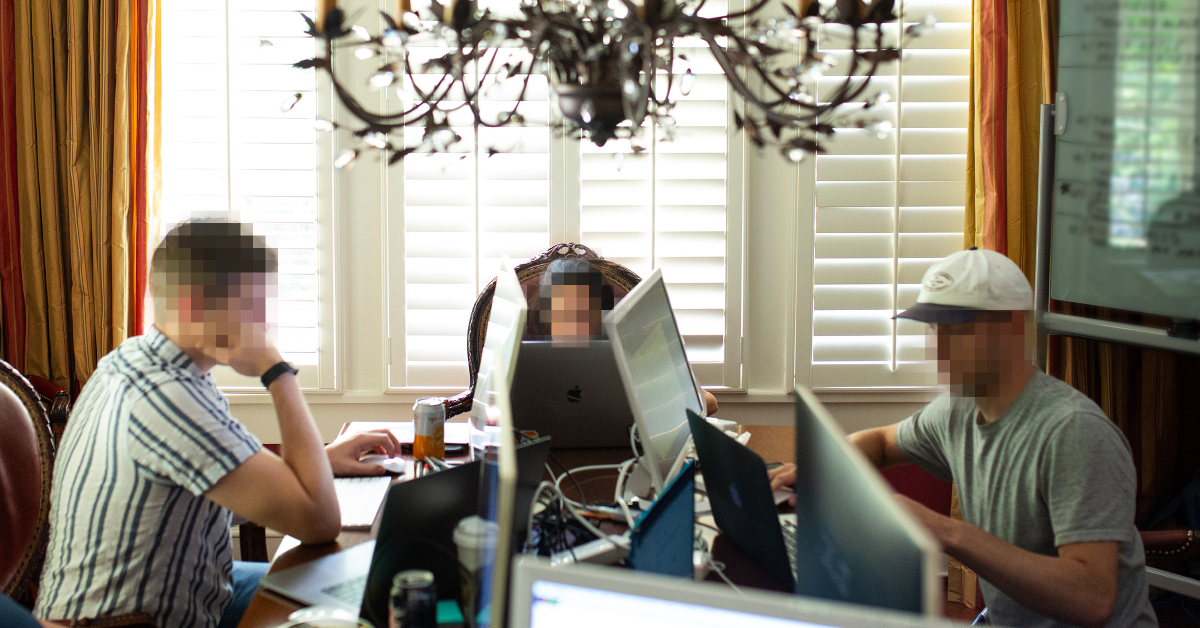 Updated February 20, 2020: Since the publication of this article, Sloane has revealed her identity as Roo Powell.
Since Roo Powell published her article about the prevalence of online predators in the digital age, we've received thousands of heartfelt messages from people all over the world. Some wrote in to ask how they could help. Others sent us moving stories of survivorship. Many more asked if we had additional information they could share with others. As Roo's story continues to resonate with concerned citizens, we wanted to answer some of our most frequently asked questions (FAQs) for people who'd like to know more, including:
What can I do to help fight online predation?

How can I help protect the children in my life?

What should I do if my child has experienced online predation?

Do you have any materials I can share with my school? Can someone from your team come to speak?

Is Bark currently hiring for this project?

What Is Bark's relationship with law enforcement?

Is Roo a member of law enforcement?

Why was Roo pixelated to begin with?

What Happens to the predators you've encountered?

Can I start a project like this in my hometown?
If we haven't answered your question below, you can reach out to Sloane directly at sloane.ryan@bark.us.
What Can I Do to Help Fight Online Predation?
You don't have to be a parent to be concerned about how online predators abuse society's most vulnerable. We've included specific tips below on how to help the children in your life stay safe, but there are some immediate things you can do to combat this threat.
Contact your lawmakers and ask them to fund legislation that holds perpetrators accountable. Spread awareness about online predators by sharing information on social media so your family and friends can learn more. Check out the resource bank we've put together, which consists of informative blog posts and links to useful advice. Finally, you can donate money and/or time to organizations that help fight online predation.
How Can I Help Protect the Children in My Life?
One of the most important things you can do to help keep your child safe from online predators is to talk about what they're doing online — openly, honestly, and frequently. Let them know they can always — no matter what — come to you for help without fear of getting in trouble. We've put together these tips for families looking for guidance on how to start these difficult but important conversations. Understanding how predators operate in the digital age can help your child learn how to identify dangers they might encounter online.
We also recommend monitoring your child's online activities to provide a digital safety net. Bark monitors texts, email, YouTube, and 30+ apps and social media platforms for signs of online predators, sexual content, cyberbullying, depression, threats of violence, and more. You can sign up for a today.
What Should I Do If My Child Has Experienced Online Predation?
First and foremost, make sure your child knows you love and support them. Listen to their account of what happened, validate their feelings, and reinforce that they did absolutely nothing wrong. Even if a child initiates a conversation with a predator, they do not have the agency to consent to such situations and are therefore not at fault. It's also important that you get them additional support from a licensed therapist if they need it.
To involve the authorities, report abuse to your local law enforcement agency. You can also notify the FBI (800-CALL-FBI) and/or the National Center for Missing & Exploited Children at 800-THE-LOST (800-843-5678) or through their CyberTipline.
Do You Have Any Materials I Can Share With My School? Can Someone From Your Team Come to Speak?
We do, and we can. Our Bark for Schools service — which provides content monitoring, web filtering, and a Parent Portal for after-hours alerts — is available for free to every public and private K-12 school in the U.S. As an extension to our commitment to giving back to school communities, we've created educational resources for schools to distribute.
We encourage you to find out if your child's school is using Bark for Schools to help protect students on their school-issued accounts. You can also reach out directly for more information or to request that one of our Bark for Schools team members speaks at your child's school.
If you're an administrator, we invite you to get in touch with us to learn more about how Bark for Schools can help protect your students. We can also provide additional resources to help you host a Parent Tech Night to educate parents and guardians about digital dangers.
Is Bark Currently Hiring for This Project?
We appreciate your interest in helping us with this work, but our Special Projects Team is not looking to expand at this time. If you'd like to help combat online predation, we recommend donating time and/or resources to organizations like NCMEC and RAINN.
To join the broader Bark Team, be sure to check out our LinkedIn page so you can be the first to know when we're accepting applications.
What Is Bark's Relationship With Law Enforcement?
Bark has been working with federal, state, and local law enforcement agencies for years in the course of our regular business, and our work with them on this project is an extension of that.
Is Roo a Member of Law Enforcement?
We aren't able to disclose whether or not Roo is a member of a law enforcement agency.
Why Was Roo Pixelated to Begin With?
We cannot disclose details, but we wanted to keep Roo's identity hidden as much as possible over the course of a then-pending legal case. You can read more about her story here.
What Happens to the Predators You've Encountered?
Bark has been working with federal, state, and local law enforcement, but we're unable to comment on any pending or active cases.
Can I Start A Project Like This in My Hometown?
The Special Projects Team operates in partnership with law enforcement at the federal, state, and local levels. Due to the nature of Bark's work and our unique relationships with these organizations, the ordinary citizen would not be equipped to recreate this project from a legal, technical, or administrative standpoint.
Because of this, we strongly discourage people from attempting undercover activities with potential online predators. Not only could it be considered a form of vigilantism, but it's also highly dangerous. Furthermore, without direct guidance from law enforcement, there's a chance that any evidence obtained on your own may not be admissible in a court of law. There's a highly specific set of circumstances that allow us to do what we do, so we ask that you not attempt to replicate our work.
Help Protect Kids Online
It can be overwhelming to acknowledge that the threat of child predation exists online — let alone in your own community. But it's important to remember that even the smallest actions can make a big difference. By learning all you can about how predators operate and what you can do to combat them, you can help strengthen your community against the worst of the digital world.