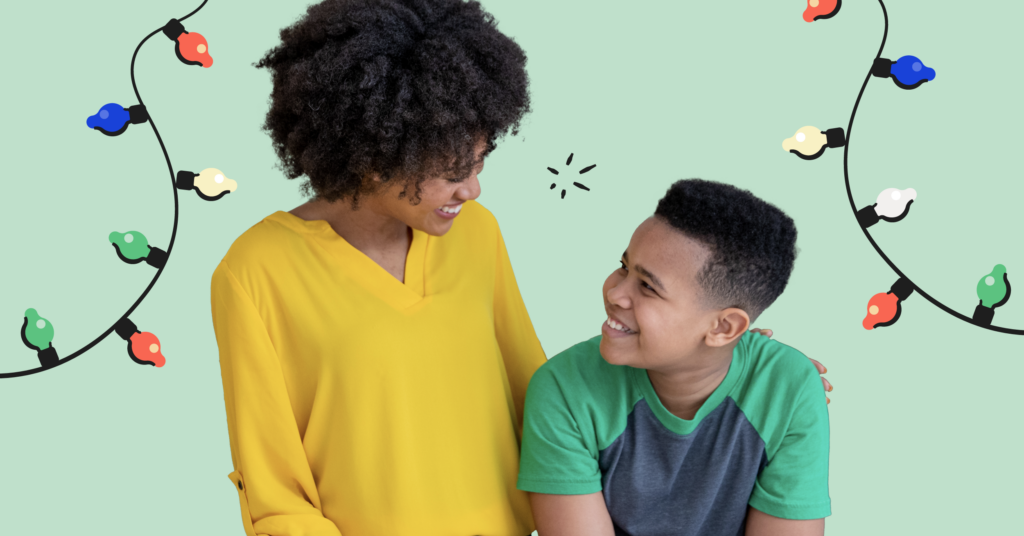 **This blog post was updated on November 25, 2022.**
With the holiday season in full swing, now's a great time to start thinking about some family bonding activities to help connect with your kids and reinforce the importance of family. We know it can be hard to get teens, tweens, and adults all sitting around a table engaged in the same fun task, which is why we've come up with a list of kid (and parent!) approved activities.
Start a Handwritten Recipe Book
There are a million ways to find other people's recipes for chicken noodle soup, kugel, or beans and rice online, but nothing will ever taste quite the same as your mom's vintage dishes. Your kids may not understand this now, but they will when they're older and calling to ask you for recipes. To get started, buy a sturdy, blank notebook (have your kids decorate it if they want!), and begin collecting your family's favorite recipes. Have your kids contribute their favorites and add yours as well. Pro tip: Make sure everything's handwritten. Trust us, it'll mean more in 20 years.
Go Through the Old Family Photo Album
You probably have a lot of photos of your kids on display around your house, but there's something extra special about digging through dusty boxes of photos and finding old, non-digital snapshots of your family from years ago. If your kids are in middle school, wow them with some of your greatest hits from junior high in the '80s / '90s — back when everyone wore stirrup pants and Umbros. Compare trends today with the ones you lived through. Try not to laugh too hard.
Tell Old Holiday Stories
As your family celebrates more and more holidays together, you'll start to accumulate some memorable stories, and recounting them every year will help you cement your bond as you continue to add to them. From the good (the year it surprise-snowed and everyone ran outside in their pajamas) to the bad (the year the cat climbed the Christmas tree and it fell down in the middle of the night), these memories are part of the fabric of your family's life, and will remind you of the importance of family and just how much you've all experienced together.
Make a Family Movie
This can be fun for the whole family, no matter what someone's strengths are. Different folks can create backdrops and sets, someone else can write up the script, and the most outgoing family members can be the actors! Pro tip: Even if you don't ever post to TikTok, you can shoot and edit in the app and take advantage of the super easy editing features — including music, transitions, special effects, intros, and titles.
Take Personality Tests and Discuss
Whether it's which Hogwarts house everyone's in or something more serious like a Myers-Brigg test, personality tests can be a great way to strike up some super interesting conversations with your family. Ever wonder why the quiet people in your house always wake up early? Or why the bookworms like to ask so many questions? Quizzes can uncover trends and habits that enable you to better understand each other — as well as cut each other some slack.
Plan a Family Dream Vacation
Without worrying a single second about any financial or travel logistics, sit down together and brainstorm everyone's absolute bucket list trip. Is mom itching to visit Paris again because she studied abroad there years ago? Do the kids want to live out their intergalactic fantasies and jet over to the new Star Wars: Galaxy's Edge at Disney World? Talking about the places you long to visit can reveal important parts of your identity and help you understand what your family dreams about.
Start a New Tradition to Show the Importance of Family
We talked earlier about the importance of remembering the events of holidays of yesteryear, but it's also important to continue adding to these traditions. This will naturally happen, too, as your kids grow up and priorities change. For example, your teen may want to take the lead and make the holiday pie this year, or as a family, you may sign up for everyone's first 5K. Whether the tradition sticks depends on how much everyone enjoys it, of course, but it's always good to keep learning, growing, and doing as a family.
It's easy to function as a home unit on autopilot much of the time, but during the holidays, try and stress the importance of family and positive relationships to your kids. We hope these suggestions help spark some ideas, but there are tons of ways to get together and communicate. Your kids may not understand at first, but connecting in a way that builds familiarity and love is important to growing together as a family.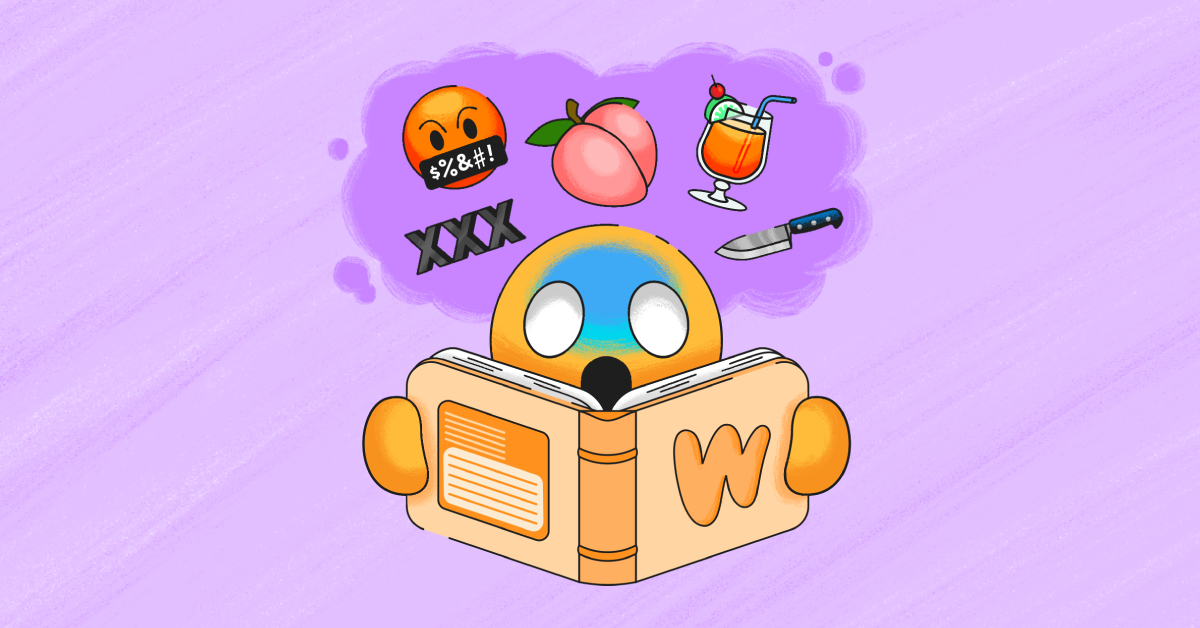 Content warning: This post discusses potentially triggering issues including sexual content, sexual assault, and incest.
Does your child love getting lost in their favorite universes — immersive worlds like the ones found in Harry Potter, Star Wars, Marvel, and more? Do they love writing about these worlds or making up awesome new adventures straight from their imagination? If the answer to these questions is yes, you may want to learn more about what Wattpad is all about.
"What is Wattpad?" you may ask. Well, this app and website is an incredibly popular social storytelling platform where users can post their original stories and read the works of others. More than 90 million people use Wattpad every month, and if you're wondering how that can be possible if you've never even heard of it, don't worry — we'll explain it all.
What is Wattpad?
Founded in 2006, Wattpad is a website (and an app) that aims to build a community for people who love to read and write. 90% of its users are between the ages of 13 and 35, and the majority are women.
For readers, there are stories available for any taste and in any genre. Many users browse by categories like Fan Fiction, Mystery, Paranormal, Werewolf, and LGBTQ+. For writers, Wattpad adds an air of legitimacy to the writing process, enabling the uploading of creative content in a stylish format so that others can find it easily. You can even design book covers to make it feel more realistic. Stories are voted on for quality, and users can see stats like the number of views, favorites, and more. Some of the most popular works have hundreds of thousands of views, which is no easy feat for a free self-publishing website.
Wattpad And The Promise of Publication
The success of stories published on Wattpad goes far beyond just the usual social media accumulation of likes and views. 17-year-old Beth Reekles earned a real-life book deal from her runaway Wattpad success of The Kissing Booth. Netflix purchased the rights shortly thereafter and made it into a popular film. Multiple deals — including recent success After — have followed for other writers on Wattpad since then, and they show no sign of slowing down. On the way to this level of success, there's also the chance for writers to be paid for their stories on the platform.
It's easy to see how this could entice kids to spark their creativity and compose stories that could lead to fame and fortune. And while we can all probably agree that it's generally a good thing when kids want to take pen to paper (or, in this case, thumb to screen), Wattpad has a dark side that parents need to know about.
Inappropriate Content is Rampant on Wattpad
One of the most popular genres on Wattpad is romance, which often leads to a rating of "Mature" on the site. Stories tagged as Mature can include:
Explicit sex scenes

Self-harm themes or scenes (including suicide and eating disorders)

Graphic depictions of violence; including but not limited to: sexual, verbal, emotional, and physical abuse
Unfortunately, despite this rating system, no content on Wattpad is age-gated, which means kids of all ages can read these stories. When you take a deeper look into Wattpad's content guidelines for its users, it seemingly bans lots of other potentially harmful subjects. To sidestep the Wattpad restrictions, many writers and commenters will get around the rules by purposely misspelling or asterisking explicit words.
However, like any site with user-generated content, identifying and removing stories that violate the terms can take time, which means that they'll be up and able to be read for a while. Other potential subjects that kids may encounter include depictions of incest, toxic relationships, predation, and torture.
Dangers Kids May Face on Wattpad
Some writers may use Wattpad to express dark and dysfunctional parts of their lives as a way to heal, but kids that stumble across these types of stories on Wattpad may not be emotionally prepared to handle the subject matter. Kids struggling with disordered eating, for example, may be triggered by graphic descriptions of anorexia — it may even encourage them to engage in such behavior.
Another danger is the glorification of predatory or incestuous relationships, including student/teacher, daddy/daughter, or daddy/son situations. These stories can make kids think these types of relationships are OK, when in actuality they're illegal and highly dangerous.
Also, it's important to remember that Wattpad is a social platform, so there's always a chance that strangers could open lines of communication with kids — both in DMs and in story comments. Because Wattpad is about showcasing writing skills, predators often use flattery and compliments as a way into kids' lives, making them feel special while putting them at ease.
According to Wattpad's terms of service, users must be 13 or older to get an account. This doesn't mean that it's appropriate for all kids, though. Talk with your child about their desire to use Wattpad as well as your concerns and the dangers involved. Ask them if they know what Wattpad is known for. At the end of the day, encouraging your kids to write can be a great thing — as long as they know they can always come to you if they find something that makes them feel uncomfortable online. Additionally, you can take advantage of Bark, an app to help keep your child safe online with our content monitoring feature.
**This blog post was updated on November 18, 2022.**
What Are Nudes and Could Your Child Be Sharing Them?
If you're new to the parenting in a tech world community, you may find yourself wondering "What are nudes?" Whether you've discovered that your child is sending nudes or you just want to be prepared in case it happens, you can probably guess that it's a complicated situation to deal with. When we were growing up, creating and sharing naked photos wasn't really a thing (unless someone had a Polaroid, and even then, they couldn't be shared instantly).
But things have changed. According to a report published in JAMA Pediatrics, 1 in 4 kids will admit to sexting. 24/7 access to devices — along with surging hormones and intense peer pressure — have all contributed to the rise of sexting with today's generation of teens and tweens. Chances are, your kids will at least have a friend that is sending or receiving them, even if they don't. They may even receive unsolicited nude photos, which is a form of sexual harassment that can provoke a range of negative psychological effects, including stress, anxiety, shame, and — since online activities often spill into the real world — even fear for their physical safety.
We know all families are different and possess unique values when it comes to sexual content. This blog post aims to help you have productive conversations with your child while also providing some insight into the world kids live in today.
Understand the Pressures Kids Face Associated with Sending Nudes
It was only a matter of time before sexting and sending nudes would become a common (but still risky) activity for kids. Nearly a decade ago, an article revealed that "sexting is the new first base," identifying a social trend that is still common in the halls of middle and high schools across the country. Sending, receiving, and asking for nudes has become the first step in many romantic and sexual advances.
Think about this for a second — regardless of whether a kid ever wants to send or receive nudes, they're going to be judged or compared for their decision according to the social attitudes of their fellow students. This is incredibly stressful (and unfair). To help put things into perspective, talk to your child about times you felt pressured when you were in high school.
Conversation Starter:

"We may not have had smartphones and social media when we were in school, but people were always pressuring us to do more than we were comfortable with. I just wanted you to know that I understand how that feels in case there's ever anything you want to talk about."
Ask Them If They Think All Messages Are Truly Private
Your child may think that the person they're sending photos to would never do anything malicious with them — and maybe they wouldn't. But what's completely unpredictable is who else might also be able to access their phone and what it contains.
A parent could be spot-checking it at the end of the night. A friend could grab their phone for a prank and stumble across them. If they lost their phone, it could end up in the hands of a total stranger. In some cases, kids even create "revenge porn," intentionally and maliciously sharing explicit content with their entire social circles (and beyond) when relationships take a turn for the worst.
Because this content is digital, it can be sent to almost anyone on the planet with just a few taps on the screen. There's also the possibility that screenshots could be taken and shared to other devices, further creating a situation where control of your content is completely lost.
Conversation Starter:

"Do you know anyone whose pictures were shared without their permission? How did that happen? Are you worried that it could happen to you?"
Have "The Talk" — And Keep Having It
For our generation, "The Talk" referred to the birds-and-the-bees conversation we had with our parents, and it was meant to explain the basics of human sexuality — or at the very least, where babies come from. It tended to be a one-and-done discussion. Today, because of just how complex technology has made the process of growing up, we recommend having ongoing "Talks" with your kids — especially when it comes to sexual content. It's not exactly easy, but it's super important.
When they're of the appropriate age, talk to your kids about sexting and the consequences of sending nudes: how to recognize it and what to do if they encounter it. Make sure they know they can always come to you and talk about what's happening in their life. Discuss your family's stance on the subject of sexting and what you expect of them. Stress that you know the pressures they're facing.
Conversation Starter:

"As you get older, you're going to have new experiences with sexual content, and I just wanted to remind you of our family values on that subject. But let's also check in every once in a while to make sure we're on the same page."
Discuss the Legal Consequences of Sending Nudes
Naked pictures of minors are illegal and can be considered child pornography — even if it's two children willingly exchanging them. Sexting laws vary from state to state, and they can be hard to understand, so it's important to do some research and know where your state stands on the issue. Some jurisdictions have "Romeo and Juliet" provisions, which lessen the severity of the offense when the parties involved are similar in age.
Conversion Starter:

"What do you think might happen if you send nudes? Do you think it's something that would get you in trouble with the police?"
Monitor for Possible Issues
Odds are, unless you've discovered firsthand that your kid has encountered sexual content online, they're probably not going to tell you about it — whether from embarrassment, shame, fear, confusion, or just a desire to keep it secret. Bark's award-winning service enables you to monitor for sexual content in your child's texts, email, YouTube account, and 30+ of the most popular social media platforms and apps. And when you get a Bark alert, it's more than just a notification. It also comes with recommended actions you can take to learn more about the issue and support your child in the most effective way.
The possibility of your child sending nudes can be a stressful reality to face, but we hope this blog post has helped you understand why they might be engaging in this behavior. Also, by discussing with them the potential dangers and consequences of sexting, it may help them understand that you have only their best interests at heart.
What comes to mind when you think of Pinterest? We bet it's boards chock full of images of cozy, cold-weather activities, fun and tasty new recipes to try, and snazzy work outfit inspiration. What you probably don't think of? Pinterest porn. Articles about self-harm or eating disorders. Strangers finding your kid's Pinterest board years from now.
And this makes sense — the platform has a family-friendly reputation and seems like one of the most harmless social media sites out there. But underneath its crafty and sparkly facade, Pinterest has a dark side. When it comes to inappropriate content, kids are at risk of seeing some pretty gnarly things while they're innocently pinning memes and pictures of the hottest new sneakers. In this post, we explain the top 5 things you need to know about this popular social media platform.
1. Pinterest Isn't Private
If your child creates a Pinterest account using their real name or links it to their Gmail or Facebook accounts, people online might be able to find it. This means that anyone — including future employers or potential colleges — could easily see the types of images your child has been pinning over the years. Fortunately, you can adjust the settings so that your child's Pinterest profile won't show up in Google search results. But make sure you talk to them about what they're posting and how that can reflect on them in the future.
2. Pinterest Porn Can Be a Problem
Pinterest prides itself as "not being a place for pornography," and the company is pretty aggressive in removing what it considers to be gratuitous sexual content. However, those regulations don't stop porn and inappropriate sexual imagery from making its way onto the site, able to be seen and pinned by anyone. Apart from the extremely inappropriate content, there's also tamer PG-13 pins that link out to explicit content on external websites, which could in turn lead your child down a dangerous rabbit hole.
3. Images That Glamorize Self-Harm Are Common
While Pinterest expressly blocks the glorification of self-harm or suicide, pins of these activities still exist. In many cases, the reason some users initially pinned them (as a prevention strategy, for example) get co-opted by others for darker purposes. These posts can greatly disturb children, especially if they don't quite understand what's happening.
4. It Can Be Hard to Avoid Negative Content
While they can choose to search for specific types of images (think "Golden Retriever puppies" or "Starbucks drinks"), your child could be exposed to a wide range of pins they never intended to see. The Pinterest algorithm, like many social media algorithms, aims to keep users on the site, serving up content similar to what they've viewed in the past. This means if your child accidentally views something disturbing, Pinterest may continue showing the same kind of content.
5. Some Images Glorify Eating Disorders
So-called "thinspo" (thin inspiration) posts are banned by Pinterest's terms of service because they're often actually accounts promoting disordered eating. But some content tows the line and can make it onto the site from time to time. These posts present an unrealistic view of the human body, and many users who struggle with self-esteem, body image, or eating disorders may be triggered when exposed to this type of content.
If you're concerned about the dangers your child may encounter on Pinterest, we've got some good news. Bark can monitor your child's account, including what they pin (even if it's a photo) and the accompanying descriptions. You'll get an alert if they encounter Pinterest porn or other issues like suicidal ideation, self-harm, and more, along with recommended actions you can take to talk to them and provide support.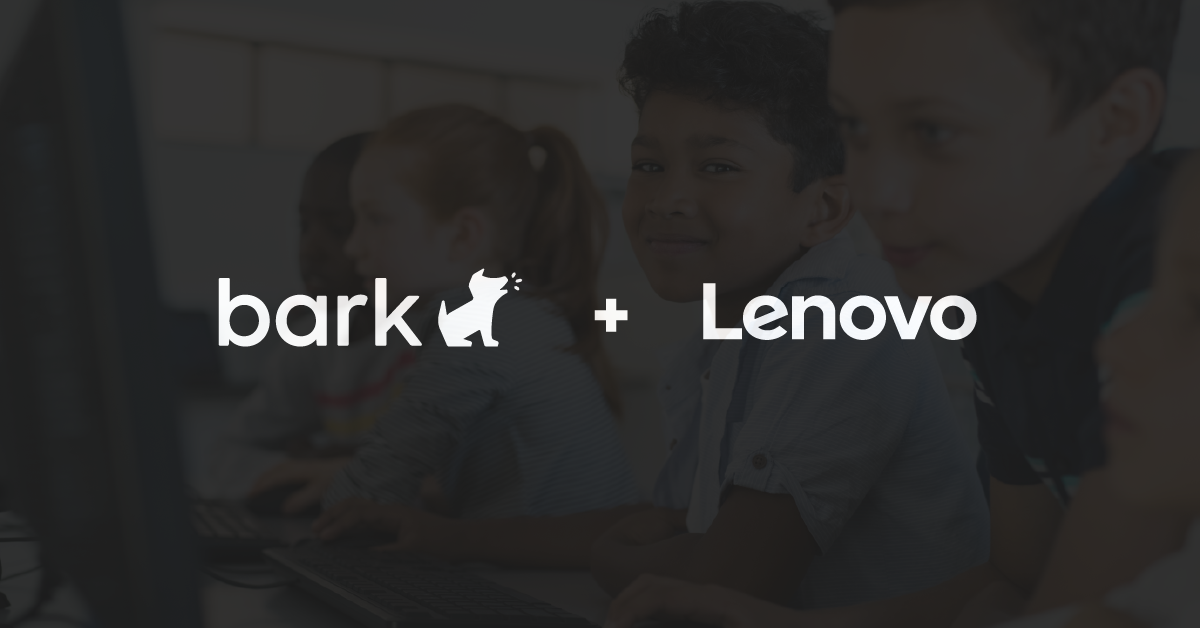 Navigating the challenges of student safety in the fall of 2020 can be a complicated matter for schools across the U.S. Fortunately, Lenovo is here to help with an informative webinar series entitled "6 Smarter Strategies for Distance Learning." For the first episode (available to stream in its entirety for free below), schools will learn about tools that can help protect students online as they learn remotely. Our very own Bark for Schools is a featured partner, as well as DNS Filter and FifthGear Technology Concepts. Tune in to get useful tips and learn about these groundbreaking tools that can help keep your students safe online and in real life. You can also read more about Bark for Schools here.