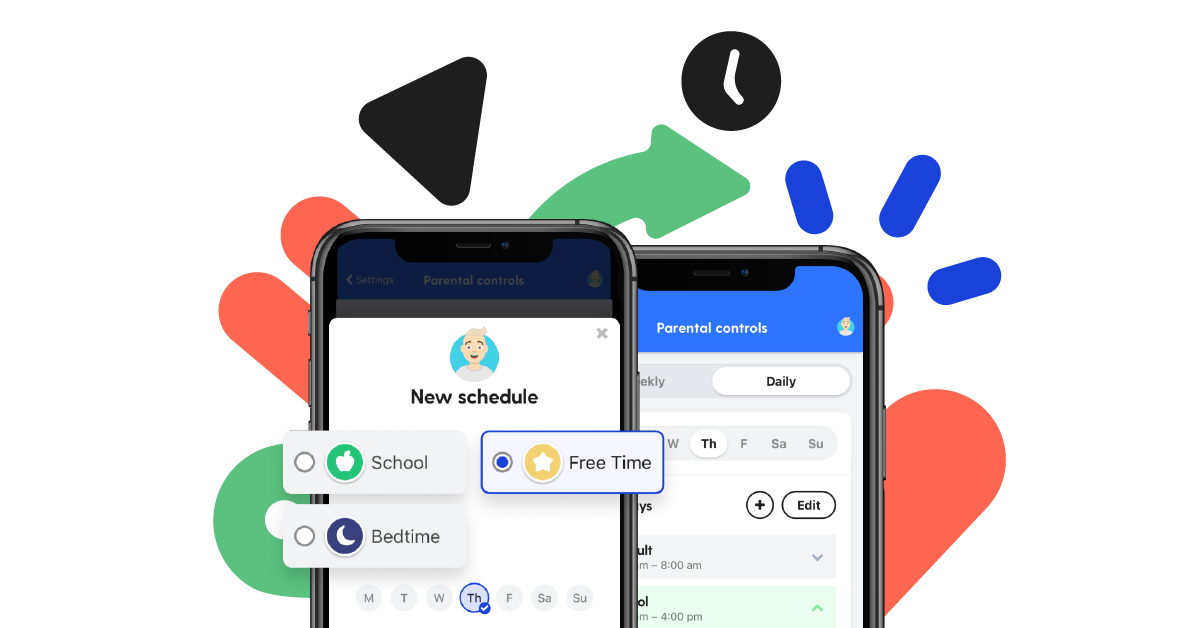 At Bark, we're constantly working to make our product better and more useful for families. After listening to some recent feedback from customers, we're thrilled to announce the rollout of our new custom scheduling features to help limit screen time! These tools will give you greater (and more precise!) control over your children's screen time. Now, you can make sure your kids have summer fun while also setting healthy boundaries around tech use.
How To Limit Screen Time For Kids: Introducing Daily Schedules
In the past, our scheduling enabled you to set different rules for weekdays and weekends. But not every school day looks the same! Baseball practice, band rehearsal, even block scheduling at your child's school meant that more fine-tuning was needed. Now, you can completely customize daily schedules for all of your kids — right down to the minute to help limit screen time.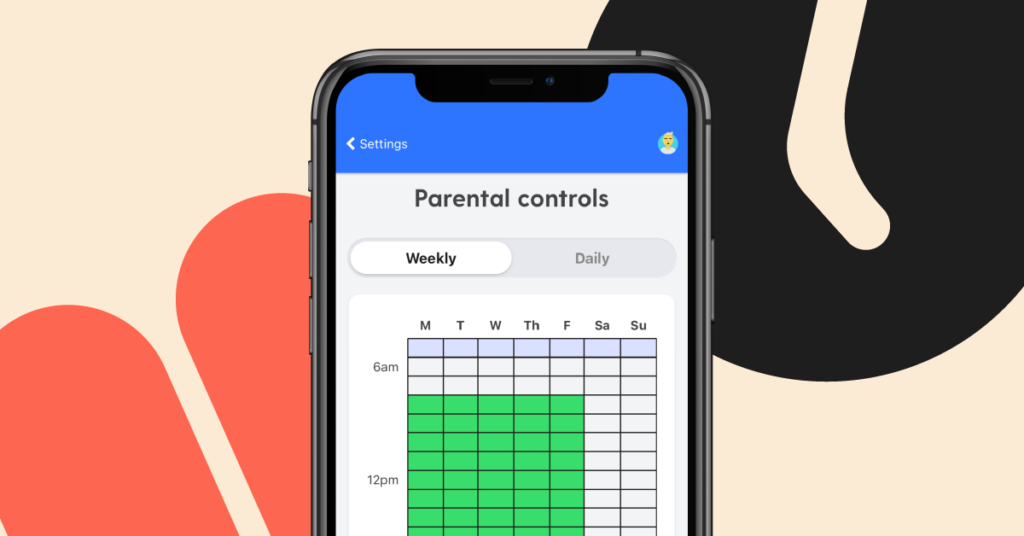 Limit Screen Time Rules Quickly and Easily 
Life with a teen or tween can be a little unpredictable, so it only makes sense that a tool to limit screen time should be flexible enough to handle last-minute surprises like forgotten homework assignments. Now, with just the tap of a button, you can switch your child's screen time rules to whatever makes the most sense for that moment in time — like an extra half hour of Spotify by the pool! You can choose from default rules, school rules, free time rules, and bedtime rules for each day of the week. Every day can look similar or completely different — it's up to you!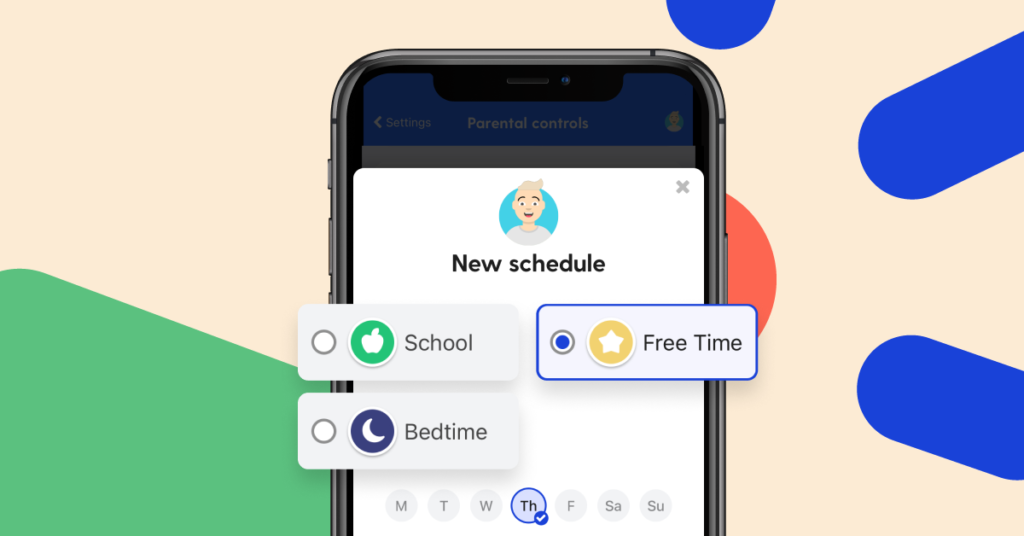 Say Hello to On-the-Go Web Filtering for Chromebooks
Previously, on-the-go web filtering was only available for Android and iOS devices. But many kids take their Chromebooks everywhere — which is why we now enable on-the-go web filtering for Chromebooks. No matter where your kid sets up their laptop to watch videos, chat, or just surf the web, they'll be safer.
How To Limit Screen Time For Kids: Screen Time Ideas for Summer Fun
Screen time during the summer doesn't have to mean endless scrolling on Instagram and YouTube. With Bark's new screen time features, you can make sure your kids are still getting summer fun while exercising their brains when they're online. Our Camp Bark blog post has some excellent ideas to keep kids occupied in productive ways this summer. We've also got tons of ideas for apps that kids will actually love — including ones that you can try out for a throwback '90s day: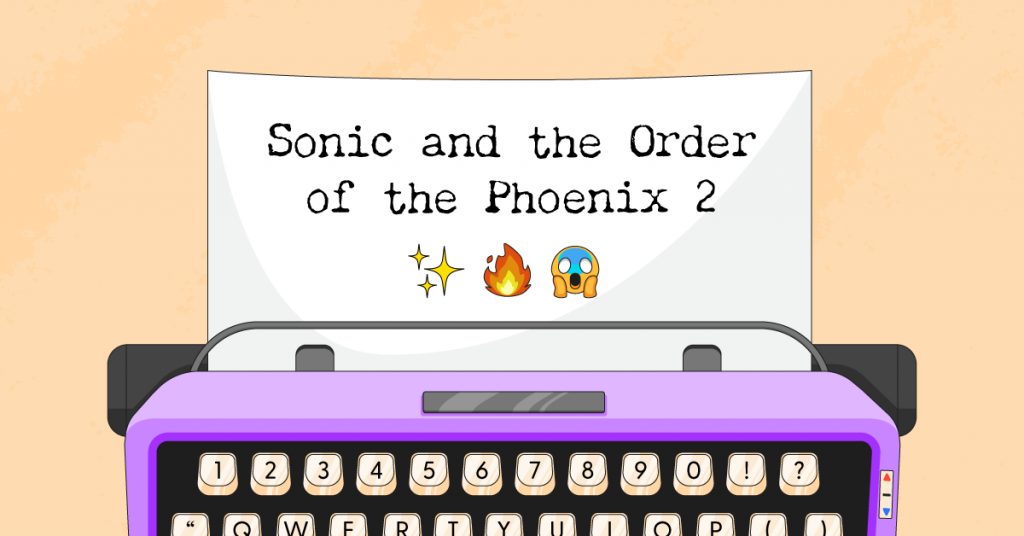 Have you ever wished that there were more episodes of The Office? Or that more novels were set in the world of Harry Potter? If so, you have something in common with people who write fan fiction! Namely, a desire to spend more time with your favorite characters in a setting you love. Fan fiction (also known as fanfic) writers create new worlds and stories based on well-known characters from pop culture. If you're intrigued, keep reading. We break down everything parents need to know about this literary pastime, including what is fan fiction, popular sites where it's posted, and potential dangers to watch out for.
What is Fan Fiction?
Any time a devoted fan puts pen to paper (or fingers to keyboard) and uses existing pop-culture characters to create a brand new story, they're crafting fan fiction. This popular genre has been around since the '60s, when excited Star Trek fans, hungry for new content, began writing and sharing stories about fan favorites Captain Kirk and Mr. Spock.
There's incredible freedom in fan fiction. It can be about anything at all — not just movies or tv shows — including real-life people! Oddly enough, tons of stories revolve around pop singer Harry Styles.
Fanfic can be as short as just a few sentences or as long as an entire novel or series. When it comes to inspiring subject matter, there are definitely some favorites. The most popular fandoms that people write about on FanFiction.net, one of the most popular online fanfic forums, are the following, along with the number of fan fiction stories for each fandom:
Movies:
Star Wars

(56.6K)

Avengers

(50.3K)

Pirates of the Caribbean

(20.5K)
TV shows
Supernatural

(126K)

Glee

(108K)

Doctor Who

(76.2K)
Books:
Harry Potter

(834K)

Twilight

(221K)

Percy Jackson and the Olympians

(79.2K)
Why Write Stories Like These?
In the past, there weren't streaming sites where you could watch any rerun of The X-Files whenever you wanted. And there wasn't always a sequel or a franchise reboot coming down the pipeline like there is today. If fans wanted new content, they had to make it themselves — which is why fanfic exists!
Today, people write fanfic for a variety of reasons, but one thing they all share is a desire to spend more time with their favorite characters or in their favorite fictional world. Want to pretend you're an X-wing pilot with the Rebellion? You can with fan fiction! Ever wondered what would happen if Captain America was actually a bad guy? Go to town!
Fan Fiction Finds the Internet
Thanks to the internet, fanfic has found a home on several popular websites where people can share their stories, get feedback, or simply just read for pleasure. Of course, writers can draft their fanfic privately in a Google Doc, Word document, or even in an email. They may also choose to never share their work at all!
But if they want to publish their stories, though, they'll often head to devoted sites like FanFiction.net and Archive Of Our Own (also known as AO3). These types of sites are repositories for hundreds of thousands of stories and millions of users. Fan fiction is also very popular on Wattpad and Tumblr, though it's not the primary focus of either platform.
Benefits of Writing Fanfic
For young people, composing fanfic can be a great way to practice their writing skills. Using existing characters frees a writer up to focus on other aspects of the story, like plot and dialogue. This way, their creativity can really run wild! When a kid is excited about writing, they're more likely to keep doing it — and this will benefit them in other areas of their life where writing is important (looking at you, 3rd period English class).
Also, when writers share their fan fiction stories online, they can learn firsthand about the feedback and editing process. This can help them to think more critically about their work and how to continuously improve it.
Categories of Writing
While the sky's the limit when it comes to what a fanfic writer can conjure up with their imagination, there are some common formats that many writers follow. Here are a just few of the more common types:
Alternative universe

— In these stories, the writer imagines a different scenario than reality. Example: What if Hogwarts was actually a school in southern California?

Fluff/WaFF

— These are happy-go-lucky tales with no drama or sadness; WaFF stands for "warm and fuzzy."

Hurt/comfort

— When a writer imagines two characters sharing a traumatic experience in order to showcase their feelings and how they comfort each other, they're creating hurt/comfort narratives.

Self-Insert

—This is a classic example of a writer dropping themselves into a fictional world. All of a sudden, they're the newest member of the Avengers.

Shipping

—

Shipping

is short for "relationship," and it means wishing that two people were in a relationship. For fanfic, this means a writer creates and details a love story for two characters who are not together in the actual story (also known as canon).
Watch Out for Inappropriate Content — And There's a Lot of It
Fanfic isn't all superheroes and fantastical adventures. A lot of it is devoted to sexual content — and it can be extremely graphic. Think XXX-level content. In fact, the book (and later movie) 50 Shades of Grey originally started out as Twilight fan fiction on FanFiction.net back in 2009. When sexual content involves two men, it's referred to as "slash" because of the symbol in "m/m." When it revolves around two women, it's called "femslash."
Kids may encounter graphic sexual fanfic stories on a number of different platforms, and they may not be emotionally prepared to handle the content. In addition, these types of stories may glorify predatory or incestual relationships. This can make kids think these types of relationships are okay, when in reality they're illegal and dangerous. If your kid has gotten into fanfic, we recommend talking about the types of content they may see. Use your family's values as a guidepost to explain any issues that you want to address.
The Dangers of Community Fan Fiction Platforms
Like with any platform on the internet where people communicate, there's always a chance that strangers could strike up conversations with kids on fanfic sites like FanFiction.net and AO3. Predators may use flattery and compliments about writing skills as a way into kids' lives, making them feel special while putting them at ease.
For many fan fiction platforms, users must be 13 or older to get an account. This doesn't mean that they're appropriate for all children just because they meet the age requirements. Also, keep in mind that there's no age-verification process for these sites — setting an older birthday is as easy as selecting "1957" as your birth year and clicking "enter." Talk with your child about their desire to share and read fanfic as well as your concerns and the dangers involved.
At the end of the day, encouraging your child to write can be a great thing. What is fan fiction, after all, but creative writing with awesome characters that kids already know and love? To help keep them safe while they're typing away at their latest story, make sure they know they can always come to you if something or someone makes them feel uncomfortable online. In the meantime, encourage their creativity and growing skills as a writer — even if it's something as off-the-wall as Spiderman donning a hat and trenchcoat and joining forces with Sherlock Holmes!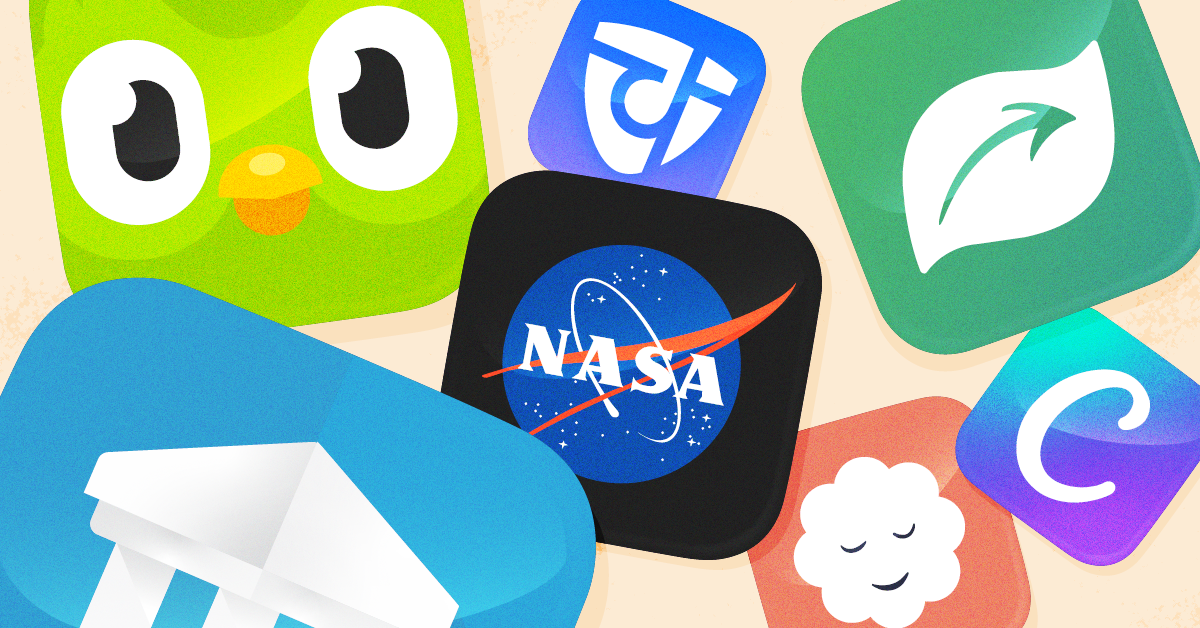 It's finally summertime! And even though kids have traded workbooks for water balloons and homework for hotdogs, they still can keep their minds as active as their outdoor activities over the next few months. Thanks to technology, there are more ways than ever to experience new things, places, and ideas right from a smartphone. We've researched 15 of the most engaging and fun-to-use learning apps for kids, covering subjects from science and math to language and fine arts.
Learning Apps Your Kids Will Love
STEM
Seek: For nature lovers, hikers, and kids with green thumbs, Seek will help them identify plants, animals, and more while they're out exploring nature. The app makes it fun by awarding badges and providing detailed information about your kid's latest outdoor discoveries.
Price: Free in the App Store / Google Play Store
NASA app: If your kid dreams of becoming an astronaut or engineer, this is a must-have. The NASA app provides out-of-this-world photos, up-to-date news, live streams of the International Space Station, and the constantly updating outer-space content they crave.
Price: Free in the App Store / Google Play Store
Socratic by Google: Perfect for older children, this learning app — powered by Google's powerful AI — helps students figure out problems. Ask Socratic a question and the app will find the best online resources for kids needing help with math, history, and more.
Price: Free in the App Store / Google Play Store
Study Aids
Quizlet: This incredible flashcard app has helped more than 50 million kids over the years study smarter, not harder, for tests and quizzes. Your child can make their own custom study aids or save time by choosing from existing flashcards made by other students.
Price: Free in the App Store / Google Play Store
DMV Practice Test: Whether your child is ready to start studying for their learner's permit or just can't wait to get a headstart on studying, this app can help. Here, they'll find questions, study guides, and practice tests for this very important milestone.
Price: Free with premium content in the App Store / Google Play Store
Khan Academy: This non-profit provides its learning app to help kids improve no matter what they're studying. It will keep kids interested and informed with thousands of interactive quizzes, exercises, videos, and articles.
Price: Free in the App Store / Google Play Store
Language & Arts
Duolingo: Kids have a knack for picking up languages, and this free app encourages them to improve their skills by gamifying the learning process. Duolingo also makes memorizing new vocab and figuring out pronunciation a breeze. Before you know it, they'll be saying "uno mas!" after dessert at the dinner table!
Price: Free with premium content in the App Store / Google Play Store
Word of the Day: A richer vocabulary is just a few taps away with this free daily word app. Ideal for learning those extra-hard, fifty-cent SAT words, it also provides pronunciation, synonyms, and a daily word search. See? Learning apps can be just as helpful as homework sometimes!
Price: Free in the App Store / Google Play Store
Google Arts & Culture: Filled with high-resolution images of works of art from over 2,000 museums all over the world, Google Arts & Culture makes art history fun with interactive filters and art selfies. You may not be traveling to the Louvre Museum this summer, but your kids will still end up with photos of themselves next to the "Mona Lisa."
Price: Free in the App Store / Google Play Store
Creativity
Simply Piano by JoyTunes: Give your child the ability to learn the piano regardless of whether you have a real-life keyboard or not! This app teaches the basics of piano playing and provides helpful feedback, as well as access to sheet music for today's top hits.
Price: Free to start, then subscription-based in the App Store / Google Play Store
Stop Motion Studio: Your kid will be able to bring their toys and other inanimate objects to life with the Stop Motion Studio app. With its easy-to-use controls, they'll also learn the basics of movie making and editing.
Price: Free in the App Store / Google Play
Canva: Graphic design just got easier with Canva, an app that enables your kid to create professional-looking presentations and videos for school — or even just awesome-looking images for a social media post.
Price: Free in the App Store / Google Play
Social/Emotional Learning
MyLife Meditation: Formerly known as Stop, Breathe & Think, MyLife Meditation helps kids and adults keep track of their feelings and encourages thoughtful reflection of daily activities with breathing exercises, emotion check-ins, and journaling prompts.
Price: Free with premium content in the App Store / Google Play Store
Physical Activity
AllTrails: If your child lives for the outdoors and all things hiking, this app will get them excited about your next family outing. AllTrails is filled with photos, maps, suggested nearby hikes, and more to help your kid lead the way the next time you set out for an adventure.
Price: Free in the App Store / Google Play
Zombies, Run!: What better way to pick up a little speed while jogging than by imagining you're being chased by an undead monster? Zombies, Run! is an immersive running game and audio adventure that was co-created with award-winning novelist Naomi Alderman. With this app, a fun dash through the park turns into a learning app for how to pace while running. Note: Rated for teens.
Price: Free with in-app purchases and subscriptions in the App Store / Google Play